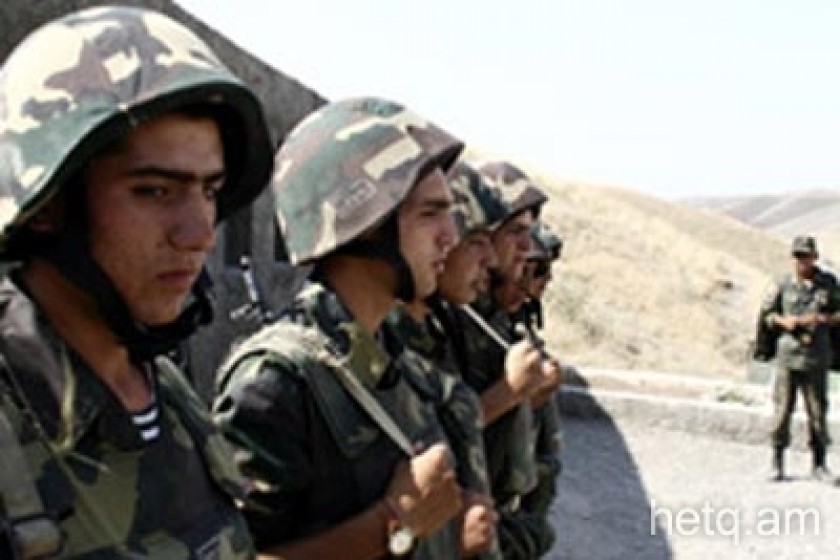 Let Them Serve Safely and Be Careful
The August heat had dried the grass. The temperature outside was 40 degrees Celsius, but it was a bit cooler in the dugouts. The enemy posts lay a few hundred meters ahead.
Eighteen and nineteen year old conscripts were serving at the Hadrut military base near the southern border of Karabakh.
Duty relief was scheduled for that day – a new group of soldiers were scheduled to relieve those on duty in the field. Private Levon Avetisyan was still at his post, but would soon be relieved. We talked with Levon at the post, without knowing that it was his birthday that day. We learned only later that the post commander had referred us to Levon, one of his best soldiers, for that very reason. When we returned to the base we discovered that Levon Avetisyan's relatives had come to visit and taken him off base.
Soldiers would stand at the post for two hours, after which they were relieved by others resting in the dugouts. "Relief after two hours makes our border guards more vigilant," said Mavrik (Mavo) Ohanyan, our guide and the deputy to the head of division. Mavo fought during the war under the command of Karabakh hero Monte Melkonyan.
"Our army is truly the strongest in this region. We know what condition our opponents are in. We can see the way they are dressed, how they are relieved of duty, their level of preparedness - every step they take. The difference is huge. Any nation would be proud to have boys like ours," he said, pointing at the soldiers.
The conscripts spent a few months in theoretical and practical preparation before being brought to the border. They were trained to handle different types of guns and had to take various examinations. Soldiers are entrusted with guarding the border only after such preparation.
Soldiers usually return to base after being relieved of duty at the post. Their next duty there is scheduled seven days later.
The Hadrut base is considered the best in the Karabakh army. The base had a group of intelligence officers, whom they urgently wanted to present to us. These soldiers had served for two and a half months and had been conscripted from different regions in Karabakh. The exercises that the group displayed had been part of all soldiers' training, but the best had been chosen for this twelve-man platoon. They were masters of hand-to-hand combat and had other skills as well. They had been trained by Platoon Commander Haik Karapetyan.
"Hand-to-hand combat is something that all our soldiers learn, but the training program for our intelligence officers is more intensive. The skills we impart them are not complicated - they're not very difficult – and the physically activity required of them is not very tough either; anyone can do it. But we choose seasoned and athletic soldiers as our intelligence officers," said the platoon commander.
Another three and a half months of training and the platoon would be a group of professional intelligence officers and, according to the platoon officer, would be able to fulfill any mission it was set, including conducting various operations behind the enemy's back.
Levon's parents had set a table a little further away, under the trees, and were celebrating their son's nineteenth birthday. His father said that Levon's mother had awoken that morning and told him of her dream, in which Levon had seemed sad. They then decided to pay him a family visit. "His mother had a dream; he's my middle son. He had been conscripted in the fall, and it's his birthday today. It's my boy's birthday – he was born at 9.30 – so we decided to get the family together, see our boy and celebrate his birthday. I saw him at his swearing-in ceremony too – a lot has changed since then. He didn't write before; he writes so much lately. I've kept all his letters. He didn't wr

ite during the first two months. He writes that he misses us a lot in every letter we open. He even gives me advice, 'Dad, don't work so much' – we live in a village, and there's a lot of work to do. My boy has even asked me to smoke less. He used to smoke in the village, but doesn't smoke here," said Levon's father, Armen Avetisyan.
Levon has two brothers. The eldest, Hrach, has already served in the army and is now a student at the Acharyan University in Yerevan. The youngest, Benyamin, will be conscripted next spring. We asked Levon about his service in the army. He said that the first days there had left the deepest impression on him.
"The first few days were very difficult – we would be awoken early and then we worked very hard. The would have us up at five thirty in the morning, make us do physical exercise - run around three kilometers, do pushups and exercises on bars. We slowly got used to it. It's not that difficult now, we're used to it," said Levon.
Levon left those difficulties behind and got used to waking up early and the exercises. He preferred field duty to staying on base.
"It's better out there than on base now. You spend two hours at the post, and then you come and rest for two hours. It's better at the post than here – there is no physical exercise in the morning, there is no line for lunch," said Levon, smiling.
When I asked about a possible reigniting of hostilities, Levon answered immediately, "God forbid a war breaks out… but if it does, we're ready to fight."
In the end I asked him what advice he had for conscripts and his brother Benyamin - who was expecting conscription orders within a few months - he replied, "Let them serve safely and be careful, that's the most important thing."