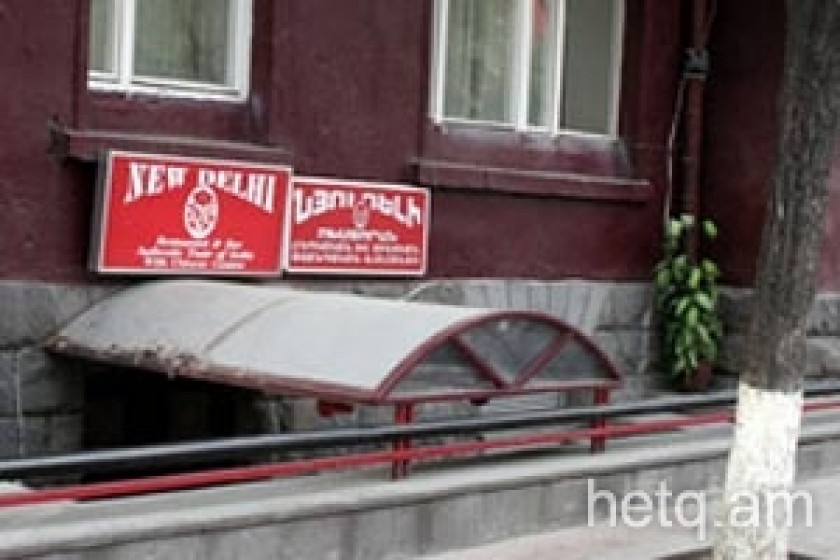 Armenia Does Not Need Foreigners
Pankaj Joshi, an Indian citizen, first visited Armenia in December 2003. He received a three-month visa to Armenia at that time, but stayed for exactly one year, remaining in the country illegally for a number of months. "In December 2004, when I decided to go back to India, Aghajanyan at the Passport and Visa Department (OVIR in Russian) asked me for 900 dollars. They then gave me a three-day visa, and I left Armenia with no problem," narrated Joshi. The stamps in his passport corroborated his story. Samvel Aghajanyan is the deputy head of the Passport and Visa Department within the police structure, and his job deals with granting foreign citizens permission for entry to Armenia.
Joshi came back to Armenia in April 2005. He received a 21-day visa at the airport. After the deadline he received an extension for a further three months without any difficulty. He then managed to further extend his legal permit to stay, this time up to January 2006. Pankaj Joshi had a job offer, and continues to work to this day at the New Delhi restaurant in Yerevan. He holds a contract with George and Brandon ltd., the company that owns the restaurant, and pays his taxes on accordance with Armenian law.
Om Bahadur Khatri, Man Bahadur Sahani, and Yam Lal Kandel, all citizens of Nepal, are also employed by the New Delhi restaurant. These four restaurant employees have been unable to get visas for the past few months and are now staying in Armenia illegally.
"…Their reason for coming to Armenia was to work at the New Delhi restaurant, owned by George and Brandon ltd. On October 21, 2005, a letter was written by Karen Ghevondyan, president of George and Brandon ltd., to the Passport and Visa Department requesting temporary resident status in Armenia for the four foreign citizens mentioned, but this request was rejected," noted Alvina Zakaryan, head of the Passport and Visa Department, in a written reply to our query.
Karen Ghevondyan was informed of the rejection. He then lodged an appeal with the prime minister of Armenia. "But the decision was not overturned. Despite this, they did not leave the territory of Armenia and continued to remain here illegally," wrote Alvina Zakaryan.
Zakaryan, in her written reply, had the following explanation for the decision not to grant the foreign citizens temporary resident status in Armenia, "The police department committee for the administrative expulsion of foreign citizens from the Republic of Armenia decided to deport the foreign citizens from the country, based on articles 32 and 33 of the law regarding the legal status of foreign citizens in Armenia. This decision was confirmed by the head of the Armenian Police Department on June 20, 2006. However, they have not left the country to this day, citing the lack of the necessary financial resources to buy airline tickets."
"Karen Ghevondyan said that he would deal with it. He told us to keep working and that he would take care of it. Then Karen said that Aghajanyan wanted money, but that he didn't want to pay. He said he would have to solve the matter with someone else's help," said Joshi.
Ghevondyan never did "take care of it" and instead sold the restaurant to an Indian businessman, Sahani Ravinder. "If the visa problems of my employees are not solved then my restaurant may be forced to close, because they are the ones who make the Indian food – they are my main staff," said Sahani Ravinder when we met with him. Coincidentally, he did not have a visa to stay in Armenia at that point either.
The New Delhi restaurant is a cozy corner in the basement floor of a building on Tumanyan street, in the Yerevan city center. Customers include representatives of the diplomatic corps in Armenia. Nani Oskanian, the wife of Foreign Minister Vartan Oskanian, frequents the restaurant with guests. Joshi informed the foreign minister's wife of their problems. However, she replied some time later that there was nothing she could do. The Indian citizen then sought help at his country's embassy in Armenia, but they were also unable to break down the door of the Armenian bureaucracy. The Foreign Ministry simply ignored calls from the Indian Embassy, and they were left with nothing to say to their citizens.
"We have invested here, started a business, are conscientious taxpayers, have created a few jobs. I don't understand why they have created these problems," said the Indian restaurant owner.
"I tell them that there are so many Armenians in different countries of the world. Let us be ten foreigners working here. Can you imagine what would happen if they treated Armenians in other countries this way? These boys have never been detained by the police. Now they say that they've violated articles 32 and 33 of the law. Do you know what that is? Here, read it," said Sahani Ravinder, giving us a copy of the Armenian legal code.
"The last time we went to OVIR , Aghajanyan asked for 1,500 dollars from each of us to take care of the issue. That came to 6,000 dollars for four people. We refused – how could we get that much money and why should we give it to him?" said Joshi.
"Since a decision had been taken to deport those individuals, no steps were being taken to extend their visa deadlines or grant them resident status. Therefore, there could not have been a demand for the sum of money you mentioned," wrote Alvina Zakaryan in her reply to our query.
What of articles 32 and 33 in the law regarding the legal status of foreign citizens in Armenia, based on which the decision was taken to deport these foreign citizens?
"A foreign citizen may be deported from Armenia if his actions threaten the national security of the Republic of Armenia, the public order and welfare, rights and freedoms of citizens, as well as in other cases specified in the legislation of the Republic of Armenia" – these are the requirements of article 32.
Alvina Zakaryan failed to mention how these foreign citizens threatened the national security of our country, or public order, welfare or citizens' rights here. And if there was such a threat, why have they not been expelled from Armenia yet? Or why has the Embassy of India in Armenia not been informed?
Article 33 of the same law states that a decision for the administrative expulsion of a foreign citizen is taken by the Head of Police based on a conclusion reached by the committee formed by him. A state official representing the interests of the foreign citizen has the right to be present at committee sessions discussing the case.
Let us note that neither these foreign citizens nor their representative state official were ever informed of such committee sessions. Moreover, letters sent in February and September of this year from the Embassy of India to the Armenian Ministry of Foreign Affairs have remained unanswered to this day.
Pankaj Joshi, a citizen of India, does not want to leave Armenia and lose his job. But he cannot stay illegally in Armenia for long. The New Delhi restaurant will probably close soon, as decided by the Republic of Armenia Passport and Visa Department.