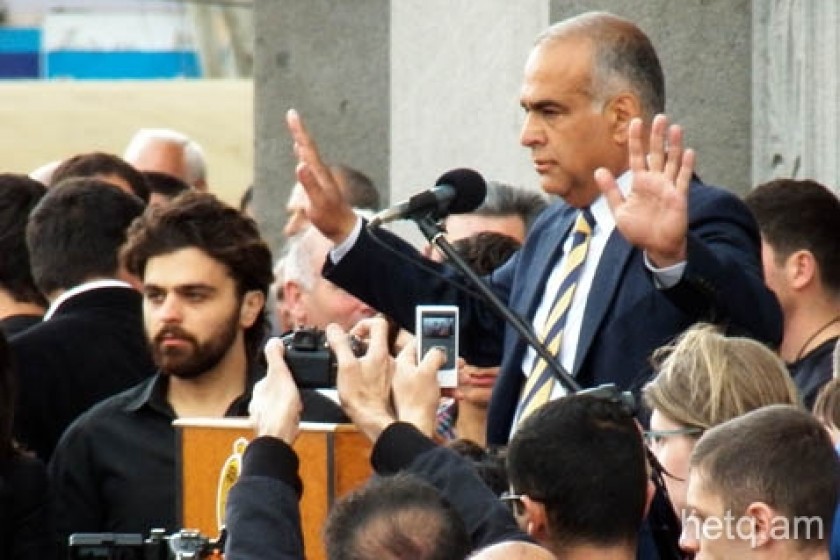 Raffi Hovannisian Leads Thousands In Taking Oath of New Armenia
As we go to press, thousands have gathered in Freedom Square to participate in an alternative presidential inauguration staged by Raffi Hovannisian.
The leader of the Heritage Party declared that in Freedom Square, as opposed to the official inauguration at the Garen Demirchyan Sports-Concert Complex, there are no lies, no deceit, no 30 pieces of silver and no blasphemous oaths taken on the Holy Bible.
Hovannisian called on the throngs to raise their copies of the RA Constitution that had earlier been handed out and to repeat a pledge that they do not recognize Serzh Sargsyan as president and any unconstitutional laws handed down by the illegal government.
The opening of the citizens' oath ushering a new Armenia reads as follows:
"In the name of faith and the republic, I, a citizen of Armenia, today dissolve my ties to the current illegal regime. I declare that I do not recognize the fraudulent authorities. I will not be subject to sham laws and will not obey illegal dictates."
After the pledge, Hovannisian told the crowds that there would be an interval of song and dance given that today was the celebration of national unity.
He then called on the people to regroup at 6pm for an as yet undisclosed course of action.