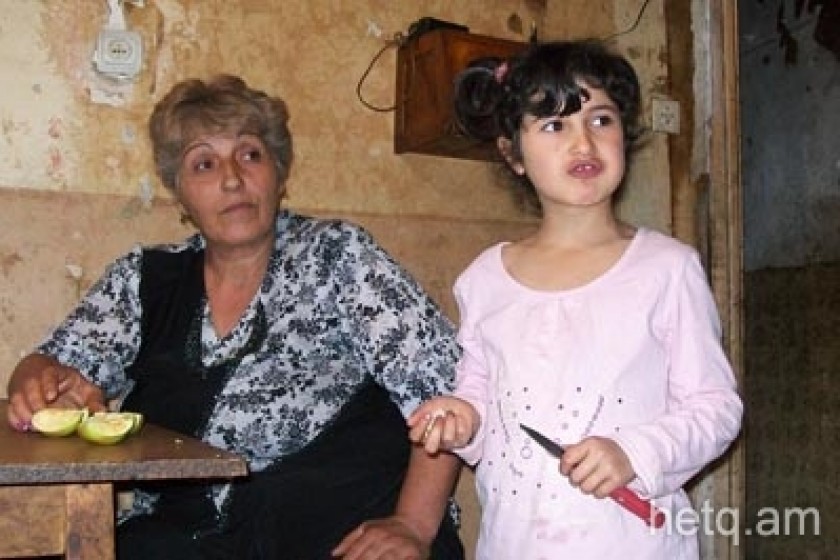 5 Year-Old Rima Patiently Waits for Her "Real" Mom
5 year-old Rima calls her grandmother "mommy".
The girl's parents split the scene soon after Rima was born. The father moved to Russia and the mother to Artsakh. Both have remarried. In stepped Rima's maternal grandmother to take care of the child.
The two reside in Dastakert, a community in the Sisian region. It's officially registered as a "city" but more resembles an abandoned village.
They live in a 4 story building mostly occupied by needy families.
Rima doesn't like to stay inside and listen to the elders talk about conditions in Dastakert or the mine. None of it interests the little girl.
She spends most of the day sitting at the entrance of the building, her curious eyes glancing up and down the street.
Rima says she patiently sits and waits for her "real" mother to come back. The girl wants to be the first to spot her.
"My other mom said she would come to my brother's wedding. I guess she couldn't make it, but she still come, right?" Rima asked, more to convince herself than anything else.
Grandma Seda Matevosyan has 8 children of her own, 2 of which are still adolescents, to look after besides Rima.
"I'm not worried about the others. They at least have hand-me-downs to wear. This little child has nothing to wear when she starts school in September."
Mrs. Matevosyan also serves on the Dastakert City Council.
The only family member with a job is her son who works as a guard at the nearby mine.
But residents feel cut off from the world outside. It takes an hour to reach Sisian, the nearest town, over the nearly impassable roads.
Right now, studies are under way to see whether a copper mine can be operated in Dastakert. Many in the community say it's their last hope.
None of this interests Rima in the least.
You'll find the little girl sitting outside, patiently waiting for her "real" mom to come walking down the street.