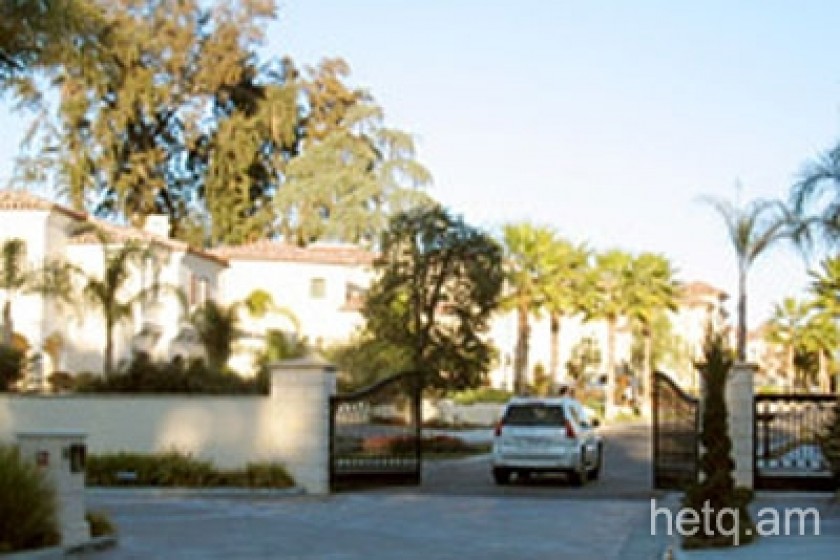 Aleksandr Sargsyan Does Business in America
Armenian Member of Parliament Aleksandr Sargsyan is selling a house inLos Angeles.
The grounds are closed off; ordinary people cannot approach.
But interested buyers can learn more about the house, including its asking price—$3, 395,000—by visitingwww.realestate123.com/Nav.aspx/Page=/ListNow/Default.aspx.
It has been reported in the media that the brother ofArmenia's minister of defense is involved in construction work inCaliforniaand that when he entered theUShe reported $30 million in his customs declaration. Sargsyan has never denied this information. Naturally, he carried the money fromArmeniabut didn't report the amount when he crossed our border.
In the tax returns presented to the State Tax Department he never mentioned that he had made that kind of money. It is, of course, a violation of the law, but it a common thing Armenia that judging by their tax returns our MPs, cabinet ministers, judges and other officials who drive around Yerevan accompanied by groups of bodyguards are actually among the country's poor. They own old cars and tiny apartments and get by on their salaries alone.
Sargsyan's house is behind the gates pictured here. He bought it on September 9, 2005 for $2,840,000.
The house is advertised at www.niteowlplus.net as well. The site also contains the address of the house for sale: 4935 Avenida Oriente,Tarzana,CA91356-4632.
On the site it says "Loan type: N/A", which means that Aleksandr Sargsyan didn't take out a bank loan to buy the house; he paid in cash.
InAmericasuch transactions are rare since they are heavily taxed. And most people, unlike Sargsyan, don't usually travel from one country to another with huge sums of cash.
Even the rich and famous inAmericaborrow from banks when they buy houses like this to keep their taxes down. But for Sargsyan a few tens of thousands of dollars are of no great importance. And this cash deal is just one of many for the notorious businessman.