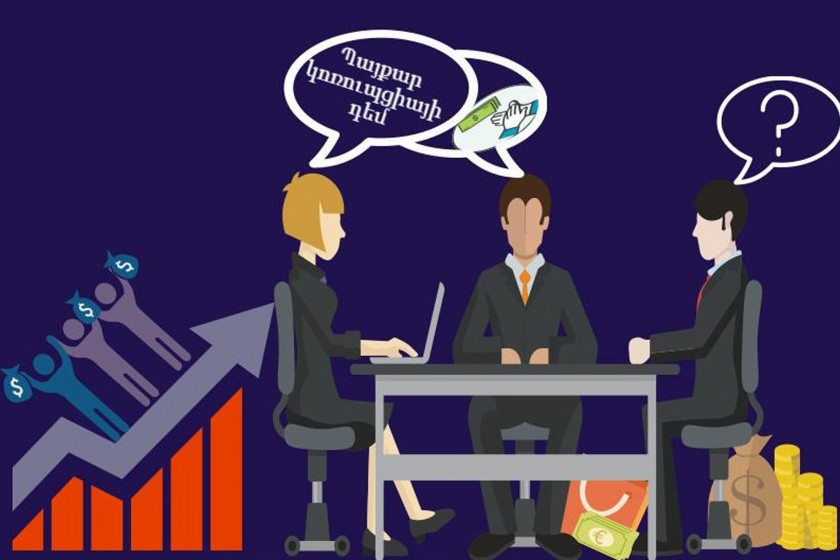 One Year Later: What Has Armenia's Anti-Corruption Campaign Accomplished?
Armenia's Anti-Corruption Council (ACC) has only met twice since it was set up one year ago.
A recent report issued by the ACC, headed by Armenian Prime Minister Hovik Abrahamyan, summarizing its activities in 2015 and its plan of action for 2015-2016 comes up short on results and details.
The report fails to specify how many officials have been charged or prosecuted for abusing their office for personal gain or how many have been caught appropriating state revenues.
MP Edmon Maroukyan is concerned over the lack of detail in the19 page report. At a recent parliament Q&A period, Maroukyan asked PM Abrahamyan why the report was so vague.
Newly appointed Justice Minister Arpine Hovannisian, who sits on the ACC, advised Maroukyan not to be such a pessimist, adding that measures designed to fight corruption had only recently been implemented. As a 'glowing example' of the ACC's work, the minister pointed out that as a result of legislative changes top officials would now be subject to administrative accountability for providing incorrect information on their financial disclosure statements.
She added that the ACC is debating whether to criminally charge such officials as well.
Of course, such 'threats' are of no concern to officials who will avoid any responsibility by making their financial deals via relatives and friends not subject to filing such disclosures. There are many loopholes to be exploited and they know it.
Armenia's National Statistical Service (NSS) issues data on registered legal violations but incidents of corruption comprise a miniscule amount.
In 2015, there were only 616 cases of corruption in the 17,043 crimes registered that year. In 2014, 599 corruption crimes were registered.
Registered Corruption Crimes in Armenia (According to NSS)
A large section of the ACC's report is devoted to electronic governance; a catch-word for improving public services for all citizens and a measure designed to decrease corruption risks.
"The future expansion and improvement of the electronic governance system will help bring down corruption risks and will allow citizens to follow the decision-making process," reads the report.
The ACC claims that a 2014 survey showed that electronic governance is a hit with citizens. Supposedly 62% of individuals in the 82% of households with internet service in Armenia use electronic governance applications on a daily basis.
What has the ACC been doing for the past year?
On November 20, 2015, PM Hovik Abrahamyan issued a directive to all nation-wide executive bodies to set up units to implement various anti-corruption programs adopted in the country.
On December 1, 2015, as a result of a discussion held at the government's anti-corruption monitoring unit, officials were appointed to implement anti-corruption programs at all nation-wide executive bodies.
Another 'brilliant' step taken by the government to reduce corruption risks in Armenia involves a British organization called "Integrity Action".
As part of a program financed by the Asian Development Bank, "Integrity Action" will be holding seminars in 46 public schools in Armenia instructing pupils, teachers, parents and local civic group representatives about 'diligence and honesty'.
On July 28, 2015, at its first session, the ACC backed an agreement with the USAID by which the Armenian government would be allocated US$750,000 in financial assistance to set up a specialist committee that would work alongside the ACC in its fight against corruption.
The question remains – who's keeping an eye on the specialists, especially with tens of thousands of dollars up for grabs?