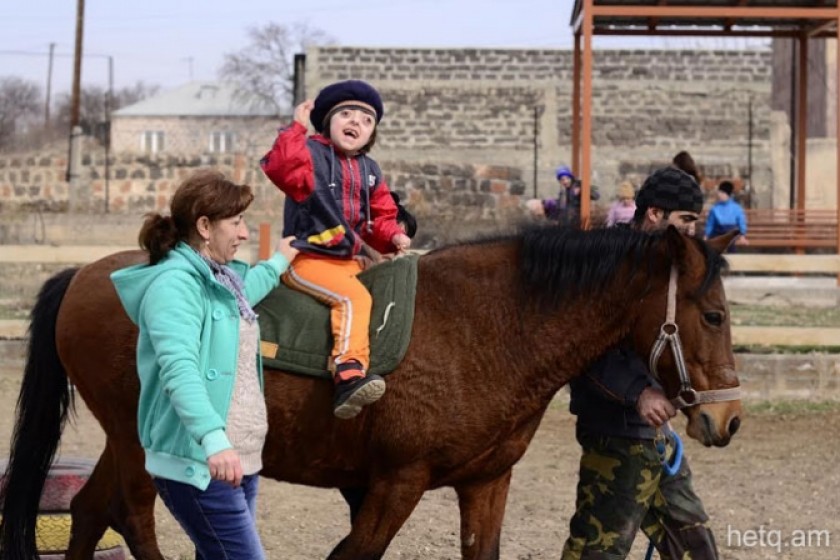 Dr. Sabba and the Kids at Kharberd Orphanage: Making Hippotherapy More Accessible in Armenia
By Katherine Berjikian
Its spring in Armenia, and the children at Kharberd Orphanage, just outside Yerevan, are excited because they can play with their old friend Dr. Sabba.
Dr. Sabba is an Armenian from the diaspora. He was born and raised in Lebanon, and came to Armenia five years ago. He's a therapist at the orphanage and unfortunately can only work when it's warm outside. The winter months are too cold to perform his specific kind of therapy. However, when he can work, the children get excited.
By the way, Dr. Sabba is a horse.
According to one of his close friends Sasun Kosakyan, a therapist and art teacher at the orphanage, the children love Sabba. When speaking tohim, Sasun described a recent encounter between one of the children and Sabba after a long absence.
"Today, one of the kids, when they took them to do the therapy, he saw the horse and he hugged the horse and started kissing it and saying 'oh, I missed you so much. Oh, it's been a long time.'"
In Armenia there are two orphanages for children with disabilities. One of which, Kharberd, houses around three hundred children, and is exclusively for children with disabilities. In this orphanage, the staff has introduced a new kind of therapy that is not that common in Armenia. It is called hippotherapy. This is a form of therapy that uses horses, and is manly used with children with autism, down syndrome, and cerebral palsy.
According to the website of Ayo! (the crowd fundraising platform of the Fund for Armenian Relief - FAR) that is trying raise funds for the orphanage, "In hippotherapy, the movement of the horse influences the patient. The patient is positioned on the horse and actively responds to the horse's movements."
Sabba is one of the horses used in this program.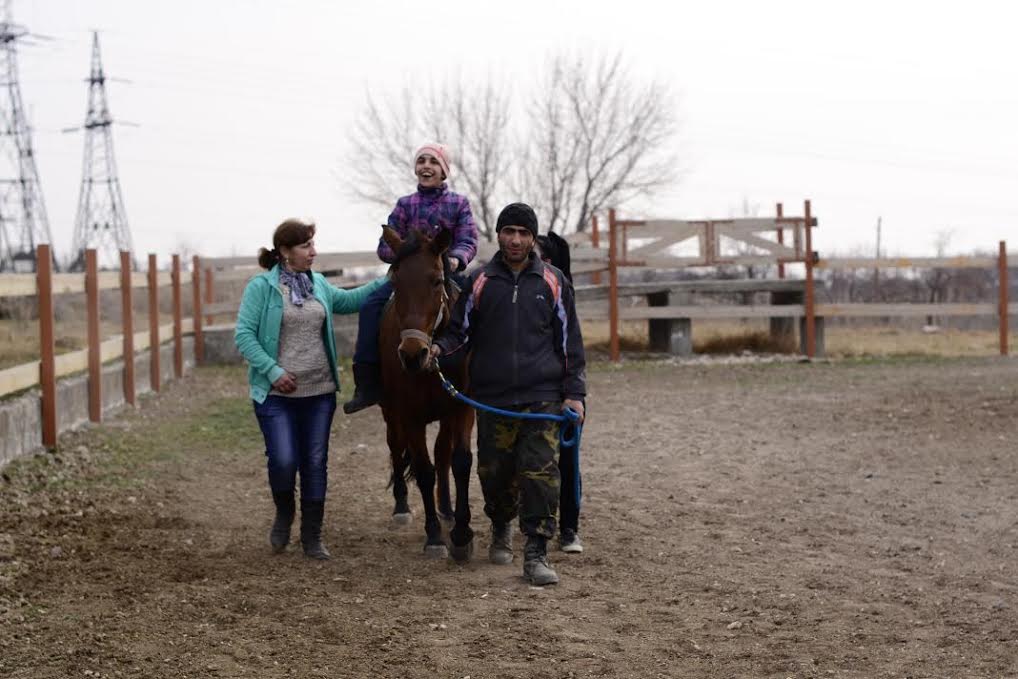 Before the orphanage performed the therapy itself, theywould send children to another village where specialists at a hippotherapy center would perform the therapy. However, the orphanage that the children are currently staying at used to be a retirement home that also housed cattle. Because the orphanage had the facilities for farm animals, they decided to start doing hippotherapy at theorphanage.
When the therapists at Kharberd saw the improvement in the children after receiving the therapy, several of them went to Georgia to receive the training in order to start implementing hippotherapy at the orphanage. Hippotherapy was common practice in Soviet Georgia. Even today, children in Georgia with disabilities receive sixty hours a year of hippotherapy, all of which is state funded.
For the past two years, eighty children at the Kharberd Orphanage, and twenty kids with disabilities from a neighboring village have used these facilities for hippotherapy.
While the orphanage is state run, most of the backing for this form of therapy has come from outside funding. For example, in order to send therapists to Georgia and to update the facilities at Kharberd to perform the therapy, the orphanage received funds from both KAMRJAK (a charitable NGO in Yerevan) and SOAR (Society for Orphaned Armenian Relief)
Today, Kharberd is trying to buy a carriage for the orphanage. One of the main reasons for this is because they want to expand their therapy and start doing group therapy. This is mostly for the autistic children at the orphanage.
One of the main benefits of group hippotherapy is the socializing aspect of it. According to the Ayo! website, "Communication between the children is very important. Group hippotherapy will encourage healthy communication between these children during therapy sessions and create a friendlier atmosphere. With the introduction of a carriage, therapy sessions will be better suited to improve mobility and focus, as well as social skills."
This is where Ayo! comes into the picture. According to its mission statement, Ayo!'s goal is to: "Strive to improve the quality of life for Armenia's most underprivileged, we simultaneously work to empower Armenian youth who wish to take change into their own hands while giving agency to those in the Diaspora who seek to make a profound difference in Armenian communities."
This includes campaigns like 'Ayo! we're building a wall.' This was a campaign to help raise money to builda protective wall alongthe Armenian and Azerbaijani border, in the village of Aygepar. People from all over the world took pictures of themselves that said that they we're going to help build the wall, and sent it the Ayo!. Each picture represented a one-dollar donation to the project.
To date, Ayo! has raised money for nine different campaigns. Originally, Ayo! used to fundraise for multiple projects at once. At some point they had up to three different campaigns that they were fundraising for simultaneously.
Currently the Kharberd orphanage campaign is the only project that they are actively fundraising for. If they do not fund this project by their deadline, it will be moved to the 'not yet funded' page.
This is what happened to a recent project called 'changing landscape,' a project that tried to teach at risk youth nature photography. While it did raise $5423, it still needs to raise close to $2000. For the past week it has been on the 'not yet funded' page, and will remain there until the funds are reached. All other projects have been fully funded.
In order to reach this deadline, Ayo! is holding several fundraising events during the next couple weeks. On April 2, they will have a fundraising concert. On April 17, they will hold an even bigger concert at Kharberd orphanage. And while all this is going on, Ayo! will be selling figurines and postcards in the United States, all of which were made by the children from the orphanage.
According to Ayo! Project Manager Jemma Safaryan, the reason they are doing most of their fundraising through events is because they want to make the fundraising process mutually beneficial.
"There will always be some type of perk when you are donating. The perk can be that you are enjoying a concert. The perk can be a clay figure, another can be that you got a nice postcard for yourself or your friend," says Safaryan.
She also stated that 100% of the money raised will go to the orphanage.
"Our founder, Marta Batmasian,an American-Armenian living in Florida, is covering all the administrative fees for all the Ayo! projects. Thus, we are happy to say that there are no overhead costs for the money we are raising. So 100% of each donation, be it one dollar, fifty cents or a hundred, goes directly to this project."
To find out more about Ayo! and this orphanage, you can go to the Ayo! website or Dr. Sabba's twitter page.

Photos courtesy of Ayo!
(Katherine Berjikian is a Birthright Armenia volunteer now working at Hetq)