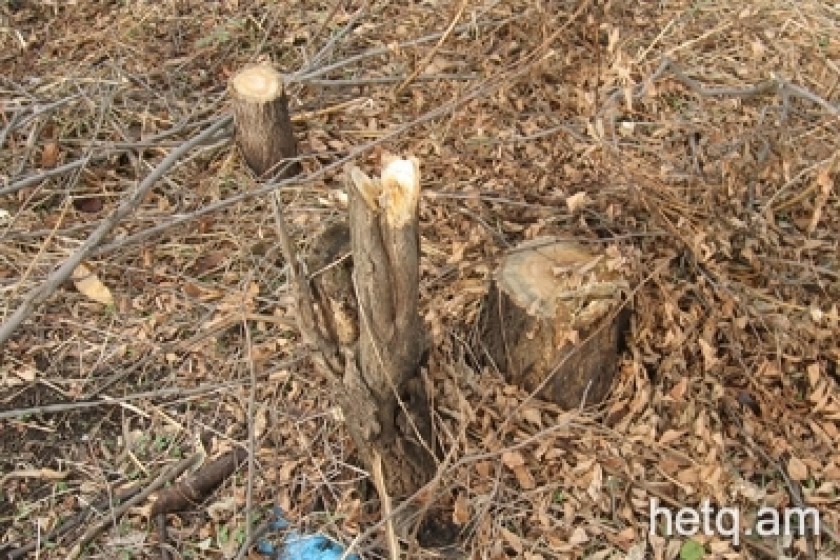 Walnut trees cut down in Karabakh
"10,000 walnut trees were cut down in Nagarno Karabakh," says Ararat Petrosyan, vice-chairman of the standing commission on defense, security and law enforcement of the National Assembly of Nagorno Karabakh.
Nagorno Karabakh Prime Minister Anushavan Danielyan's Decision #274 (September 2, 2000) states: "The felling of rare and valuable types of trees registered in the Red Book is prohibited in the territory of the Nagorno Karabakh Republic." The walnut tree is number one on this list. Nevertheless, the Max Wood Company has been cutting down walnut trees in Nagorno Karabakh since 2001, and exporting them to Italy and Spain.
In fact, Minister of Agriculture Bakhshyan signed an agreement with the executive director of Max Wood, H. Harutiunyan. The first paragraph of the agreement states: "The Nagorno Karabakh Republic sells and Max Wood, Ltd. buys damaged, dried, diseased, barren, and other walnut trees subject to preventive felling (with their roots) in the forests adjacent to the regions and communities of the republic" It seems strange that the company would export damaged or rotten trees. Experts say the wood that goes to Italy and Spain is of the highest quality, and used for luxury car interiors and gun hilts. Ararat Petrosyan told us that even trees in cemeteries had been torn up by the roots. Some gravestones had been damaged as a result.
Max Woods' representatives in Karabakh are Mher Bagratyan and Enrique Viver Camin from Spain. Three years ago Viver Camin established a wood-drying operation in the village of Koghb in Armenia's Tavush Marz, which caused serious damage to the region. It selected and cut down the best trees in the area. With outstanding debts to the Armenian forestry service and the local population, Viver Camin has reopened his wood business in Artsakh.
After numerous complaints from MP Ararat Petrosyan, the National Assembly set up an ad hoc commission to examine the legality of the felling of walnut trees. But nothing is likely to change until the last tree has been cut down.