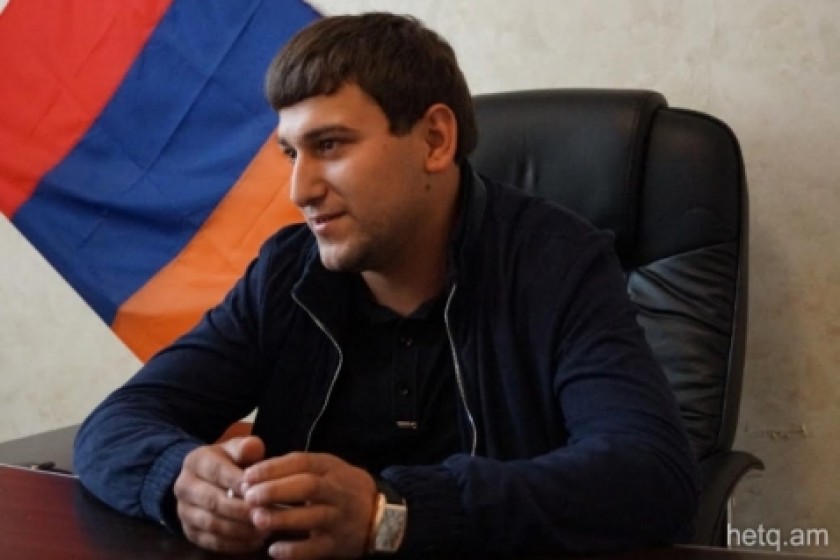 23 Year-Old Is the New Mayor of Azatashen; Takes Over from His Uncle
23-year-old Sargis Stepanyan is the new mayor of Azatashen, a community of just over 600 in Armenia's Ararat Province.
Stepanyan, a graduate of Armenia's State University of Economics with a major in management, won the September 18 election, garnering 333 votes.
Stepan Stepanyan, his uncle, served as Azatashen mayor for 23 years.
The new mayor told Hetq that since there were no other candidates for mayor, and given that his uncle wished to retire from local politics, close friends got together and agreed that he was the best option.
"I said that I would put forth my candidacy. What good that was achieved in the past would remain so," Mayor Stepanyan said.
The new mayor says he never thought about entering politics but that, "It's our village. We are the ones here working to make things better."
Mayor Stepanyan notes that while he's aware of how the mayor's office functions, he'll have his uncle to advise him at the beginning. He's now drafting a program to address improving conditions in Azatashen.
He says that not much needs to be changed and that residents have all the services they need.
When asked what he would do to make life in the village more interesting and engaging for young people, Mayor Stepanyan said: "Both I and the former mayor have always been close, so has the entire village and my young friends. I'm new to the job and will try to work with the youth. We'll discuss their desires and come up with something."
We should note that prior to this election, only those 25 and older had the right to run in local elections. This was changed to 18, thus allowing Sargis Stepanyan to throw his hat into the race.
Photo: Saro Baghdasaryan