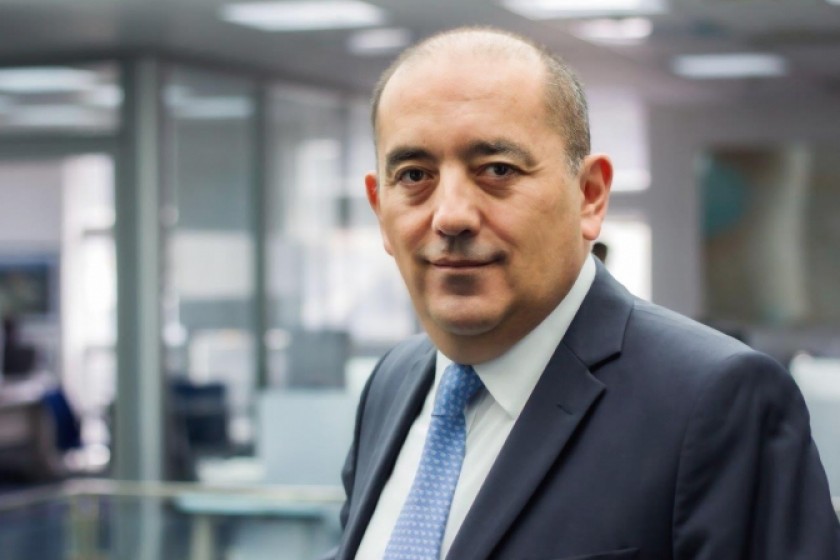 EBRD Director: "Breaking existing monopolies is the first step to resolving corruption problems in Armenia"
Hetq inteviews Bruno Balvanera, European Bank for Reconstruction and Development (EBRD) Director for Caucasus, Moldova & Belarus, on the topic of cooperation with the Armenian government and evaluating corruption and energy security.
In Armenia, for some time now, we've had a special government council to combat corruption. But we've yet to see any practical results. What are your insights as to howone can successfully combat corruption especially when government officials are themselves culpable?
First, I would say that we are very encouraged by the Armenia's new prime minister Karen Karapetyan and his new ideas, and especially because he comes from the private sector.
During our recent visit to Armenia, we had constructive meetings with him, as well as with his key ministers; the ministers of transport, finance, economic development and investment, and the deputy prime minister
You are talking about problems that have existed for a long time and will take time to solve. I think that the first step to solve this is to break the existing monopolies, especially those that are closely associated with some public officials. It is very important to try and break-down these monopolies that are making products expensive for the Armenian population.
This first step will be a significant start to try to tackle corruption. it will be an excellent precedent, and then we will take it from there. This will take some time and lots of effort, but what you need is a strong political will. But we are confident, since we see that the new government has this very strong political will.
Have you achieved any progress with your contacts in the Armenian government, or it is yet on the level of promises?
Well, the government is newly elected, so we cannot see the results just yet. But what we see is the right attitude. And I can tell you, when you speak with the government, you see a different attitude compared to the past. So, we are hopeful. I cannot say there are results, but we are hearing messages that we've wanted to hear for a long time.
The April parliamentary election is upon us, which means this government will soon change. What are your expectations for the future in terms of structural and personnel change?
There is no certainty as to what will happen after the election. It may be that after the election in April, the current government will remain in place. Obviously, for us, it will be a disappointment if we do not see a progressive government in place after April, whether this one or another one. This is not a question of names. This is about principles and about the right direction. We have been very outspoken about our views on the government. We support and will continue to support the development of the country. We are engaging in a number of areas, and we hope that this will continue after the elections.
Could you please specify these areas?
2016 was a good year for EBRD investments in Armenia. We invested €60 m in new investments through 12 projects. EBRD total commitments by the end of December 2016 total €1.12 billion, primarily in the private sector.
The ratio of private sector projects in the portfolio currently stands at around 88%.
Armenia is one of the countries where the ERBD's Local Currency and Capital Markets Development (LC2) Initiative has delivered its best and most visible results, setting the stage for further development of local capital markets.
For example, towards the end of 2016,the EBRD signed two deals in support of the development of female entrepreneurship in Armenia by extending a local currency loan, equivalent to €12.3 m, to Ameriabank and ACBA bank for on-lending to women-led small and medium-sized businesses. The loans come under the expansion of the Bank's Women in Business program to include the Eastern Partnership countries –Armenia, Azerbaijan, Belarus, Georgia, Moldova and Ukraine.
As of December 2016, the Bank had issued the equivalent of €44.1 m in AMD of local currency bonds, including €38.6 m worth of Eurobonds, as well as four domestic transactions for €14.8 m AMD over the local exchange.
The Bank has been active in municipal and environmental infrastructure. The EBRD financed an energy efficient street lighting and city street rehabilitation programin Yerevan and Gyumri.
In 2016, the Central Bank of Armenia, the Ministry of Finance, and EBRD signed an updated Memorandum of Understanding (MOU) on Local Currency and Capital Market Development.
In the agribusiness sector, the EBRD is supporting the development of innovation and the knowledge economy in the dairy sector of Armenia. A forum entitled 'Innovation and Knowledge Sharing in the Dairy Sector'was organized by the EBRD with the support of the Armenian Ministry of Agriculture in the summer of 2016.
This year, the EBRD will also be working actively with the Armenian government to prepare new legislation on the Public Private Partnership (PPP), which will lay the foundation forfuture infrastructure development in Armenia.
Concerning the energy security, which is the baseline for Armenia's economic security in light of the possibility that the Metsamor Nuclear station, which produces more than 40% of energy for Armenia? What is your view regarding renewable energy source development?
Armenia is at the forefront for solar renewable energy. I am impressed by the strong determination of the energy minister and his deputy to develop a solar economy.
Many people in the country announced that they want to put solar panels in their houses. This is something we do not see, for example, in Georgia or other countries. I think the dependence on the Metsamor power plantwill continue for some time because there is no other capacity to replace it now.
We are also exploring some possibilities regarding hydro power plants, although the capacities are not big. But there is some potential. We need to explore the potential of renewable energy produced from wind power plants as well. And, of course, there is a big dependency on gas that is imported from Russia through Georgia. I think the sustainable energy sector is extremely important for Armenia. Therefore, the EBRD will help develop alternative sources of energy such as hydro and solar.
What about biogas?
The Bank, for a number of years, has not been active in this sector. Biogas, at one time, caused a significant increase in the price of food in the world without lowering emissions. Therefore,biogas is not something that we would support. In specific cases we may consider it, but in general we are much more about supporting the development of renewable energy generated from solar, hydro and wind resources.
To my knowledge, our plants are not sufficiently equipped to work with renewable sources, and they will need a great deal of investment for the changeover.
Yes, and we are happy to support that. We are happy to support investments; we are ready. When we finance, we compliment the participation of the private sector. So, we need to find investors that would invest equity, and we will be supporting further with our financing and expertise. I know that this will also be a priority for other international financial institutions like the World Bank, the Asian Development Bank, etc. And this is a part of our strong development agenda with the government of Armenia, especially in solar renewable energy. This is medium to long-term investment, and needs massive investments and strong commitment.
Interview conducted by Oksana Musaelyan