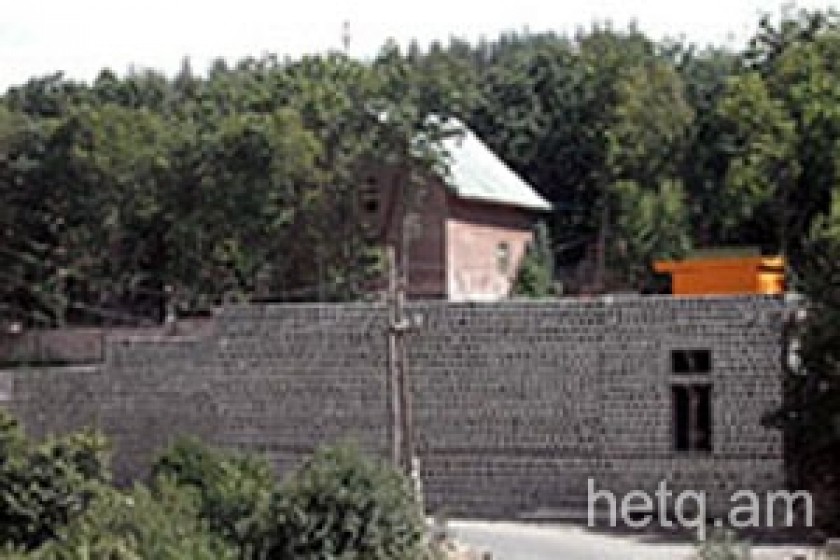 Who is destroying the forests in Tsaghkadzor?
As we reported on August 28 th , a number of media outlets organized a joint protest in which ninety journalists went to Tsakhkadzor in nineteen cars. They drove around the town taking pictures of the forests that have been cut down and the houses of various government officials and businessmen that have gone up (See Thugs beat up journalists, with the connivance of parliament members).
Pictured here is the wall surrounding the house of Levon Sargisyan, a member of parliament. We remind you that it was Sargisyan's bodyguard, Gagik Stepanyan, who beat photojournalist Mkhitar Khachatryan of the news agency PhotoLur and reporter Anna Israelyan from the newspaper Aravot. Stepyanyan is currently under arrest. It makes sense that an MP who walks around with dozens of bodyguards has to build a wall like this, though only he knows who or what he is so afraid of.This mansion belongs to the head of the State Customs Committee of Armenia, Armen Avetisyan.
The path through the forest has been widened to enable Robert Kocharyan to drive a snow mobile here. "Maybe some twenty trees were cut down there," says the mayor of Tsaghkadzor, Garun Mirzoyan.
When reporters had presented him with evidence that trees had been cut down Tsaghkadzor the mayor made the following statement twice, "In this area only ten or fifteen trees were cut down".
Now that the forest has been occupied by the owners of these mansions-government officials, MPs, oligarchs-ordinary people can't even pick berries there. On August 7, 2004, Samvel Baghdasaryan, a resident of Hrazdan, was shot and wounded while picking gooseberries. Haykakan Zhamanak reported that according to one theory, it was a bodyguard of Olympic Committee Chairman Ishkhan Zakaryan who pulled the trigger. An investigation into the case by the Hrazdan prosecutor's office is underway, although there are no suspects so far.