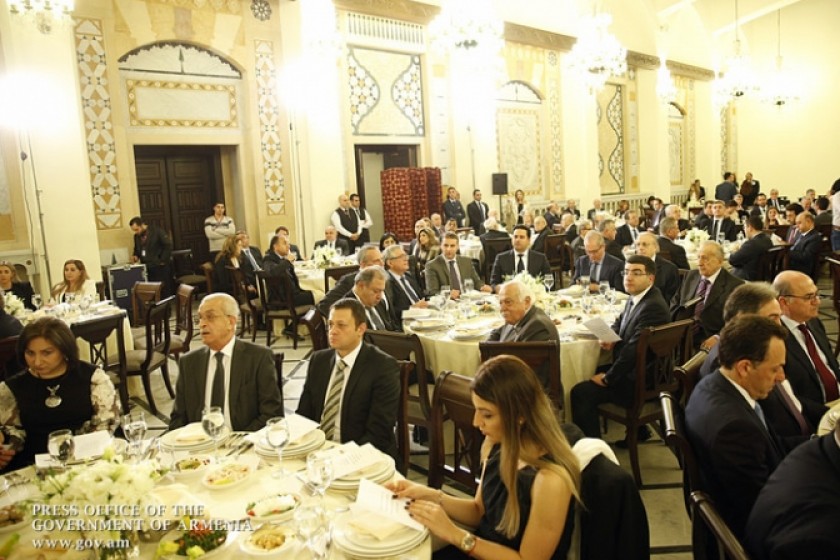 Beirut State Dinner to Honor Armenian Prime Minister: "Long live Armenian-Lebanese friendship"
On March 12, as part of his official visit to Lebanon, Armenian Prime Minister Karen Karapetyan attended a state dinner hosted by Lebanese Prime Minister Saad Hariri in his honor.
Here's the official transcript of Karapetyan's remarks:
Honorable Mr. Prime Minister of the Republic of Lebanon,
Dear Guests,
I would like to once again thank Mr. Hariri for the invitation to pay an official visit to Lebanon, and the warm welcome shown to my delegation.
We all know that the Armenian-Lebanese ties and relations have always been unique due to the deeply rooted friendly relations between our two peoples. Indeed, the Lebanese-Armenian community has played a central and highly valuable role with its peaceful and creative way of life.
Our past experience comes to reaffirm the consistency of Armenian-Lebanese cooperation in bilateral and international arenas. All we need is to further deepen our bilateral cooperation and the joint efforts aimed at protecting our shared values. At present we need to build on the economic component of our relations.
I am hopeful that the issues discussed and the agreements reached during my visit will be implemented to give new impetus to the deepening of multifaceted cooperation between the Armenian and Lebanese peoples.
In the face of the recent tragic developments in the region, not far from Lebanon, I would like to emphasize Armenia's readiness to support Lebanon, hoping that strong with centuries-old wisdom and patriotic values, the Lebanese people will respond to all challenges with dignity and cohesion, and will maintain the country's balanced posture for the sake of development.

Distinguished Mr. Prime Minister, I wish you good health and all the best, as well as peace, stability and economic prosperity - the people of Lebanon.
Long live Lebanon! Long live Armenian-Lebanese friendship!
Lebanese Prime Minister Saad Hariri said in his speech:
Dear Mr. Prime Minister,
Dear friends,
Today, we welcome with great honor our esteemed guest Prime Minister Karen Karapetyan and his delegation.
First of all, I congratulate you on the election of the fourth President of the Republic of Armenia earlier this month.
Last year, we celebrated the 25th anniversary of establishment of diplomatic relations between Armenia and Lebanon, while the cultural and historical ties between our countries have more than 2,000 years of history since the days of Tigran the Great.
At this stage, Lebanon and Armenia boast good relationships in different spheres, especially in business. There are academic exchanges between universities, as well as a lively bilateral cooperation in the spheres of culture, art and tourism.
Lebanese Armenians play an important role in the development of these relations, especially given the fact that they are considered to be instrumental in public life - in labor relations, production, culture, education and arts.
Our two countries are actively exchanging investments, which is evidenced by Lebanese banks' involvement in the Armenia's financial system.
Mr. Prime Minister and friends,
The development of relations between the two countries was in the focus of late Prime Minister Rafik Hariri as he became the first high-ranking Lebanese official to visit Armenia three times since 1997. I hope to continue his mission, always bearing in mind the two peoples' interests and friendly relations.
Thank you and once again I welcome your visit to the Office of Lebanese Prime Minister.
Long live the friendly relations between Lebanon and Armenia! Long live Armenia and Lebanon!