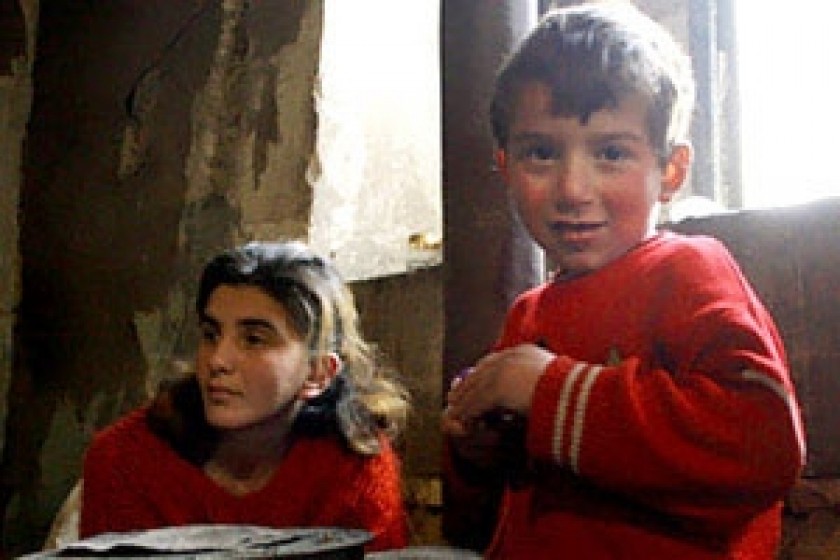 Who Gets Poverty Assistance?
Nver Hakobyan was ten when his mother died at the age of 32 in the village of Khashtarak in the Idjevan region in 1986. His father had already been married to another woman for a few years. "So I grew up alone from the age of ten. Later I lived with my mother's brother. My mother's sister, who lived in Ijevan, sold our house in the village. She sold it and moved to Russia. When I turned eighteen I went to the Army. When I got back from the Army I couldn't find my uncle, he had left for Russia. I can't get a passport - I'm registered at the house of my aunt's father-in-law but they sold the house while I was serving in the Army. My aunt had registered me at that house in order to sell our village house, but later they sold their house too and headed for Stavropol. I haven't been able to get a passport for some years now. I have a military ID but I can't get a passport," Nver said.
Nver, his wife, and their two children live in an earthen structure near the newly built Holy Cross Church in the village of Nerkin Charbakh. Nerkin Charbakh is located within the administrative limits of the Shengavit district; in other words, the village is considered a part of Yerevan.
After his military service Nver came to Yerevan and met his future wife's aunt at a relative's house in the village of Kasakh. "We began talking and she said, 'You poor thing, I can help you settle down, marry my brother's daughter.' I went to Nerkin Charbakh, saw Marine, and we got married. We moved into my mother-in-law's home," Nver continued.
Nver has been living in the earthen building near the church with his wife and children and his mother-in-law, the owner of the house, Lyudmila Ohanyan, for seven years now. Lyudmila Ohanyan got the house when she worked at the village kolkhoz , in Soviet times.
"When they started building this church they said that these houses would be demolished," Nver's wife Marine says, huddling by the stove in their dilapidated apartment. The ceiling sags, threatening to cave in at any moment, there are enormous cracks on the floor, and you have to watch your step in order not to fall in. None of the people who live in the building are employed-they can't find jobs. Nver himself does all kinds of work to get some bread for the family. "I sweep entrances in Yerevan apartment buildings, clean garages, cellars, wash cars. I go to the backyards and ask if there is anything to do. There are people who know me by now, and I do that kind of work for them regularly. Sometimes I go to the Malatia bazaar and move heavy things. They give me some 500-1000 drams and we try to make ends meet."
One visit is enough to convince anyone that this family ought to be included on the list of people receiving poverty assistance. But Nver's family only received the aid for two months. "They told us that we weren't eligible, we didn't have enough points." That was the explanation at the Shengavit social services department. But the agency neglected to explain exactly why they were ineligible. Naïve and trusting, the family went home without understanding what sort of points they didn't have enough of.
"Perhaps you have livestock?" I suggested. Nver replied, "Yes, we have a dog, but I only got it recently."
Nver's children are both young-Anahit is seven years old and Toros is five. His mother-in-law Lyudmila had a plot of land, 600 square meters, but she was forced to sell it in order to pay off her debts.
We went to the Shengavit department of social services to find out why Nver's family doesn't get assistance. "They have never applied for it since 2001; they are not listed," social worker Ruzanna Karapetyan told us. But the social service department knows about this family. Nerkin Charbakh District Mayor Samvel Sharoyan knows about them as well. In this earthen "building" live three other families as well, all in the claws of poverty. Every day they look at the church and, they say, they pray to God to open a door for them.
Photos by Onnik Krikorian