15:03, January 15, 2007
Armenians who were expelled fromAzerbaijanhave been living in the dormitory at57 Nalbandyan Streetin the city ofSevanfor a decade and a half now.
They were placed here temporarily, until their legal and social problems were solved, but for those dormitory residents, "temporarily" has become a lifetime.
Nina Kadamyan, who was forcefully deported fromBakuin 1990, has lost any hope of ever living in her own apartment. "Who cares? Nobody cares. They're waiting to see how many people will die. They're probably waiting for all of us to die, so they can be rid of us," says Nina.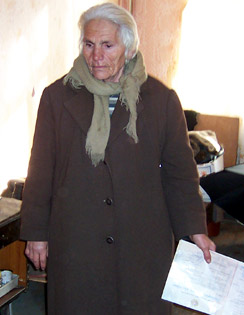 She has reason to worry, because several days before our conversation took place 71-year-old Anya Ejkovadied in the Sevan dormitory. Her last photo, taken by human rights workers from the Gavar branch of the Andrei Sakharov Foundation, shows that the late, useless housing vouchers they have been given, rather than serving their goal, guide refugees into an unknown world.
Nina lives alone in a small room in the dormitory. "It's one room, but it's a dining room, bedroom, and bathroom, " she said ruefully.
In the winter she takes care of her bodily needs in this room, because as soon as the winter cold begins the toilet on the second floor of the dormitory stops working. During warmer times the toilet serves over two dozen people – women, men, children, sick and healthy, pregnant women and mothers with new born babies.
Most of the people in this dormitory used to live in cities inAzerbaijan-Baku, Sumgayit, and elsewhere, until they were forced to leave their comfortable apartments in 1988-90. Events unfolded so quickly that they weren't able to take with them even the barest necessities.

Nina Kadamyan tells us that she became a refugee in a matter of seconds. " My work wasn't far away from my house. During my lunch break, I was going home to eat and somehow found myself in a hall with many Armenians. Afterwards we all were taken to a ferryboat. The ferry took us to Krasnovodsk, and from there we were taken by plane toYerevan."
Yevgenya Asryan has lived here for 18 years now. Her husband is dead. Her son, unable to find a job, went toRussia. Several years later he died as well. Yevgenya was unable to go to her son's funeral, because her pension and welfare benefits are barely enough to cover her daily needs.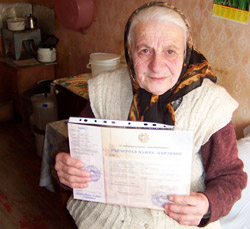 "How can one live and adapt to this?" she asks. " I lost a three-room apartment with everything in it. If there was at least some comfort, we would live and forget what we lost, " she says.
Aramayis Sahakyan and his family live next door to Yevgenya. They occupy two rooms, one of which serves as living room, bedroom, and bathroom, and the other as storeroom and kitchen. Every evening Aramayis roasts sunflower seeds to sell the next day at the Sevan market. Other than his pension and welfare benefits, this is the only source of income for his family, supporting him, his son, his son's wife, and his newborn grandson. During the summer season his son Simon earns some money as a waiter at a restaurant on the lakeshore. The rest of the year, he is out of work.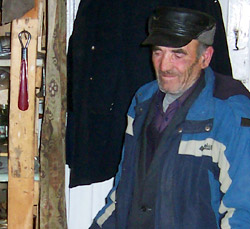 Aramayis is the only refugee that we met who had managed to buy an apartment with the voucher he was given. His apartment is on the top floor of a nine-story dormitory owned by Yunona CJSC. The building has no elevator, there is no water on the ninth floor, the roof is in disrepair and the rainwater easily trickles inside. They have stayed on in the dormitory since they bought the new apartment, because it would take far too much money to render it habitable.
"Why did you buy that apartment?" I ask.
"We were afraid that we would lose the certificate," Simon says.
Nina Kadamyan and Yevgenya Asryan weren't able to buy apartments with their vouchers worth roughly one million dram, and now have lost their chance. "They came and gave us certificates in the winter, when nobody was selling apartments," Nina Kadamyan says. Yevgenya Asryan complains that it was impossible to buy an apartment with the amount of the voucher. "I had to add some money, but from where? That's the situation. They didn't give us housing for so many years, and then all of a sudden they gave us this, but nothing worked out. They need to think about people like us, they need to realize that our name is refugee."
P.S. As this article was being prepared for publication, we learned that Nina Kadamyan had died.