16:15, April 10, 2006
Stone fragments with Armenian letters inscribed on them were scattered on the ground. Two huge heaps of headstones not far from each other. No, this scene was not in liberated Kelbadjar, nor in Nakhidjevan.
It was in Yerevan, the capital of the Republic of Armenia, in April 2006. This construction site was on Aygegortsneri Street, on the road between the Nork and Nor Nork districts.
"I wonder who the owner of this is," my son said. I had taken him along with me to show him how we Armenians treat our national treasures. "What difference does it make who the owner is?" I said.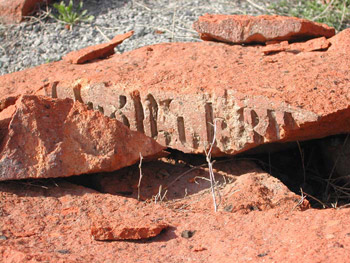 The headstones had been brought here from somewhere else. Apparently they had been in someone's way, and he or she "liberated" the territory and decided to use them as building materials. No one had tried to prevent the dislocation, the carnage of headstones.
There was a dead dog lying right between the piles of headstones, next to the symbols of eternity, and, a few steps away, a broken piece of a cross.
The appearance of the headstones, their engravings, suggested that they were centuries-old, cultural treasures.
We Armenians are now building one more restaurant or hotel using our ancestors' headstones. In Kelbadjar, Azerbaijanis used stones from our demolished churches to build houses. There are such houses in dozens of villages there. We are doing the same thing here in Yerevan.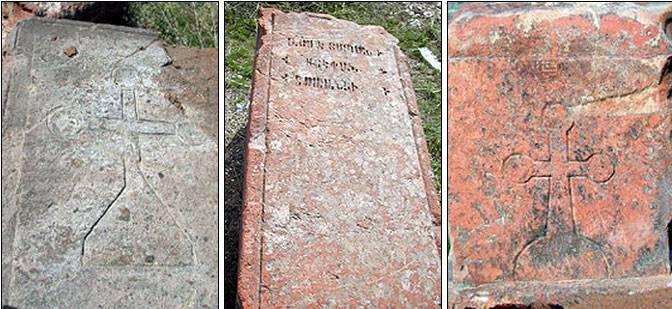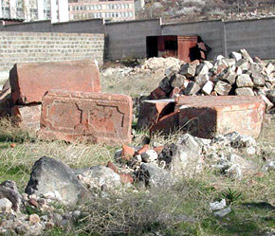 Armenians everywhere have closed ranks to protest against the barbarous destruction of Armenian khachkars by Azerbaijanis in Nakhidjevan. But who will protest, who will fight against us, here at home?
Perhaps we should appeal to various international organizations and ask them to come and protect our treasures from ourselves?
Do you think that after seeing these pictures the minister of culture or the prosecutor general or some other official will take this matter up? Of course not-they have more important things to do. One is planning an upcoming pan-Armenian cultural event, another is planting trees, a third is building a hotel, or putting up an "elite" apartment building in the center of Yerevan, or staging a show about fighting against corruption in the National Assembly.