11:40, March 23, 2012
Residents along the 33 kilometre stretch of highway linking Dzoraged and Atan in Lori Marz have long waited for the road to be fixed.
It seems that have to wait a bit longer. Even though the government has spent 250 million AMD on repairs, the highway is just as impassable as before.
Work began in June of last year. The contractor was a company called Ukrshin, registered in Vanadzor.
Back in July, 2011, Hovhannes Kentsyan, President of the subcontracting company Vlhag, told Hetq that repairs were scheduled to be completed by the end of the year.
The two companies had sat down and divided the job between them. Ukrshin was supposed to grade the road bed and Vlhag was tasked with repaving the road.
Everyone along the road that passes through the villages of Karinj, Marts, Lorout, Shamout, Atan and Ahnidzor, seems displeased with the end result.
When I visited Lorout, residents assembled in the village square expressed their complaints openly.
"Now, when the spring rains come, it will be impossible to drive along that road. They totally screwed up and left us with this poorly constructed roadway," complained resident Volodya Zarinyan.
"They came and dumped some dirt. Is that how to build a decent road? They should have left it the way it was," Sedrak Sargsyan chimed in.
None of the original job specifications seem to have been completed in satisfactory condition.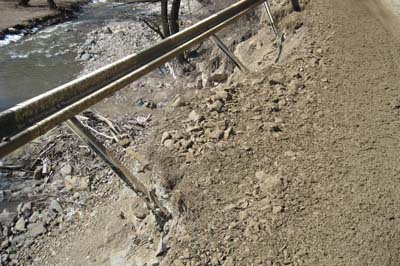 Some of the installed guard rails have already been bent out of shape or fallen to the wayside due to erosion and landslides.
Large diameter pipes laid under the Dzoraged-Marts section of the road, to service a hydro-electric station owned by Vanadzor Mayor Samvel Darbinyan, have led to large cracks in the road surface.
The power station owned by the mayor is on the Marts River and the pipes were laid by Argishti Ltd., a company owned by the mayor's brother. Talk about nepotism.
It's an inexcusable situation that demands immediate attention and Mayor Darbinyan is responsible for setting things right.
Let's forget about the ire of the residents for now, even though they have every reason to be angry.
The natural beauty of the area has been damaged as well.
The River Marts no longer swirls and bubbles in the valley below. Construction was carried out with no regard to environmental consequences.
Falling debris and a lack of accountability by those carrying out the work have silenced the river.