15:19, July 16, 2007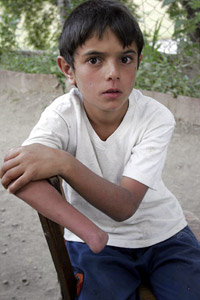 One of ten-year-old Boris's chores is to take the cows out every morning.
Last year, in March, Boris Manvelyan took his cows out toward the ridge above their house, as usual. On the way back he noticed something strange at his feet.
"I brought it home, my mother told me to throw it away. I didn't. I brought it in and started to take it apart, " Boris recounted.
"He gripped it with a pair of pliers and hit it with a hammer. His little sister was next to him, thank God nothing happened to her," said Boris's father, Vahram Manvelyan.
"I wanted to see what was inside," Boris explained.
With the first blow of the hammer, the thing exploded in Boris's right hand. They later discovered that it was a grenade. After two operations, fragments still remain in Boris's arm. Showing a blue area on the boy's arm, his father said that there would be one more operation inYerevan, and then prosthesis.
"There was a military position on the ridge above Manvelyan's house. The grenade is probably from there," explained Kerob Movsesyan, head of the Kashatagh Region's Civil Defense Department.
There are signs reading "Beware of Mines!" throughout theNagornoKarabakhRepublic's Kashatagh region. After the war, tens of thousands of mines, bullets, and other weaponry remained in the region, causing a string of accidents. With this in mind, the Karabakh government in 2000 created a Civil Defense Department in the region. First Lieutenant Kerob Mesropyan has headed the department for two years now.
There was another accident this spring. "It happened in thevillageofGantza. Mher Mejlumyan and his 18-year-old son Sargis had cleared some garbage from their field and were burning it near the fence. There was a large diameter bullet buried in the ground under the garbage, and it exploded from the heat. Father and son sustained light shrapnel injuries. Fortunately, no serious harm was done," said Kerob Mesropyan.
Mine clearing operations in Karabakh are performed by the British charity HALO Trust. "Over the last two years the organization has cleared four minefields here," Movsesyan said.
The mine clearing work is progressing slowly because there is no information about the mines planted by the enemy. "We know about 80% of the minefields of our army, but have no information about the mines planted by the enemy. We find out about them either through intelligence or from accidents, when for instance, livestock explodes. In such cases, we immediately encircle the territory, put up the necessary signs and inform the populace," Movsesyan explained.
The department also conducts training in cooperation with HALO Trust in the local schools. "We go to schools, take along samples of military weapons and ammunition pictures and talk about them, warn children, tell them what to do if they find these objects. We know that explosives, different weapons are interesting for children and they want to know what they are. That's why we show the children those objects and explain their dangers. We found different diameter military supplies in different places. Most common are mortar shells, anti-infantry mines, which are positioned irregularly, in haphazard fashion. Also common are grenades, and their explosive parts," Movsesyan said.
The densest minefields are in the places where the most intense battles took place. Large quantities of mines were found in the region's southern areas. One such place was near the village Maratuk, where the famous Kobra units were positioned. The retreating Azeris left minefields in the north of the region.
According to HALO Trust, each year fifty or sixty people in Nagorno Karabakh are killed by mines and other weaponry. Since 1993, there have been over 1,000 victims.