13:03, July 13, 2012
Artashes Boshyan and his wife Aida are trying to raise their five young children in the Lori village of Shnogh.
Neither parent works. The family makes due on the monthly 50,000 AMD assistance allowance given by the state and the 23,000 pension that Artashes' mother receives.
One of their children, 5 year-old Gor, doesn't speak and the family hasn't been financially able to take him for a medical exam.
Some of the kids use the father's last name of Boshyan while the other two use the last name of their mother, Vardanyan. The parents never had a civil marriage.
"They told us that if we get our civil marriage papers, our assistance allowance will be increased," Says Aida.
Armen Gevorgyan, who heads the Toumanyan Branch of the Department of Social Services in Lori, told Hetq that no of his employees couldn't have told the family such a thing.
"The Artashes Boshyan family is registered as having eight members in the social assistance evaluation lists. Based on their score of 39.43 they have been receiving 53,500 AMD monthly," Gevorgyan told Hetq.
The Boshyan house, large but dilapidated, has no natural gas even though the supply pipe runs right alongside. Artashes says he wants to fix it up properly.
Eric, the oldest son at nine, didn't go to school for two months last semester because the boy didn't have any shoes to wear.
Two year-old Alek and Gor also don't have any proper shoes. Due to his verbal problems, Gor hasn't been enrolled at the village kindergarten.
Aida said that the village Mayor Haykaz Kochinyan presented the family with New Year's gifts in January – one box of coffee and candy and some cigarettes. She says this was the first year that the mayor gave the family any type of help.
Recently, Artashes got in trouble with the police over an incident involving a neighbor's cow in his care. Artashes had taken his neighbor's herd out to graze and noticed that a heifer was sick. He told the neighbour who refused to believe him. Later they found the cow dead under a tree.
The neighbour demanded a new cow or 110,000 AMD and went to the police.
Artashes' mother Marous went to the village mayor for help in the matter. Marous claims that he told her not to worry.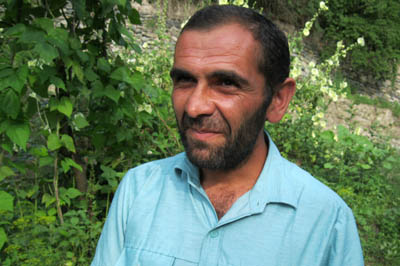 Nevertheless, Artashes says he feared what the cops might do and sold his only cow to pay off his neighbour. Marous immediately went back to see the mayor. This time, she says he told here, "Well, that's the only way the matter could have been resolved."
When the twins Arousik and Marousik were born last year, Artashes received a lump sum payment of 1.126 million AMD. He used 300,000 to buy a new cow.
750,000 AMD out of the village's 2010 budget of 317 million was earmarked for assisting large needy families. In 2011, that amount was increased to 1.4 million. It dropped to just over 1 million this year.
Mayor Kochinyan says he wants to use the funds to purchase clothes for the children of those families.
Aida says that she has requested financial assistance from the mayor on several occasions but that none has been forthcoming.