17:30, May 29, 2011
Edik Baghdasaryan
Seda Grigoryan
RA MP Tigran Arzakantsyan, in an interview with NEWS.am, has denied an earlier Hetq report that he owns an expensive villa in Paris.
In fact, MP Arzakantsyan is accustomed to denying almost everything written about him in the press and likes to sue those responsible.
When Hetq reported that the no-show legislator owns a posh villa in a ritzy Paris neighbourhood, the MP's supporters came to his defense.
One such fan commented that, "The man has achieved success through the sweat of his labor."
Gagik Hayrapetyan, another supporter, went so far as to threaten us.
"What do you want from our man from Gavar. Do you know anything about this royal man? You are nothing next to him. He should sue the pants off of you. I am convinced that he has many friends and family that will punish you all."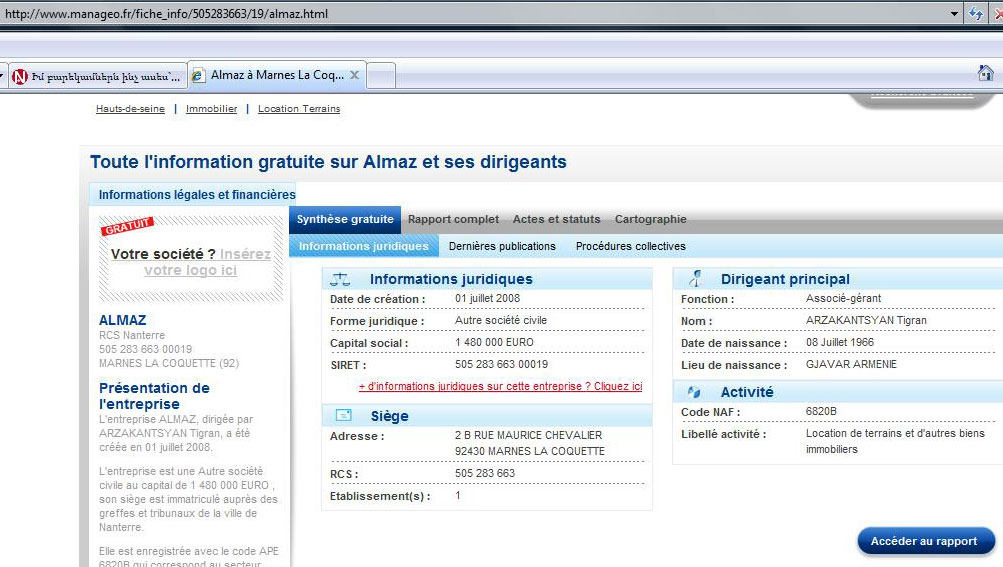 Why try to hide the obvious, Mr. Arzakantsyan? If everything is above board, why the ruse?
Below is information taken from the web regarding the Almaz holding firm. Arzakantsyan is listed as the "managing partner".
The villa is registered to Almaz.
Don't be surprised if MP Arzakantsyan tries to conceal the fact that he owns a dozen or more mines in Armenia. We do not underestimate the skills of his lawyers and accounts to create an untraceable trail back to him personally.
Also listed as a resident at the Paris address is Vardanush, the MP's wife.