12:19, May 30, 2011
During a recent trip to Istanbul, I was constantly taking notes of the people I met along the way.These were Armenians, both locals and those from Armenia, Kurds, Turks... Here's a sample few:
Hovik Shahinyan – 13 years-old
Eliza – Hovik's aunt
Zhanna – Hovik's sister; 15 years-old
Hakob – Hovik's father, who is physically disabled and can hardly move around
Most Armenians from the RA are located in Istanbul. It's easier to find work here than in other Turkish cities. Then again, you have the local "Bolsahay" community with its churches, schools and other institutions.
I assume it creates a security blanket of sorts.
While the exact number of Armenians from Armenia now residing in Turkey is unknown, rest assured that the Turkish security agencies know where each lives.
Arayik, whose been living in Istanbul for the past 13 years told me, "They can round us up at any time. Arayik has had his share of run-ins with the cops. Each month he returns to Moscow in order not to violate his visa requirements. The next day he returns to Turkey.
Many follow Arayik's example. Others make the trip to Georgia. Most return the following day.
The bulk of Armenians from the RA reside in Turkey illegally. Turkish Prime Minister Erdogan periodically threatens to expel them. They serve as convenient "hostages" to be used when convenient.
In fact, Erdogan can be said to remember these non-documented Armenians more frequently than any official from Armenia.
When RA Minister for Diaspora Affairs Hranoush Hakobyan visited Turkey in early May, these Armenians got a bit irked.
"She came to Istanbul. There are 80 pupils at our school. The minister should have visited and seen the conditions we operate in," said an illegal teacher at a non-registered Armenian school.
But Minister Hakobyan is little interested in the plight of these Armenians from Armenia.
They just don't fit the parameters of the "Ari Toun" (Come Home) program launched by the ministry. What would the minister tell them – to come back home?
Had Minister Hakobyan told them something to this effect, she would have gotten an earful from tens of families from Gyumri still living in "tomiks" (huts) twenty years after the earthquake.
Go home – to what exactly?
The minister had next to nothing to offer these Armenians.
She came, awarded medals to the elite of the Bolsahay community, and left. On the plus side however, such visits from Armenian officials are a rarity for the Istanbul-Armenian community. It was celebrated with a great deal of pomp and circumstance.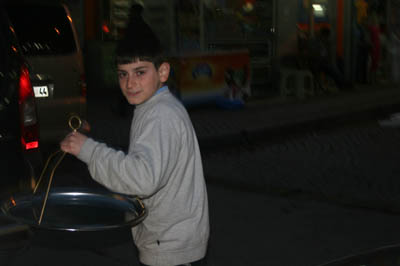 It seems that I can't get 12 year-old Hovik out of my mind.
I met him while walking through the narrow streets of KumKapi. The boy was serving tea to customers from a large silver tray. The shop he works for is owned by some Kurds.
When I pulled out my camera to take a picture, the Kurds seemed out of sorts and started to yell at the boy. He muttered something back in Turkish.
I asked them for permission to photograph the boy carrying the tray. One of the Kurds refused, saying it would create problems.
Hovik then telephoned his Aunt Eliza. She spoke with the Kurd and then to me. That's how we were introduced. We arranged to meet later that day.
Hovik took us on a meandering path through the district till we reached their home located atop a small factory. Work was still going on as the sun set.
After the 1915 Genocide, surviving Armenians were scattered around the world, many ending up in tiny spaces like this. Now, 100 years later, the progeny of a family who had returned to that little slice of Armenia that survived, have now returned to Turkey to earn a living. Some irony...
It turns out that this family traces its roots back to Marash. The survivors found refuge in Syria and then relocated to Armenia. Not being able to make a go of it in Armenia, they've left.
To be honest, whenever I write stories on this topic I get thrown off-track. I'm always looking for people to blame for the fact that thousands of RA Armenians have wound up in Turkey.
I feel somewhat guilty as well when I see scores of Armenian kids working here in Istanbul. Kids who have been stripped of the childhood back in Armenia.
Hovik has been working since the age of eleven. He's been serving tea on the streets of Istanbul for the past year and a half.
The day after meeting Hovik, Minister Hakobyan was at a ceremony awarding medals only a few hundred meters away at the Armenian Patriarchate.
Hovik's Kurdish boss waited at the door of the store while Hovik returned with the empty tea tray.
Here was a boy who will no longer attend school and who's already substituting Turkish words for Armenian ones.
As I watched him, I thought to myself what will happen to this 12 year-old boy who leaves his house at 7:30 every morning for the walk to KumKapi, considered a dodgy Istanbul neighbourhood.
Will Hovik still be here in years to come, making and serving tea to customers seated in the street outside?