12:13, August 24, 2012
Nikolai Nikulin, a Russian living in the Lori Marz village of Tzater, has a serious "identity" problem.
The man has no identity documents of any kind and thus hasn't been able to work for the past 22 years.
"All those Armenians living in Russia get good benefits. But Armenia can't do a thing for this Russian. It can't get him identity papers or any assistance," says Asya Andreasyan, Nikolai's wife.
The two started to live together in 1990. The marriage was never registered due to the lack of identity papers. Their five kids bear their mother's last name.
Given the financial straits of the family, Nikolai and Asya married off their 16 year-old daughter to a man from the Agarak village near Stepanavan two years ago.
A few years ago Nikolai suffered a stroke but couldn't receive any medical care due to his lack of identity status. The man isn't in any shape to work even if someone gave him a job.
The family somehow survives on a monthly allowance of 46,000 AMD ($130). The kids do odd jobs to keep the family afloat.
The parents and their 4 children, ranging from 7 to 16, live in a trailer on the outskirts of the village near the pasturelands. Visitors are struck by the neatness and order inside.
When we visited the family, Nikolai was resting in bed. He said he came to Armenia in 1988 from Kazakhstan.
"I did my military service at the army unit in the Stepanavan village of Poushkino. I married Asya after being discharged," Nikolai says.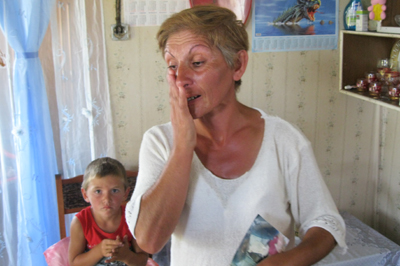 Asya relates that Nikolai lost the ability to speak after the first stroke but that miraculously he regained his speech after a second stroke three years later.
Nikolai told us that his military service papers and driver's license were stolen when he went to work in the nearby village of Gyoulagarak.
He says that in 1996 he went to see his mother, brother and sister living in Kazakhstan.
"I went with my wife and the two children at the time but my mother refused to accept us. She was angry that I had marries an Armenian."
Recently, Nikolai sent a telegram to the military base in Kazakhstan where he was conscripted to get a copy of his service record. He received a reply stating that his relatives no longer reside at the address he had given.
Nikolai told us that he plans to look for work in the Zoghloushan forest outside of Stepanavan. His wife said that's where he fell ill in the first place. Sergey, the family's 14 year-old son, now works there in his father's spot.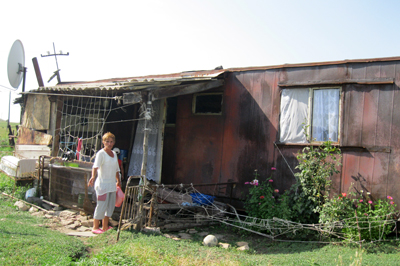 Anna Davtyan, principal of the Tzater village school said that the children attend class regularly even though they were taken out of school at the end of the year to help out with taking the livestock to graze in the mountains.
Hetq asked Gevorg Hakobyan, who runs the Toumanyan District Passport Division, to comment on Nikolai's predicament.
"Normally, non-Armenians residing in Armenia for many years with a red passport without citizenship are granted citizenship by a decree of the president," Hakobyan explained.
The official added that if Nikolai, with his red passport, and Asya, with her citizenship papers, came to his office it would be possible to resolve the problem.
Tzater Mayor Bagrat Ghalayan promised he would provide a car to take Nikolai and Asya to the passport office.