17:02, July 23, 2007
For eight years Iskhan Hovannisyan has been the village mayor of Verin Shen in the region of Nor Shahumyan. He recounts that when water was piped into the village ten years ago it was forcasted to serve the needs of eighteen families. Today, the amount of water isn't sufficient. There are certain neighborhoods that receive no water at all.
The Mayor states that, " Water is our main problem. Our two springs are located some 2,000 meters away and the water can be delivered through natural flow. We can't pipe the water in given our limited resources. If we were given the pipes and materials to build a reservoir, I'd gather up all the villagers and we'd get the job done."
There are also twenty families with military contracts who live in Verin Shen. The villagers are mostly engaged in animal husbandry and bee-keeping. " If they gave us a loan, not much, say about $1,000 monthly, we'd get busy and buy some livestock.Otherwise, there's no real chance to advance," says one of the young people who have gathered around us.

Afterwards, the mayor shows us the new school building and points out that it was funded by the Jlavyan brothers, residents of Saratov in the village of Verin Shen, in the region of Shahumyan, in memory of their father. "We have a wonderful school but no auditorium. And there's no kindergarten for all the young children of the village," notes the mayor. We have two teachers in the village. They left here for further schooling but have now returned. There are two vacant houses in the village that we'll allocate to them. Both have decided to get married,"the mayor continues.
With a population of 224, Verin Shen is the largest village in the Nor Shahumyan region. The school has 62 pupils. There are 34 children of pre-school age.
There are six families in the village with more than one child. With eleven kids, the family of school principal Shahen Margaryan is the largest. His wife Gayaneh tell us she's expecting her twelfth child very soon. The family relocated from the village of Vaghashen in the Martuni region. Gayaneh is a refugee.
Gayaneh says that, " It's a real problem getting the kids ready for school; all the shoes, clothes, school bags, notebooks, we can't keep up with it all. The kids are outside all day, running around...the shoes only last for a month. But they're all good kids. They help out with chores, look after the animals, collect firewood." When she moved to Nor Shahumyan from Vardenis with her husband she had six children, five were born here. The family received a stipend of some 84,000 drams for the children. This, coupled with their two incomes, helps them get by.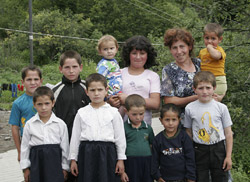 "We only use three to four sacks of flour per month...four if other food is scarce. The two cows and two calves we keep provide enough milk for the children", continues Gayaneh.
When I ask what they find most bothersome Gayaneh answers with a smile," Shoes and clothes for the kids and for me and my husband as well. But somehow we get by." Armineh, an eighth-grade student is her eldest child. She tells us she wants to become an elementary school teacher and work in the village school.
Gayaneh, along with her brother and two sisters were evicted from the Khanlar region of Azerbaijan. " We were orphans there from 1986 onwards. One of my sisters now lives in Krasnoselsk, the other in Tashir and my brother in Vardenis. Tears come to Gayaneh's eyes when she says that she hasn't seen one of her sisters since 1995. I'm compelled to switch the direction of the conversation and notice the potato bed in the nearby garden. "Why have you sown so few potatoes?" I ask.
" This year we had no seed and could only plant a few"
" Do you like this village?" I ask.
" Yes, the countryside is similar to our own and we've gotten used to it. We have a house and work. Things are good, we are able to cope." says the former refugee.
" Would you like to move away from here?"
Gayaneh answers, "No, where would I go? Whatever we have is here. We're not going anywhere. Here is where we'll spend the rest of our lives. Our children really like the village."