14:06, August 13, 2007
For artist Arpineh Tokmajyan the question remains, " This is the issue. If a citizen of Armenia doesn't disturb her neighbors, does she have the right to work in her apartment?"
Juletta Harutyunyan, a neighbor of the artist, has filed a lawsuit against Tokmajyan on the grounds that she is using her apartment as a woodworking shop that creates noise and disturbs her peace and quiet.
The story begins in 1998 when Honorary Artist of the Republic of Armenia Tigran Tokmajyan and his daughter Arpineh assume private ownership of Apartment 40 located in Building 19 on Komitas Street. The apartment had been primarily used as an artist's workshop since the Tokmajyans had another residence on Demirchyan Street.
Arpineh Tokmajyan recounts that their neighbor Harutyunyan threatened them not to disturb her peace and quiet as soon as they first met. Despite the fact that the Tokmajyans provided no grounds to do so, the elderly neighbor started to constantly telephone the Arabkir police station, filing complaints with the local district office and court, that her neighbors on the floor above were creating a disturbance.
Every time she described the situation Juletta Harutyunyan would state that the Tokmajyans and their workers were using machine tools to fashion picture frames in the apartment that they had converted into a woodworking shop.
"In all the final findings of the police it's duly noted that the arguments of my neighbor are quite baseless and don't hold water " states Arpineh and shows us the papers. My neighbor even filed a complaint when I was away in Paris and the apartment was locked-up. She complained that my father and I, along with my friends, held noisy drinking parties. Even after the death of my father her complaints continued to include him as a noisemaker. None of my other 19 neighbors made any reference to noisemaking in their statements."
In one of her nightly emergency calls to the police 76 year-old Harutyunyan described that just an hour before they arrived at the house, two workers removed all their tools, including the joiners bench they had brought with them earlier. After so many complaints it no longer comes as a surprise to Arpineh that her neighbor believes such heavy machinery can be carried up and down a house with no elevator. " I ask the police and my neighbor. And what about the wood smell? Do the workers take that out with them as well?"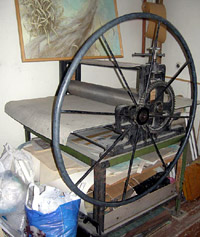 The only pressing machine used in the apartment is hand-driven, not motorized. It's a etch- wheel type press (a metal cylinder that compresses the painted linoleum and copies the picture onto paper). Every time the police have come to the apartment they've tried the press and are convinced it doesn't make any noise. It's only Arpineh that periodically works the press to make graphic designs and not any so-called workers.
Later on, defendants for Mrs. Juletta, who is a lawyer by profession (Arpineh says that Juletta's husband mentioned that she works in the Criminal Division of the Court of Cassation), M. Babayan and K. Shirinyan (who is J. Harutyunyan's grandson) and a third defendant who's a district ward representative, pointed out to the Arabkir and Kanaker-Zeytoun Court of First Instance that according to Article 222 of the Armenian Building Code, 'an apartment must be used solely for the purpose it was intended for, and the Tokmajyans are utilizing it for other purposes. That is to say that the apartment's intended purpose is that of a residence, but that it is actually being utilized as a "public space" which, according to the decree issued in 1998 by the Minister of Urban Development, is defined as "cultural and art buildings and edifices which include libraries, museums, showrooms, picture galleries...art studios, etc."
Of interest is the part that deals with "cultural and art buildings and edifices which include...". Here the law only refers to interior gallery space in such art and cultural structures and functioning individual art studios in those spaces. The law doesn't refer to separate apartment/studio locales. In other words this decree has nothing to do with those studios where an artist uses their apartment mostly as an art studio without disturbing others.
"What does according to the apartment's intended purposes actually mean? Does writing poetry in the apartment contradict its intended purpose?" asks Arpineh Tokmajyan. The judge asked if I sleep in the apartment. He asked if I lived there or painted there? The lawyer told me I could paint there but that I shouldn't use the place as a studio. The more I paint, the more it becomes a studio."
In the apartment are everyday domestic items like a couch which one can sleep on, something Arpineh occasionally does. This fact amazed Judge S. Hovsepyan who asked, " Is there a mattress on that thing?"
J. Harutyunyan petitioned the court to "prohibit A. Tokmajyan from using the apartment as an art studio, to stop all wood-working activities and to oblige her to utilize the apartment according to its intended purpose. She also requested that the defendant pay the amount of 392,500 drams in compensatory damages. (120,000 drams for drug and medical expenses incurred to treat ailments resulting for the noise; 170,000 to pay the fees of her lawyer M. Babayan and 102,000 drams to pay her other lawyer and grandson, K. Shirinyan)
Tokmajyan has counter-sued and requested that J. Harutyunyan's original suit be dropped. She's also requested to be compensated in the amount of 70,000 drams to cover her own legal expenses. Arpineh says she's not seeing compensation for the damage done to her property despite the fact that Mrs. Juletta damaged her apartment door by banging on it with her keys; something the police also testified to.
Upon reviewing the case Judge S. Hovsepyan ruled partially in favor of J. Harutyunyan. His decision states that, "Arpineh Tokmajyan is prohibited fro using Apt. 40 of Building 19 on Komitas Street in the city of Yerevan as an art studio and is obliged to utilize said apartment as originally intended. A. Tokmajyan will pay J. Harutyunyan the sum of 272,500 Armenian drams as compensation for legal fees that the latter has incurred." The remainder of the original lawsuit plus the counter-suit was thrown out as groundless.
"All throughout the trial I proved that I'm not a wood-worker nor was I using my apartment as a woodshop, something that my neighbors attested to. The ruling of the court now prohibits me from painting in my own apartment" emphasizes Arpineh.
Nowhere in the decision of the court was the issue of noise abuse ever mentioned. Let us remember that this was the main argument of the plaintiff's lawsuit. It was never proven that the defendant used the apartment as a woodshop. The court based its decision on the fact that in their discussions with the police Tigran and Arpineh Tokmajyan had stated that, "hey were using Apt. 40 as an art studio."
There's nothing surprising here. The Tokmajyans, who were living in the apartment on Demirchyan Street, had essentially turned the apartment into an art studio. Furthermore, Arpineh says that she wasn't using the apartment literally just for painting. Mainly, she was working on her computer there, something that is an essential part of her work. Most importantly, she never disturbed her neighbors.
Arpineh concludes, « I don't think this is just my problem. If Article 222 of the Building Code can be used against me then there's a precedence whereby the neighbors of all artists can take the to court.» In her pursuit of justice Arpineh is preparing to bring her case to the Court of Appeals.