13:14, August 20, 2007
"...Upon publishing the article (They're Getting Rid of the Indians and Bringing In the Russians) further investigation revealed that the Madneuli Stock Company purchased all the shares of the Golden Ore, LLC in December 2006. This transaction was duly noted on April 23, 2007 in the Federal Registry's Regional Branch and was correspondingly recorded in the participants' Reeystr (a government-related department also attached to the Ministry of Justice where changes in stock ownership are duly recorded).
Once the transaction was finalized the new owners of Golden Ore, LLC failed to make the appropriate amendment in its by-laws that in turn would also be recorded in the government's unified registry listings. Thus, there wouldn't be any discrepancies between the participants' Reeystr and the government's unified registry listings." Lana Mshetsyan, Press Secretary for Armenia's Minister of Justice, sent this clarification to Hetq.
Afterwards we attempted to telephone Misak Martirosyan, Director of the Registry Service of the Ministry of Justice, for further elucidation regarding the issue. He declared that they had no prior inclination to provide false information, that this was the first time such a thing happened and that they were preparing to appeal to the legislators to make the appropriate amendments to the statues.
In reality it appears that for years citizens of theRepublicofArmenia, members of the legal profession as well as journalists have been paying the government fees to obtain information from these official bodies and that this information can be false. Such information is often used as evidence to arrive at court rulings. Thus, there's the potential for the courts to hand down incorrect sentences and decisions. The Service Director didn't rule out the possibility that false information might be issued but rationalized this as resulting from deficiencies in the law
What we find incomprehensible is why, two months before our queries into the matter, the government issued the following information to another organization – " the Golden Ore, LLC belongs to the Madneuli, LLC". (See; Federal Registry documents)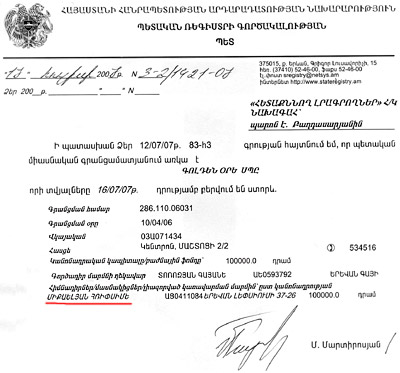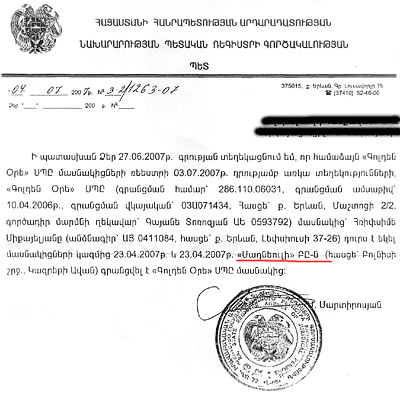 In Yerevan, the Metropol Hotel, whose owner is Andranik Manukyan, Armenia's Minister of Transport and Communication, is located at 2/2 Mashtots Avenue. This is the same address officially registered for the Golden Ore, LLC. Minister Andranik Manukyan is the real owner of Golden Ore.