14:03, August 20, 2007
The isolation facing the ArmenianvillageofJiliza, which straddles the border withGeorgia, lately became even more pronounced when Armenian and Georgian border guards began prohibiting residents from their respective countries to make the crossing over to the other side. There are seven Armenian villages on the Georgian side and residents of these villages have familial links with Jiliza.
78 year-old Libarit Halivoryan says that, " I have 36 grandchildren and 13 great-grandchildren. My daughter lives in thevillage ofAkhkorpi over inGeorgia. When she reaches the border they turn her away. We're connected to that village but they don't allow me to see my grandchildren. You see they're Armenian, one of us, let them cross...what's the big deal? I miss my grandchildren. There are many others in the same predicament."
In 1995 the government decided to open a border crossing station in Jiliza but to date nothing has happened. Jiliza and the other villages along the Georgian border are closely interconnected. Armenians would go there to purchase flour and vegetables and in turn would sell meat and dairy products to the Georgians. All this has come to a halt during the past few months.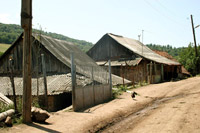 At the very least, the situation raises doubts that when our leaders sit down with their Georgian counterparts "little" problems like this even cross their minds. It seems they're only concerned with the "bigger" issues. In fact, they could arrange it with the Georgians to resolve this problem in just one day and thus not subject their own citizens to such a desperate fate.
Till today, Jiliza receives its electricity fromGeorgia. Just like the neighboring Georgian villages, Jiliza receives power only a few hours a day. A wind-power station generates electricity in that region ofGeorgia. Armenians pay about 35 drams for one kilowatt of electricity usage. The 28-kilometer stretch of nearly impassable road from Alvord to Jiliza is currently being resurfaced with an 880 million dram budgetary allotment. The 5-kilometer stretch from central Alaverdi to the neighborhood of Madan has already been resurfaced with asphalt. The remainder of the road to Jiliza will also be repaved but will not be given an asphalt top. Construction workers assure us that the entire project will be completed by this fall.
The 130 million drams ($360.000) that was allocated in 2004 to repave this same stretch of road "went up in smoke". Back then a company called Vermash was "doing" the work. The legal authorities are still at a loss to explain how the taxpayers' money was plundered. Given this experience, our regulatory agencies need to stay on the ball and see to it that this 880 million drams ($2.5 mln) doesn't disappear as well so that this vital roadway be rebuilt to serve its purpose, even if only for a few years.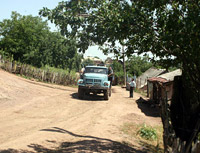 During Soviet times, the road to Jiliza passed through the Azeri-populatedvillageofSadakhloinGeorgia. Since 1988, it has been impossible to travel down that road. Between 1990 and 1991 the Armenian government constructed the unpaved dirt road linking Alaverdi to Jiliza. While it's been partially repaired over the years it becomes nearly impassable after a good rain.
"The government has promised to tackle the electricity issue soon after it fixes the roadway. Several organizations will assist us, says village mayor Mher Vardanyan and he lists them - The 'Friendship Union of Armenia and Artsakh' ofGreece, the Greek government and the 'Social Investment Fund'.
There are two working telephone numbers in the village, which belong to the Alaverdi city code. The villagers have been put on a waiting list and will soon be issued their own numbers.
There are only a few villages inArmeniawhere the residents actually like their mayor. For twenty years Mher Vardanyan has had the distinction of being one of these few. He's also unique in that he doesn't have a nickname like the other village mayors, some who are called 'Alabash' (that translates as Red-Headed One but is also used as a dog's name and is pejoratively used to describe a person with a quarrelsome personality) and 'Avara' (which loosely means a street vagrant).
Village resident Susanna says that, "If Mher hadn't been our mayor this village which is cut-off from the rest of the world would have become a ghost-town long ago."
For many consecutive years the 'Friendship Union of Armenia and Artsakh" has been assisting thevillageofJiliza.
| | |
| --- | --- |
| | |
| Libarit Halivoryan | Mher Vardanyan |
Village mayor Mher Vardanyan says that, "Their representatives have promised to make investments in the village once the road and electricity issues are resolves; let's see what happens. Two young families moved here from Vanadzor in 1991. They started to lay the foundations of a house but couldn't make a go of it, so they left. We don't have any farming equipment and that's why were late in collecting the hay. There are no resources in the village on which to build a future. The banks will not issue us the credit we need to purchase the necessary equipment."
No new homes are being built in the village. The exodus from Jiliza continues. In the last year three young families have moved away. Most leave forRussia.
Mayor Mher Vardanyan is convinced that the authorities understood the importance of Jiliza as far back as 1987. "It's not just a question about the people of Jiliza. If people move away from here we'll lose this region of the homeland: almost 12 thousand hectares. Without Jiliza it would be difficult to hold on to this area. Our village is the only one in this border region. We, along with our border guards, have been sentenced to hold on to these 12 thousand hectares.