12:53, February 8, 2013
The traces of the devastating 1988 earthquake are still evident in the Lori village of Sarahart.
Like the neighbours in Gogaran, residents of Sarahart have no cultural center or separate kindergarten. With 43 children in attendance, the latter is housed in the village school.
Village Mayor Vasil Piloyan said that in the past four years the Glendale Hills construction company has built 83 new apartments in Sarahart as part of a government housing program in the disaster zone.
Piloyan said they were all inhabited but we heard the following complaint from one apartment resident.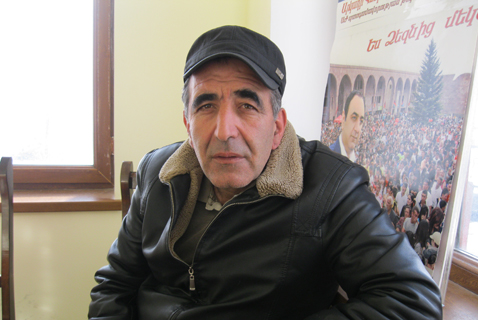 Vasil Piloyan
"They've been fixing my apartment for the past three years. It should have been a three room flat but was only one room. They have to divide the room in half," said Sanasar Soukiasyan, whose family of six have been living in a dnak (trailer) for the past 25 years.
The Glendale Hills Public Affairs Department told Hetq that 39 private homes have been handed over within the government's program and that another 18 apartments are being built.
Mayor Piloyan assured us that the outstanding garbage collecting, gasification and street lighting issues had all been addressed during the village's 2009-2013 development plan.
Nevertheless, Sarahart is a dying community.
Piloyan said the within the scope of the next four year plan water would be pumped from the Pambak River for irrigation and that a kindergarten would be built.
"Despite all of this, Sarahart residents continue to find work in Russia and take their families with them," Piloyan confessed.
I approached a group of men playing cards in the village square and asked them about development in the community.
Why hasn't it developed? Thanks to Putin we go to Russia and bring back a few cents to pay the taxes. Then we leave again," said Henrik Barekyan.
The men said that they play cards seven months out of the year and "clean the floors of the Russians" for the other five.
"We need peace and jobs, nothing else. 400 men folk leave the village and 400 women sit at home," said Barekyan.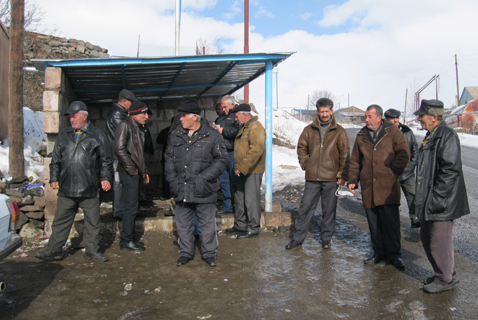 Another chimed in, "For how long must we live on Russian coattails?"
Mayor Piloyan agreed with the assessment and noted that only 100 of the community's 500 tillable hectares were being cultivated. Residents said it was better to sweep the streets rather than work the land because it was too expensive.
Sanasar Soukiasyan argued that the country needed a president that could take care of the people.
When I asked what demands the villagers would make to visiting presidential candidates, their answer was one of resignation.
"The president has already been decided. Everyone knows it. What election? It's all a big show," exclaimed Sourik Hovsepyan.
Baris Haroutyunyan continued, "What did the last election get us? Yes, I am pretty disappointed with Serzh Sargsyan. What has he done?"