14:14, September 24, 2007
Member of Parliament Harutyun Pambukyan sent a letter to the editor of Hetq which reads, "On June 7 at the Friday Club, during a press conference organized by you and Karen Kanlaryan, the editor of the Armenian Revolutionary Federation's newspaper Droshak, you made a statement that directly relates to me. Specifically, you stated, "Harutyun Pambukyan's company Max Wood's vehicles uproot the walnut trees in Kashatagh, then process them and send them to Spain, so that Armenian oligarchs' Mercedes can have wooden parts made in Karabakh."
"First, let me say, that the 'facts' you stated are, to put it mildly, a distortion of reality. For four years now, starting from July 2003, I have not had any legal, physical, entrepreneurial, or direct or indirect association with Max Wood. It should have been necessary for an honest journalist to at least check those claims before making such a statement. So 'Harutyun Pambukyan's company Max Wood's vehicles' could not have been in Kashatagh in June.

"Second, at a time when many were avoiding doing business with Nagorno Karabakh, yes, Max Wood LTD, with the efforts and direct participation of myself and my friends, reached unprecedented agreements with several renowned European companies, such as Beretta and Browning, to send them wooden details for hunting rifles made from the roots of walnut trees, and not for " 'Armenian oligarchs' Mercedes to have wooden parts from Karabakh.'"

"I want to emphasize that only roots of the already cut (I stress, already cut) walnut trees were used as raw materials, and that Max Wood was praised by the people of the Republic of Nagorno Karabakh, and by its president and prime minister.

Taking into account that the unfounded statements you made against me at the aforementioned press conference were also published in the June 8 issue of the newspaper Aravot under the sensationalist title of "Pambukyan Destroys the Forest", and that these statements may damage my image and my good name, I ask you to again go onsite, scrupulously and meticulously research the matter, documents and everything else available and publish a retraction of your original statement, specifically by printing it in Aravot and also voicing it in any future press conference you organize."
Max Wood Continues to Cut Down Green Walnut Trees
Max Wood LTD is registered in the Republic of Nagorno Karabakh, although years ago it was cutting down trees in the Tavush Marz. The founders of the company are Hrant Harutyunyan and Spaniard Enrique Viver Camin. According to the letter Harutyun Pambukyan sent us, he has had no association with the company since 2003. It is impossible to determine from the documents what kind of association he had before that, but from the letter sent to us it's evident that there were close relations. Pambukyan writes that Max Wood used "previously cut walnut trees". What does that mean? One can only imagine that cut walnut trees are lying on the ground all over Karabakh waiting for Max Wood trucks.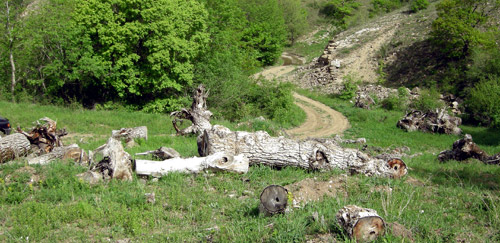 We don't know why Karabakh's president and prime minister of praised Max Wood, but we do know that its people have not been grateful for the felling of walnut trees, and have instead expressed anger against this barbaric activity. We have in the past addressed this issue and provided facts. Furthermore, the massive scale of walnut logging has been discussed in the Karabakh parliament, and a committee has been created, which researched the issue and presented a negative verdict to the parliament and government.

Max Wood has lied to and tricked community heads throughout the Kashatagh region. Instead of cutting down dead walnut trees, it has cut down green trees and has departed from the communities without paying anything into their budgets. Today, Max Wood continues to cut down walnut and other types of trees in the Kashatagh region.
Just two examples: "Last year Max Wood signed an agreement with us, that they would cut down fifty dead trees from the territory of our village," Sergey Poghosyan, the head of the Goghtanik village council told us in May. "There wasn't that many dead trees in our village, so they cut down green trees as well." The village mayor didn't tell us how many trees were green. One of the villagers, whose name we won't mention, said that 90% of trees they cut down were green.

How was Max Wood allowed to cut down the trees in the village? "We did as [regional] administration head Hamlet Khachatryan told us. They [Max Wood] agreed with me that they would transfer money to our village for cutting down our trees. We decided to solve the problem of drinking water with that money. I went and opened a bank account for the village hall, so they could transfer the money. Then they said, there is no need to transfer the money, we will build a pipeline for drinking water. They lied and didn't do it," said Mayor Poghosyan. In the village of Gandza, Max Wood cut down fifty trees, most of which were green. The company promised the head of the village council that the school building would be repaired, but they never kept their promise.
| | |
| --- | --- |
| | |

In May we saw dozens of felled walnut trees, which Max Wood had not picked up yet, along the road to the village of Drakhtik "We used to, of course, gather the walnuts and sell them, and now they've taken that from us as well; they have no pity for the trees or for us," said Lilit from Drakhtik.
Here are those walnut trees. Law enforcement officials and forestry rangers from ArtsakhAntar can come and see how the "dead" walnut trees were cut down with government approval.