16:58, May 31, 2013
It turns out that a number of residents along Sarahart Street in Alaverdi have been getting sewage water flowing from their faucets for the past two months.
Residents had complained to Armenia's water utility about the off-color and malodorous water since residents had come down stomach disorders after drinking the water.
Lena Manyan, who resides at 2/26 Sarahart Street, said that she and her neighbors first believed that rain had caused the off-color water. Then they noticed that the water looked strange even on days with no rain.
Their complaints to the local utility office fell on deaf ears.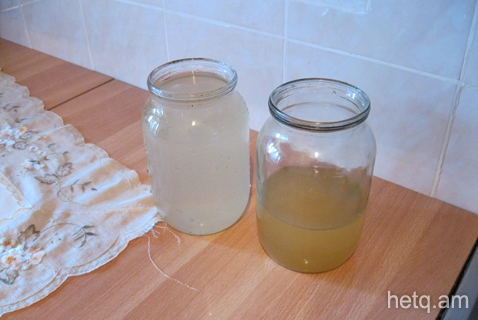 Local utility office manager Artour Koloyan even assured residents that the abnormal color had been caused by a water pipe that had burst and that the Alaverdi Municipality was responsible for repairing it.
Municipal Council member Rouben Tzatinyan then became involved and after a slew of constant complaints by irate residents, workers from the utility arrived and took water samples.
Test results showed traces of sewage in the water. The laboratory that conducted the tests told Hetq that the water was unfit for human consumption.
When we tried to reach Mr. Koloyan for comment we were first told that he would be paged. A few minutes later, we were told that he was away from his desk.