15:06, December 24, 2013
This year, for the first time ever, the village council of Ferik decided to allocate social assistance payments to needy residents.
The council allocated 90,000 AMD, from the village budget, apiece to five women who claimed that they needed the assistance.
Hetq has learnt that the five women are wives of council members Shamal Hsoyan, Mameh Mamoyan, Merali Mradyan, Onik Shamoyan and Toroun Kyalashyan.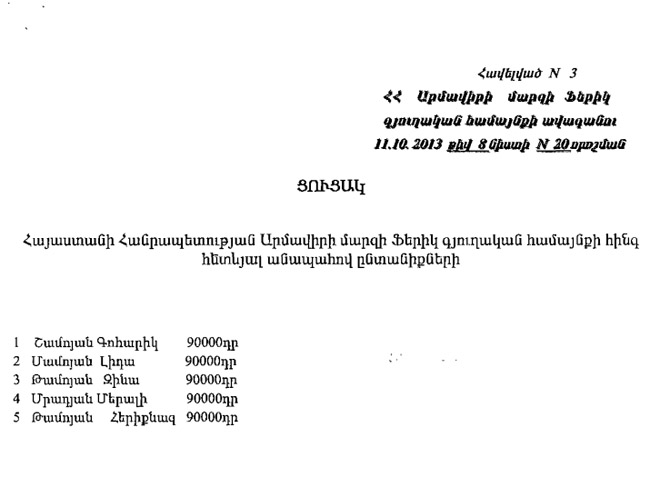 The official Ferik Council document below shows who was paid what.
Ferik Mayor Norik Hayrapetyan verifies that the five women are the wives of council members, but points out that they only received 10,000 in actual cash. The council then took the remaining 80,000 from each of them and used it to purchase clothes for school age kids in the village.
Hayrapetyan told Hetq that the council agreed to pay for clothes for village students as a New Year's present. He says that in all 400,000 AMD was allocated for this purpose and that the clothes are waiting to be picked up in the school.
So why all the subterfuge?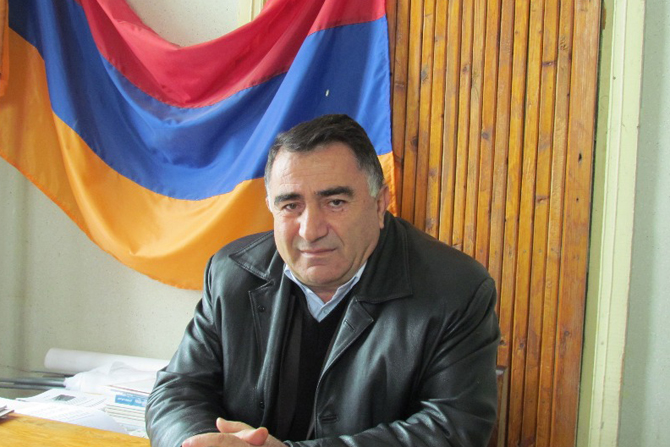 When Hetq asked Hayrapetyan why the council simply didn't pass a resolution to allocate money for the purchase of clothing, but instead gave money to their wives under the guise of social assistance, the Ferik mayor gave the following explanation.
"Either it had to be a transfer or cash in hand. Since we weren't provided a corresponding account, we decided, based on the council's decision, to take the cash and give it to them. As to why we gave assistance, let me explain why we didn't allocate it. If I were to give 1,000 in assistance to anyone, the next day all the villagers would be lined up outside my door asking for the same."
Hayrapetyan justifies the move by saying that they could give money to other villagers and then take it back. This is why the social assistance was drawn up in the wives' names.