19:04, August 2, 2011
Large-scale logging in Jiliza is now underway. Hetq reporters came upon a group of tractors and trucks on the stretch of road winding its way deep in the forest between Alaverdi and Jiliza.
The village of Jiliza is right on the Georgian border.
Those cutting down the trees evidently were working during the night since they were still asleep in their cabins when we approached at 11am.
None of the loggers wanted to give their names.
"We are private contractors and can't say anything more."
Our group came upon another group of loggers a bit further up. At first, they claimed that they were berry pickers. But the freshly cut tree branches on the side of the dirt road presented another picture.
"Yeah, we are picking berries and have collected some wood for a barbecue. If we are cutting some wood, it's all legal," they told us, even though they could produce no permit to transport the wood.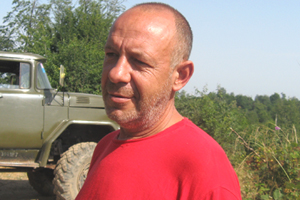 We asked one of the men, a Russian speaker who seemed to be in charge, to show us the buckets of berries they had supposedly collected.
He responded that it wasn't any of our business.
We saw other trucks loaded with trees on the Madan-Jiliza road on July 30. We didn't see any drivers or workers.
Neither did we come upon any employees of the local ArmForest State Agency.
That day the forest was ripe for the taking.