19:20, April 27, 2009
The family of Anahit Hovhannisyan, who resides in building #3/5-20, in the Sarahart district in the city of Alaverdi, now finds herself in extreme poverty. "I am unemployed. My family consists of 7 members, me and my six children. My husband disappeared on December 3, 2008, when he left the house and headed for Georgia. My family survives only by means of borrowing food from the stores.
I am a customer at Hranoush Tandilyan's shop. I get 47 thousand drams of benefits and borrow food accordingly. But this sum fails to cover the needs of 7 people. Today, we had to use our district's charity canteen, eating the dinner for two persons. What can I say? We are a large family with neither employment nor opportunities. So we live in such a disgrace," Anahit said. The woman, exhausted by suffering and hunger, told us that she got married in 1982. Her husband didn't work from the beginning. "My mother used to help us. This is the house of my parents. This house was different then. It used to be fully furnished. We had to sell the furniture to help the children survive somehow. Till now I live with pain and anguish," Mrs. Anahit says, seemingly talking to herself.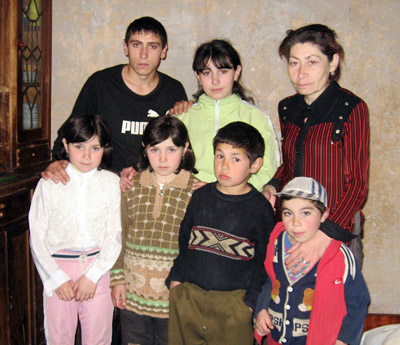 There wasn't a crumble of bread in the house. "I thought I'd rather go and get some herbs from the forest. I am going to boil them, cook them without any oil or butter and feed my children. I'll see what I can do. I have nothing. They don't sell me anything at the shop, as they know the amount of my social benefits. Whenever I spend the last dram from my benefits they don't sell me a thing," she told us.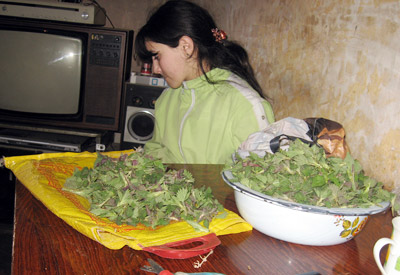 Only 21 year-old Sargis is an adult among the 6 children of Anahit. Sargis doesn't work. "There is no work here. Besides, I am sick. I have a temperature and fever all the time," he said. The face of Sargis was covered with drops of sweat, when he was speaking.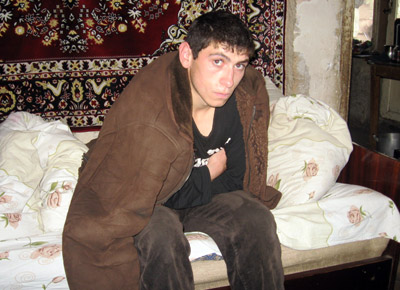 "He feels very bad. He is constantly in bed and keeps coughing," his mother explained to us. Sargis declined our offer to see a doctor and check his lungs, even though we explained to him that the policlinic medical service is free of charge. "If we call a doctor, we will have to pay," he said. Four of Anahit's younger children study at Alaverdi's Sayat Nova School. Twins Anna and Sona are 5th grade children, while Karen is in 3rd grade. Hayarpie is in the 8th grade. Six year-old Aren doesn't attend kindergarten, as he doesn't have any clothes to wear. "None of my children study well. They seem to have some problems that I am not aware of. But I can't say that they are mentally retarded," she said. According to the mother, the children have always been ignored at school. Fifth grade schoolchildren Anna and Sona, as well as third grade Karen can't read the alphabet. The children can't sing or recite anything. The mother demanded to keep the three of them in the same grade, so that they learn the alphabet. The eldest girl Hayarpie is mature and beautiful. She confessed that she doesn't study well at school, but her mother said that she is very helpful at home. She can do fine needlework. Hayarpie even helped her sisters Anna and Sona to do some needlework in the shape of flowers. She said she dreams of becoming a fashion designer.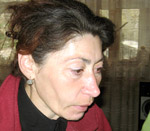 Anahit Hovhannisyan's conclusion about her children's future was a cry of despair. "I see no future in my children. I can feel that this poverty has a bad impact on their inner world, too. I ask them whether they listen to the teacher speak, when they are in the classroom. The children answer that the only thing they can think about is what they are going to eat when they come home. Hunger rules them, they can think of only hunger and food," she concluded. The opinions about the mental abilities of these doomed children contradicted each other when we inquired about them at the Alaverdi Mayor's Office as well as at the World Vision Children Development Center. Zara Noninyan, psychologist at the Center, believes they are bad children. Nevertheless, there is an individual development program devised for Anna, Sona and Karen Sirounyan who are enrolled at the center. According to that program, the specialists work with them three times a week. When we tried to find out what kind of a development program had been set up for these three children, Zara Noninyan avoided telling us. Gohar Vardoumyan, the Armenian language teacher of Anna and Sona, said the following about the sisters: "It's the first year that I am teaching them and I can say that the girls can read a little. I can't teach the girls individually at school. The sisters sometimes can forget the words they have learnt. One of the girls (she failed to remember which one) can easily learn a text when she hears one of schoolmates recite a poem in the classroom. If I am not mistaken, they say the girls are mentally retarded children," she concluded. Siramarg Sadaghyan, the twin's religious history teacher said, "They are very weak children. I have to work hard to make them utter a complete sentence. They are strange, weak, and they have mental retardation in their family. If I can make them pronounce two sentences, I am happy." Karen Sirounyan's teacher Armenouhi Karamyan expressed a more or less inspiring opinion. "It's the first year that I am teaching Karen Sirounyan. I have heard that being ignored he had missed many classes. Their family lives in unbearable conditions. He failed to properly attend school for three years. How can he learn a thing, especially if he is completely left to himself? I suggested that his mother Anahit work with him at home. This year she attended the school meetings only twice. She hadn't visited me at the school since December. I can't meet her. They are a large family of poor people who survive by borrowing food from the shops." "They are children, naughty children. They are children who were deprived of many things in their lives. I can't say that they are bad people. They hardly survive. Every day they come and beg for two spoons of coffee, or a spoon of salt, or a mop, or a needle. I don't communicate with them not because of their poverty, but because I am not very communicative," said Mrs. Anoush, the neighbor of the Sirounyans.
Translated by Anoush Mkrtchyan