19:56, May 4, 2009
In two months, Silva Gevorgyan, a 37 year-old resident of Kachachkout, is going to have her sixth child. The parents believe that the new- born child will make their situation even harder. "I didn't have money for an abortion. I had to have the baby. I am constantly thinking about how we are going to survive. The benefit money doesn't cover our needs. I can't take care of my children. I don't know whether I should buy food for them or clothes," said a confused Silva.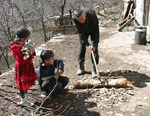 After having lived for 8 years abroad with her husband and children, Silva returned to her native village six months ago. She told us that her family could feel the impact of the world financial crisis when they lived in abroad. "It was already hard to live there. The food, transportation, everything became too expensive. They would tell us to go back to our country so that our authorities could assist us with everything. But I already see that we shouldn't expect any assistance from our authorities. Besides, I hardly know anyone here and I haven't turned for help to the authorities. I pray that something happens and a kind person appears and helps us out of our hardship or helps us solve at least one of our problems," she said. The family can't survive even in their own native village. They don't have a house in Kachachkout. They live in a dilapidated house of one of their relatives. The eldest child is 14 and the youngest is 7. The elder girl Mariam does beautiful needle work. Artak dreams to continue the wrestling classes that he had to drop when they were moved from the Russian Federation. Senik likes to draw. "It was better there, we had a job, and we had a bathroom. Here we have nothing. I used to go in for painting, but here I don't. I'd like to go back and continue my drawing classes. I love painting," Senik said. Sofia dreams to see her mother smile. She dreams of a day, when all of their problems will be solved and they will live a good life. "It is good here, but we don't have a house to live in. My parents are sick. We could buy clothes and lots of things there, but we can't buy a thing here," she complained. Samvel Poghosyan, father of the family, is ready to do everything to secure a good future for his children, though he has many health problems.

"I had a job in Russia. I would work whether the job was a temporary or a permanent one. I had to take care of my children," Samvel Poghosyan said. Despite the great desire of the children to return to Russia, the family can't go there anymore. According to the parents, just the money required for the trip of five children will cover the cost of purchasing a good house in Kachachkout and will provide them with an opportunity to run a farm. It's worth mentioning that the risk of landslides is great in Kachachkout. The Poghosyans house has already been damaged due to these landslides. M. Tamazyan, the village head of Kachachkout, said that they help the large family of Poghosyans as much as possible. "We didn't charge the Poghosyan children for the textbooks. We donated 20,000 drams from the community budget to this family when their grandmother died. We told Samvel Poghosyan that he can turn to me for help any time at all. As for the construction of a house with financial assistance of the community administration, I should point out that the community annual budget amounts to 1.2 million drams. Naturally, we can't help this family build their own house with such a meager community budget. We should note that in addition to the Poghosyans house there are about 60 other houses in Kachachkout that have been damaged by the landslides. Thus, our community administration can't solve this issue," Tamazyan said. In the case of the Poghosyans, where the welfare of the family itself is so insecure, one would be hard-pressed to talk about the welfare of the nation. The hardships faced by the Poghosyans preclude them from even contemplating the matter.