19:32, September 14, 2009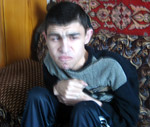 18 year-old Souren Atyan has suffered from progressive muscular dystrophy from early childhood. The debilitating disease has left him crippled. Ill fate has left this young man, a resident of the Dsegh village in Lori Marz, the sole supporter of a family of five since no one else who can work does. He feeds the family on the 11,200 AMD disability pension he receives. Souren's mother, Tamar Sargsyan, told us that they stopped paying the pension as of August 8 since Souren is no longer able to make it all the way to the medical exams scheduled by the #3 Lori Medical-Social Committee.
"Right now the pension payments have stopped. Not only can't we take Souren to the medical exams because of the transportation costs, but the boy can no longer be placed in a taxi due to his worsening condition. It's just not possible. He can't stay in one position for very long. I'm always moving him around. It's very uncomfortable for him otherwise. The only solution is for the commission doctor Artzruni Daghbashyan and the neurologist to come here and take a look at my boy. I sent in several requests but no one has come so far. But he's said that he absolutely must see the boy before allowing a resumption of the pension. We've asked him to come here but, instead, he tells us to somehow bring Souren there," says the mother.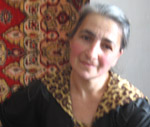 Tamar Sargsyan petitioned Sourik Abgaryan, the head doctor at Dsegh Hospital to arrange for her son's transport to the medical exam. "He promised to help. Let's wait and see when we can take him," she said. Until that time comes, the otherwise destitute family has come up with another solution to get Souren transported to Alaverdi for a medical examination – Law 276-N regarding "Medical-Social Examinations" passed on March 2, 2006. Addendeum 3, Point 11 of the law decrees that if a person, due to health conditions, is not able to personally make it to the medical examination and has informed the medical committee of the problem, then the medical examination can take place at the individual's place of residence. It has been over a month now that the Lori Marz medical-social commission headed by Artzruni Daghbashyan has failed to carry out its obligation. This is not the end of the story. The five member family of Aramayis Atyan hasn't received any social benefits since June 2008. "Currently, the family's safety risk index stands at 27,83; below the 30,00 maximum index set in 2009. The recount for the Atyan family took place on July 26, 2009 but there was no re-registration. The family was simply placed on the three month list for immediate assistance recipients. Now, the certification process for documents must be conducted for a new recounting," stated Armen Gevorgyan, who heads the "Paros" social services agency in Alaverdi. He reported that the Atyan family owned a cow, 2,040 in personal income and 5,718 in land revenue. Tamar Sargsyan, now at her wit's end, told us the sad story of the family. Her first born, Andranik, also suffered from the same muscular dystrophy disease and died in 2002 at the age of 18. Her two brothers also were debilitated by the crippling disease and passed away at the same age. After she gave birth to Andranik she found out that the disease was hereditary. Wrapped up as she was with tending to Andranik, she didn't notice that she was pregnant with Souren till it was late. Souren was born when Andranik was ten years-old, Tamar also has two healthy daughters that help her taking care of Souren. During our visit, she cradled the motionless Souren as if he was a small child and somehow seated his small sister Zarineh on the sofa. "What can I do if no one assists such a family as ours? I've petitioned here and there, including the Dsegh village municipality, but to no avail. All the while, my child's pains grow worse daily. He can no longer sleep on one side," recounted Mrs. Tamar tearfully. Souren is fully conscious despite his physical state. He understands the situation completely. This August 8, he turned eighteen. The principal of the Dsegh High School has refused, over the past few years, to resolve the problem of Souren's education, arguing that the boy is disabled. The boy's mother says that her son has a strong faith in God. Souren also told us the same thing. Mrs. Tamar told us that Andranik used to read the bible but that Souren can't read. He prefers to watch movies on T.V. Souren understands that he is the one keeping the family fed. "He's always reminding us to shut off the lights when not in use. He wants us to conserve the pension money," the mother tells us. Needless to say, the father, Aramayis Atyan, is experiencing great emotional strain over his son's plight. "He was asleep sick. There was no one to take the cow out to graze. He somehow threw some clothes on and went out. Souren's pension is the only income we have. None of us work," said Mrs. Tamar, out of earshot of her husband.
Anna, the eldest of the daughters, graduated from Vanadzor's "Mkhitar Gosh University", with a concentration in management. Mrs. Tamar says that her daughter is fluent in English and with the computer but that she hasn't been able to find work. "If she got a job, then the family burden would get a little lighter," the mother said hopefully. Anna added that she went to the village municipality looking for employment but that she was told that she needed a teacher's license. "Money is needed for every step you want to take. I would like to work in Vanadzor but it takes money to settle down there and rent an apartment. That's not possible without a job." Anna realizes full well that life is fraught with hardships. She experiences them on a daily basis. She hasn't given up hope on the future however and accepts that she must struggle to assist the family get through these hard times. She says that there is no alternative but to persevere and work to see better days ahead.