21:26, August 30, 2011
After a one month postponement, the paedophilia trial of American-Armenian businessman and owner of Metal Prince Ltd Serop Der-Boghossian recommenced at the Vanadzor Administrative Court yesterday behind closed doors.
A group of members of the Hope and Help NGO organized a protest outside the court minutes before, holding up signs reading "Dirty Hands Off Our Children" and "Deserving of Extreme Punishment".
The demonstrators said their presence was to insure that the trial of the influential businessman wasn't affected by outside forces seeking to get Der-Boghossian exonerated.
Today's trial differed from the others due to the presence of security personnel from Metal Prince.
The employees had transported the "victims" in the trial, who were supposed to testify against Der-Boghossian, to the court in a SUV.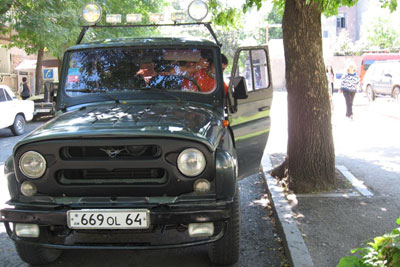 Reporters at the scene couldn't help but notice the seemingly friendly banter between the two groups.
One of the security guards, Arsen, even tried to prevent a reporter from photographing the SUV that had brought the defendants.
Prosecutor Aram Amirzadyan told reporters at the end of the trial that everything went normally and that no modifications were made procedurally.
Just one defendant was interrogated during the trial, a person who refused to offer pre-trial testimony.
When Hetq reporters asked the prosecutor about Der-Boghossian's reaction to the aggressive behaviour of the Metal Prince security personnel, Amirzadyan answered that he couldn't comment given that he couldn't identify them personally.
"But, if they violated certain rules, then we would definitely look into the matter," Amirzadyan noted.
The prosecutor was then asked if the security personnel hadn't pressured the defendants to retract their former testimony against Der-Boghossian.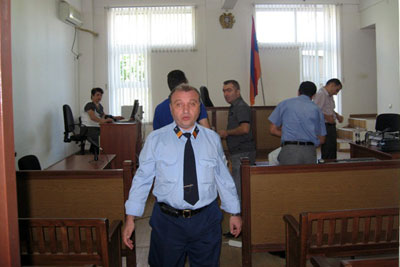 Amirzadyan answered that this would come out during the trial itself.
He did confess that the defendants were of two minds about testifying against Der-Boghossian since they previously found themselves depending on the businessman.
"All I can say is that there are basic contradictions in their testimony and we are trying to get to the bottom of it," he said.
The prosecutor told reporters that the one defendant who testified watched the tape of the sexual acts committed and did not deny his involvement.
Serop Der-Boghossian also didn't deny his involvement but attempted to convince the court that no physical violence had been committed against his sexual partners and that whatever took place was of a voluntary nature.
Prosecutor Amirzadyan noted that there was ample evidence already submitted to argue otherwise and that the charges against the businessman would stick.
Due to insufficient lighting, the entire tape could not be shown on the wall of the courtroom.
The trial thus ended at 5pm and will resume tomorrow at noon.