11:00, September 16, 2011
Karo Karapetyan is an MP with the Prosperous Armenia Party.
And prosperous he seems to be. Just check out his palatial private house in the photo below. Looks like something you'd see in Beverly Hills, not the village of Shahumyan in Ararat Marz.
Opposite the house stands an equally impressive structure – the village's cultural center built in 1937.
It's been empty for many years and needs a ton of investment to get it back on its feet.
Seems the wooden roof caved in from years of rain and snow. Just the outer walls remain.
Shahumyan Mayor Serzhik Babayan says the community just doesn't have the funds to repair the building.
"I've written to the Regional Governor and Ministry of Urban Development. There is talk that repairs will start in the near future," says a hopeful Mayor Babayan.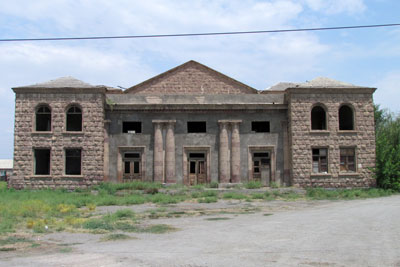 In the meantime, the mayor has allocated a small room in the municipality building where men come to play chess and checkers.
The village kindergarten is also in pretty bad shape. There are 50-60 kiddies in a building that's structurally iffy at best.
Shahumyan has a population of around 4,500 and every year 100 men go off to find work abroad, mainly Russia. The rest get by working in the fields.
Mayor Babayan told me that there are no large landholders in the village, including MP Karapetyan.
"He only owns 6-7 hectares inherited from his father," said the mayor.
When I asked him what he thought about the widespread belief amongst the residents that the mayor was in the pocket of MP Karapetyan, Babayan flatly denied any such thing.
"So you heard such stuff, they told you? The MP doesn't get involved in my affairs and really doesn't know much."
Mayor Babayan also told me that MP Karapetyan also doesn't know what the budget of Shahumyan is and how the funds are spent. (The budget is 60 million AMD)
"Sure, people go to him for help. Say there's a funeral. He might give money for liquor if needed. But he's never done anything similar for the community. Once he presented a plan to renovate the school. That's it," said the mayor.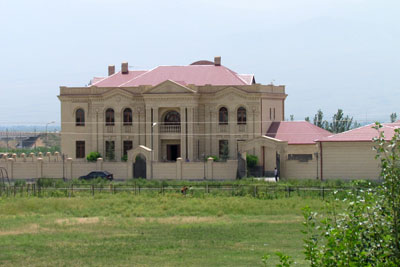 Two days after my conversation with Mayor Babayan I called up MP Karapetyan to get his side of the story.
I was surprised to learn that MP Karapetyan knew all about my conversation with the village mayor. It seemed that the residents were right - Babayan was indeed 'beholden' to Karapetyan.
I have been trying to get the MP to reveal something about his assets for a long time.
Recently, I bumped into MP Karapetyan in a hallway at the parliament. He berated me for stirring up things and for calling up his assistant.
Saying that he didn't want our conversation to be recorded he took the recorder away from me. More at ease, MP Karapetyan went on to say that doesn't own much of anything, not even Shahumyan Vin, a cognac producer.
When I asked about his palatial private house, Karapetyan became tight-lipped.
"One day you'll come to the house. Will have a drink or two and I'll show you around," was all he said.