15:03, November 23, 2010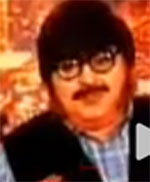 "
Our Show" shows Armenians in the 'homeland' the wonders of the '2nd homeland'
Samvel Mayrapetyan is a well-known figure in Armenia's luxury housing construction sector. He also owns a controlling share of H2 TV.
I recently had the misfortune of randomly tuning in to one of H2 TV's programs from Los Angeles, the second homeland" of Armenians. This program is beamed live, every Sunday, from L.A. to Armenians in the RA. This program appears to have one major aim – showing the "paradise" that Armenians who have moved to Los Angeles now enjoy in their 'second homeland". We are naturally talking about Armenians from the Republic of Armenia. The show I watched was being broadcast from downtown Pasadena, California. A young Armenian male was going on about a multi-story parking garage and then pointed to a car parked in the street. He then 'revealed' that one could place money in a strange looking piece of equipment called a 'parking meter' and leave the car safely on the street. Wonders of wonders... Our young Armenian then proceeded to walk down the street to the intersection. He stopped at intersection and explains that a pedestrian can walk at a 90 degree angle to the other side, suggesting that such intersections be laid out in Yerevan as well. As if, pedestrians and cars follow any rules in the Armenian capital. Our youthful Pasadena guide goes on to point out, in his terrible Armenian, several such other 'wonders' to be found in the city. At the end of the program, he apologizes that he had no prepared script and that he was ad-libbing all the way through, saying whatever came to mind. He reminded viewers to tune in next Sunday. The MC of this program was a person called "Tolik". He was able, just barely, to express himself in a mish-mash of Armenian and Russian. The program is called "Our Show". How's that for creativity. Tolik complains that there aren't many Russians in L.A., but loads of Armenians. Thus, he suggests that we shouldn't be saying "Los Armenos" but rather "Mini-Armenia". His guest for the day was the singer Nayira Ter-Karapetyan. To be honest, I've never heard of her. Just shows you how behind the times I am. I haven't kept up with the plethora of Armenian 'stars' on the horizon nor their names. She says that she has a wide circle of friends here in Los Angeles. Many of her classmates from school are living her as well. Nara (that's how Tolik calls her) says she would like to come to Armenia and give a concert for us Armenians over here. 'She loves her people', she blurts out. Now, I have no idea what her repertoire of songs is like. All I learnt was that she 'loves her people'. She said it, not me. I guess she loves her people so much that she wound up in Los and sings at the local "Maran" restaurant. And that Tolik; what a character. Barely able to string a few words of Armenian together, he's using the H2 TV airwaves to entertain us 'unfortunates' back her in Armenia. Friends have told me that previous "Our Show" programs have shown what cool cars Armenians drive in L.A. and other such marvels. In a word, once every week, H2 TV shows off the true heroes of the 'American dream'. A few years ago, I also travelled to Los Angeles. There I met up with scores of Armenians from the RA now in American jails. The number of former Armenia residents now incarcerated in Los reaches into the thousands. Naturally, H2 TV prefers not to mention them or how they wound up behind bars. H2 TV also doesn't devote any of its valuable airtime to the sun-flower nibbling, black shirted and pointy shoe wearing young Armenians who forge credit cards or sell drugs on the streets of Glendale. Why dwell on the negatives? It's a bummer man. Sure, they may be in hock up to their ears, but they all drive around in BMW's. H2 TV is there to astound us with the wonders of the good life in America. It's as if the H2 TV cameras and reporters are programmed to automatically tune away from the other, grittier, side of life in the 'second homeland'. Paradise beckons and Los Angeles is its gateway.