11:39, April 25, 2014
No one in the family of 42 year-old Hayk Petrosyan, an Artsakh War vet, has a job.
In 1989, at the age of 17, Petrosyan volunteered for a special unit and literally came out a shattered man due to the injuries he suffered in the war. He's undergone twelve operations on his head, feet and hands since 1992. Petrosyan is missing all of his right skull bone.
But he's stoic about his injuries. Keeping his family afloat is a more pressing concern, he says. Hayk's wife, Vardouhi, devotes all her time taking care of him and their three children, aged 8, 6 and 4.
Hayk will undergo yet another operation in a month to remove shrapnel from his hand. This time he'll have to pay for the operation. The government's allotted subsidies have run out.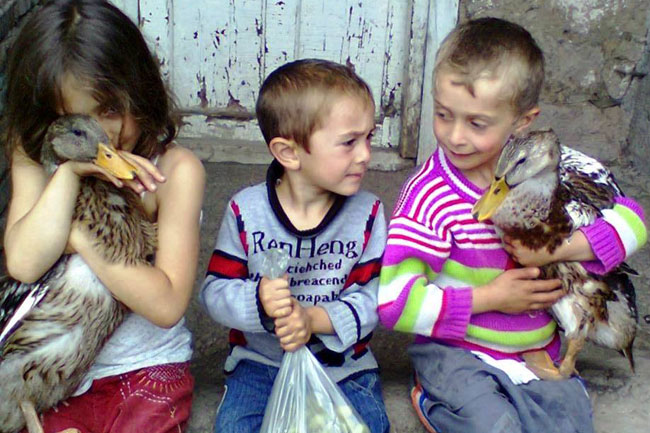 From the 1994 ceasefire until 2006, Hayk served in the Armenian army as a platoon commander. He left for health reasons and has been receiving a pension since.
Until early this year, the family resided in an abandoned building on the army base. The government has allocated 2 million AMD (US$4,900) to the family for the purchase of a house, but Hayk couldn't find anything suitable at that price on the base.
Hayk says he took out a $2,000 loan and hasn't been able to pay the interest. He's now making a public appeal for assistance.
"If someone can help me get out from under this debt I'd really be grateful," says Hayk.
He's says he's call his war time buddy General Seyran Saroyan, but doesn't have his number. Hayk has also written to Armenian tycoon Gagik Tsarukyan but suspects that his letter never got delivered since there's been no reply.
Hayk Petrosyan is the recipient of a number of war medals for bravery.
"I've never paid much attention to such things. I have one or two photos from the volunteer unit, but don't like to promote myself. I always thought that defending the fatherland was a natural thing to do and not an act of heroism," Hayk says.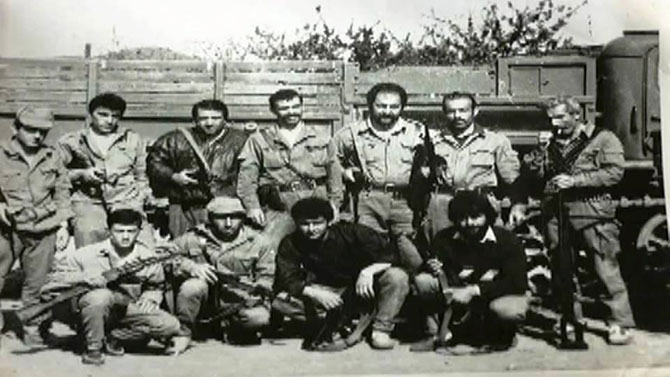 Hayk found the following photo many years after it was taken in 1992. He's in the front row, first from the left.
Those wishing to assist Hayk Petrosyan and his family can make contributions to the following VTB-Armenia Bank accounts in the name of Vardouhi Petrosyan.
VTB Armenia Bank
AMD 16023101474902
USD 16023101474903
EUR 16023101474904
RUB 16023101474905