18:57, June 2, 2014
The priest of Odzun Church, Father Vrtanes, has been living with his wife and 4 children in the house next to the church for 8 years. He engages in farming and beekeeping, and when local or foreign guests come to visit, he greets them with a smile and talks about the church's historical values and village life. Odzun residents come to the church not only for spiritual nourishment, but also to discuss everyday problems with Father Vrtanes. The priest actively participates in programs aimed at developing the cultural and educational life of the village.
| | |
| --- | --- |
| | |
"Before coming to Odzun, I served in Vanadzor — I was a spiritual servant in the army. When I was appointed to serve in Odzun Church, I was very happy because preserving the historical and cultural values of this church is very important for me. Apart from the main church, there are also other churches and khachkars [Armenian cross-stones] in the village, to which we must pay great attention. Over the years, living in the village, [I find] the villager becomes more and more important for me. If initially I came purely to foster the preservation of historical and cultural values here, well now I understand that the villager who is creating those values is the most important, whom I serve proudly," says Father Vrtanes Baghalyan.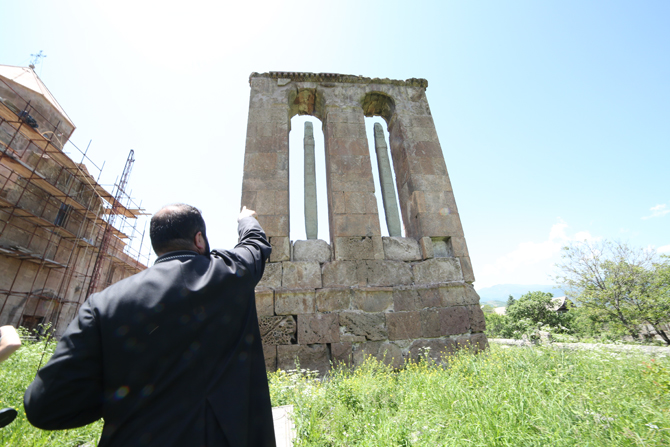 The priest's children go to the village art school, while his wife works in one of Odzun's secondary schools.
Two of the children, Soghomon and Mariam, were born in Odzun. In their free time, they paint the natural scenery, canyons, church, and people of their village. Soghomon likes the village; he feels safe here. He is preparing to become a priest and continue his father's work. "There are a lot of cars in Yerevan; that's why there are so many car accidents. But in our village there are very few cars and no car accidents," he says.
In the village, there are karate and painting classes, dance troupes, and an arts school.
"Living in the village, we are able also not to neglect the task of our children's development and education. Recently, there was great progress in Odzun: the reconstruction of the church, the repair of the cultural center, and the asphalting of the two main streets. After the road was repaired, the church receives hundreds of tourists and visitors, as a result of which guesthouses develop in the village. We have nighttime lighting; the issue of garbage disposal was regulated recently. I hope that soon a garbage recycling program will be implemented, and there will be such profit from that recycling that no residence will be without waste disposal," he says.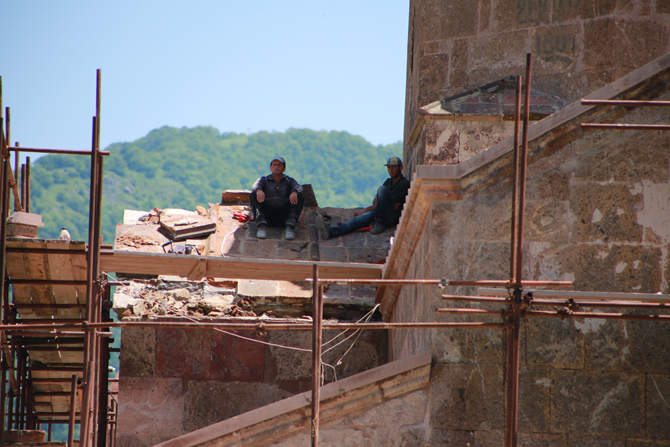 Every Sunday, the priest gives a liturgy at Odzun Church with the participation of about 200–500 people. He thinks that the congregation is too small, as it is about 10% of the village population. Father Vrtanes notes that compared to previous years, emigration from the village has declined.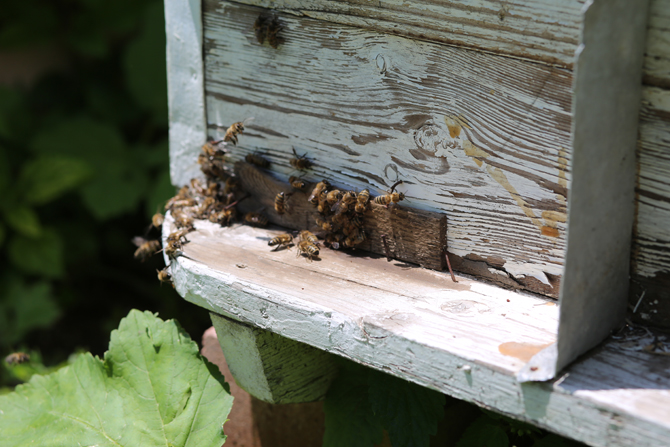 "Now, it's not so much emigration as labor migration that's a problem for the village. They no longer go as a family, but men continue to go [abroad], working for months at a time. I think that a person, even with a meager salary, should be able to live, work, and create in his own country. Families should not be destroyed because of this. I very much want for young people to be able to resolve their issues of work and residency in the village. Glory to God, there is also progress from this perspective. The water pipelines of the village were being changed; the youth were working — in the central area, on the road, shops are increasing," he says.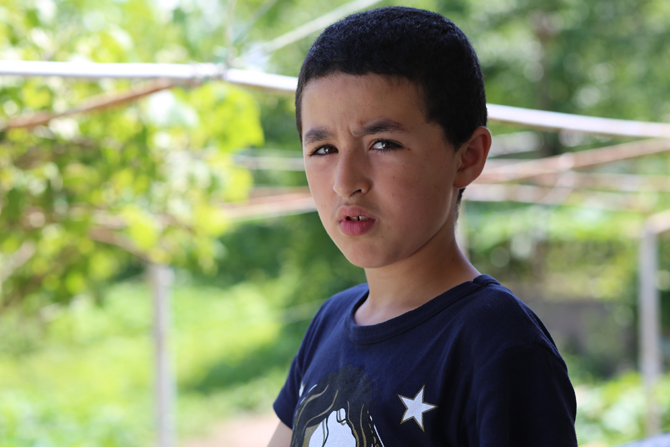 Odzun's main problem is selling what it produces: villagers are unable to sell or exchange their produce. They produce mainly vodka from their surplus plums, which they are unable to sell. Father Vrtanes has an idea of how to address this problem. He believes that it's more profitable to dry and can the plums than produce vodka. Odzun, along with 8 other neighboring regions, participates in a program by which villagers are preparing to gather various flowers and herbs for tea and send them to France — to sell.
"When the goods are not sold, the villager no longer wants to cultivate [the land]. I was born and raised in the village of Musaler — I know the problems in agriculture and animal husbandry. It's necessary to have small industries in the village because in the winter months, the majority of men and women have a problem of [lack of] work and is ready also to act as cheap labor. If importers are smart, they can establish garment or sewing factories in the villages, where villagers can work in the winter months. It will not only be lucrative for the importer, but also solve the villager's employment issue," he says.
| | |
| --- | --- |
| | |
Father Vrtanes has his own garden, where he engages in farming and beekeeping in his free time. With the help of his wife, the priest preserves (cans) or dries his harvest or offers it to others. Odzun residents are often surprised that his orchard produces more fruit than theirs. Father Vrtanes responds with a smile: "The secret to the priest's garden bearing many fruits is simply in cultivating well. The trees need to be trimmed, treated, maintained, and nourished. If you do all that correctly, you can get good results. I don't even have one tree in the garden that doesn't bear fruit," he says proudly.
Photos and video by Saro Baghdasaryan