16:20, October 28, 2014
None that I've reviewed own a business or have other sources of revenue besides their wages as judges.
The same holds true for Levon Arazyan, a judge of the Ararat and VayotsDzor provincial court bench.
But ask anybody in the town of Artashat and they'll tell you about the numerous businesses he owns.
Naturally, Judge Arazyan isn't naïve enough to register his businesses under his own name – they're registered under his father, Rouben Arazyan.
Levon Arazyan
Financial Resources/Revenues (AMD millions)
Karineh Mikayelyan
Financial Resources/Revenues (AMD millions)
On the road leading to the village of Verin Artashat you'll come across the Chorni Angel (Black Angel) nightclub. It's registered to Rouben Arazyan, but ask the locals and they'll tell you it belongs to the judge.
Next to the lake, one encounters the two story building housing the Beauty Ri Ki Salon belonging to the judge's wife Karineh Mikayelyan. When I called the beauty salon, a worker provided me with the cell phone number of Karineh Mikayelyan, telling me she's the manager.
A few meters away is a drugstore also owned by the Arazyans.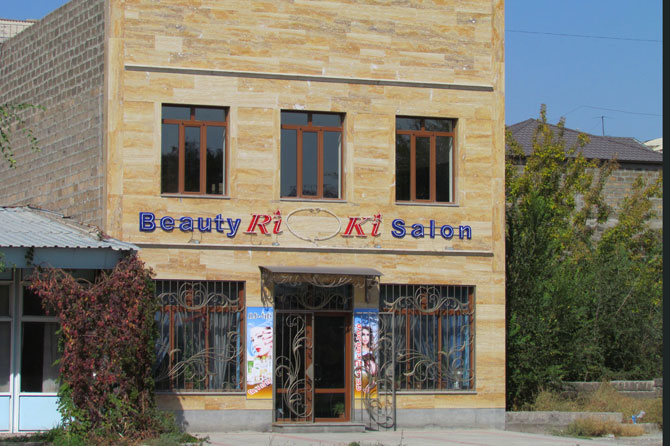 When I entered and asked, a sales clerk confirmed that the business is owned by the judge. But a sales receipt featured the name of Galstyan Marianna; Individual Proprietorship, which I later found is registered in the town of Masis.
There's an auto repair shop in Artashat as well (Artashat Auto Repair Station OJSC) that is registered to the judge's father.
The Nersik Production Cooperative is yet another outfit registered to the judge's father Rouben Azaryan. It's non-operational at the moment but owns one hectare of land.
There are also several hectares of land, zoned for agricultural use, in Artashat registered under the name of the judge's father.
According to Hetq sources at the Artashat Municipality, these businesses and lands are in tax arrears. Nersik alone has racked up 205,000 AMD in unpaid land tax and 372,000 in unpaid property tax.
I called Karineh Mikayelyan for her side of the story. When she heard my questions regarding the family's business, she said that she was in a bank and it wasn't convenient to talk. She told me to call later.
I've tried several times, but the judge's wife hasn't answered my calls.