11:30, December 15, 2014
Alvard Bouniatyan is one of the women in the photo who makeslavash all day to earn a living.
She's the one on the left, who removes the lavash after baking in the tonir. Alvard makes 750-1,500 AMD per day (US$ 1.60 – 3.25) but she's not one to complain.
Alvard and the other lavash makers work in the Armavir village of Dalarik. She's the only person in her eleven member family with a permanent job.
"If I didn't have this job, what would I do?" she asks rhetorically, adding that she also gets to take ten pieces of lavash home every day.
There is no work in the village. Alvard's family gets by on the money she makes and her 82 year-old mother-in-law's 32,000 AMD ($69) monthly pension.
During the summer her son does some seasonal work but come the winter there's nothing to do.
Nazik Gasparyan, Alvard's mother-in-law, got irritated when the topic of conversation was about pensions.
"A dog pees on the pensions given by the government. By the time we get home after receiving it at the post office, it's disappeared. It's just enough to pay for the water and electricity," says Mrs. Gasparyan, advising government officials to eat less and thus help the needy with the savings.
The senior citizen adds that everything is centralized in Yerevan and that no one is paying attention to the country's provinces.
"If there were jobs here, my children would work and we could live. We are an industrious people. I would work as well to help the family," Mrs. Gasparyan says, noting that we now live in a century of life and death.
| | |
| --- | --- |
| | |
| Alvard | Nazik |
Alvard tells me that her son and husband would also go abroad to work if they didn't have health problems.
Two of the grandkids go to school and buying new clothes and school supplies is also a financial burden. Most of the time, the kids wear hand-me-downs given by neighbors.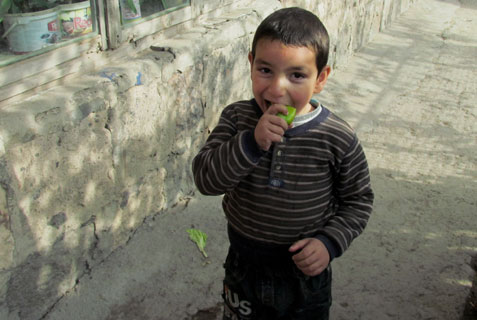 Getting drinking water is another issue to contend with. Residents of Dalarik must pay 70 drams per bucket.
Alvard says that the family has a 5,000 Dram water debt. This year, as a sign of worsening times, they even haven't been able to buy wood for winter fuel that costs 120,000 Dram. Instead, they purchased dried sheep dung, on credit, for 80,000 Dram. That's the same amount the family owes local shopkeepers.
"They no longer allow us to purchase anything in the stores on credit. I understand their attitude. At least I have a job and can but some bread on the table," says Alvard.
The family applied for social assistance last month but was told they had to wait until January to see if they are eligible or not.
The Dalarik mayor's office says it tries to assist needy families when possible but that it doesn't have the budget to disburse funds every month.