12:32, February 24, 2015
While Armenia's National Assembly President Galust Sahakyan has consistently declared that he isn't engaged in business, he has conveniently hidden the fact that his wife and sons (also in government) are.
It would be the apex of naiveté to believe that Sahakyan lives merely off his government salary or that his family members, due to sheer due diligence alone and without abusing their personal contacts in government, have become owners of various companies.
Ever since 2011, Sahakyan (who was appointed speaker of the parliament in April 2014, has only listed as revenue his government wages and pensions when filling out the financial disclosure forms he's mandated to file.
Combined, these have hovered around 3.6 million AMD annually (US$7,500).
Galust Sahakyan's wife Zhanna Aghababyan has also declared her dividends in addition to her cash holdings. Most of her revenues are derived from dividends and the rest from wages and pensions.
Zhanna Aghababyan – Financial Disclosures

2011

2012

2013

Cash holdings

AMD

29,530,000

60,785,765

75,785,765

USD

0

0

0

Revenues (AMD)

31,961,036

31,255,765

30,488,000

Of which dividends amount to:

30,660,000

29,606,400

28,500,000
Hetq contacted the National Assembly's Press and Public Affairs Department to find out what companies are the sources of these dividends. The department replied that the parliament isn't privy to such information.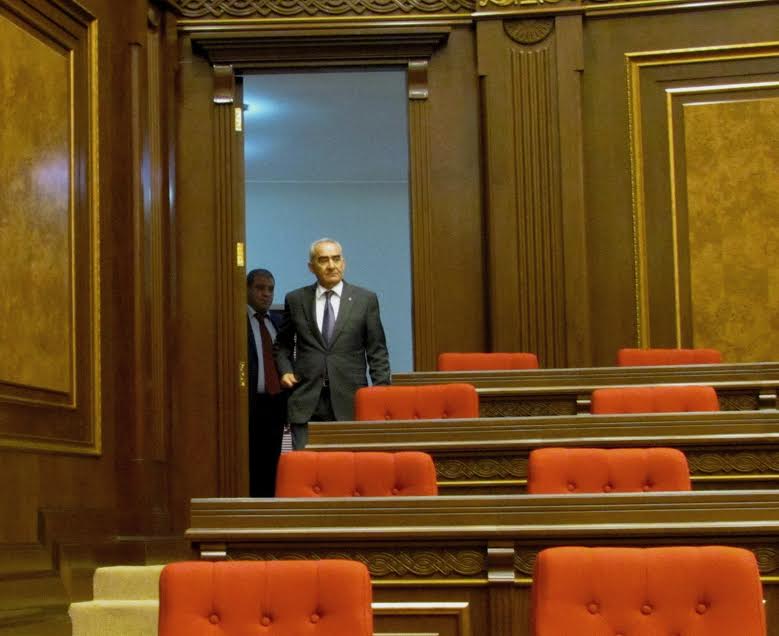 Naturally, Galust Sahakyan knows the companies issuing dividends to his wife. It's another question whether it's in his best interest to divulge their names.
The Business of Zhanna Aghababyan and the Family of the Deputy Minister of Health
Aroghj Apaga Bzhshkakan Kentron Ltd. (Healthy Future Medical Center) was established in 2006. Zhanna Aghababyan and Lilit Gasparyan own 50% apiece. Gasparyan is the director of the Vagharshabat Polyclinic and the wife of Deputy Health Minister Vahan Poghosyan. The company is managed by Vahan Poghosyan's son Edgar.
The corporate address is registered in Etchmiadzin.
Medipriz Ltd., established in 2006, is equally owned by two shareholders - Zhanna Harutyunyan and Vahram Harutyunyan. In fact, Zhanna Harutyunyan is none other than Hovik Abrahamyan's wife Zhanna Aghababyan. (For some inexplicable reason her last name appears as Harutyunyan in the state corporate registry). She also serves as company director.
Zhanna Aghababyan and Sons
There isn't much information regarding the business activities of the parliament speaker's wife and two sons.
What we do know is that a company called J.D.A.S. Ltd. is registered to Zhanna Aghababyan (34%) and her son Tigran Sahakyan (66%). Tigran serves as a Deputy Minister of Health.
Taking a look at Tigran Sahakyan's financial disclosures, we are struck by his large cash holdings and the fact that rental fees make up the bulk of his revenues.
Tigran Sahakyan's Financial Disclosures

2011

2012

2013

Cash holdings

AMD

43,740,000

84,445,517

85,831,617

USD

0

0

0

Revenues (AMD)

29,728,202

51,033,548

7,386,100

Of which rents amount to:

26,917,710

48,600,000

4,929,750
Hayr yev vordi Sahakyanner CJSC, established in 2009, is another company owned by the Sahakyan family.
NAREK 84 Ltd., of which 50% is owned by Galust Sahakyan's son Tigran, is involved in the trade of textiles, foodstuffs, shoes, clothes and construction materials.
Transportation routes owned by the Sahakyans and their close friends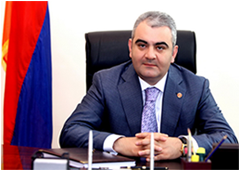 Bus route 57 in Yerevan is serviced by Ardini Studio CJSC which owned by Galust Sahakyan's son Arman Sahakyan, who heads the State Property Management Department.
Arman Sahakyan also owns a 50% stake in SA-GHA TRANS, a company that operates the #64 minivan route in Yerevan.
We see from his financial disclosures below that Arman Sahakyan only started to list dividends from these companies in 2013. Prior to that, most of his declared revenues derived from property rentals.
Arman Sahakyan's Financial Disclosures

2011թ.

2012թ.

2013թ.

Cash holdings

AMD

95,000,000

101,500,000

144,000,000

USD

0

0

0

Revenues (AMD)

24,394,409

25,926,253

23,098,775

Of which rents amount to:

22,200,000

16,650,000

20,682,268 (dividends)
Arman Sahakyan also owned 45% in a company called Rich Friends Ltd. which sells cigarettes in the CIS. He sold his shares in 2013.