18:02, February 26, 2007
Interview with Samvel Karapetyan, director of the Yerevan office of the NGO Research on Armenian Architecture (RAA)
How many Armenian architectural monuments are there in the liberated territories adjacent to Nagorno Karabakh?
I began working on investigating and documenting Armenian architectural monuments in 1993, following the liberation of the territories. We visited these areas in 1986 and 1987, too, but didn't study them thoroughly until 1993 to 1998.
When I visited in 1993 and1994, there was no one there and I documented only what I had discovered myself or seen with my own eyes. It's one thing to work without any assistance from local residents, and another thing when a person knows the area well. I intend to continue the census to complete the project. Most likely we'll do that in two years. As of today, in seven liberated regions we have registered 1,600 monuments, and that's not the final figure, or rather it is very far from being considered as such.
What condition are these monuments in?
There are, of course, monuments that have been deliberately destroyed – such as the monastery of Getamej, whose stones were used to build a school after it was demolished. Of four churches in thevillageofTsar(Turkish: Char) in the Karvatchar (Kelbajar) region only two are left – the other two were completely destroyed and their were stones used for construction work. Cemeteries were destroyed as well, but this was not a universal phenomenon. In some important settlements, everything Armenian was destroyed. Generally, the monuments are half-destroyed or dilapidated.
A totally different situation exists inNorthern Artsakh– in the Gandzak region, which has not been liberated. Every day Armenian monuments are being savagely destroyed. These cases only come to light by chance.

For example, former residents of Northern Artsakh, most of whom emigrated toRussia, send us letters saying that the churches in their native villages have been destroyed. Since they miss their homes, they pay to have Azerbaijanis take pictures of the villages. When they get the pictures they see that the homes are intact but the churches are missing. That's how they learn about the destruction. Most recently we found out that the seventh-centuryChurchofSt. Gabrielin thevillageofMirzikvillage theChurchofSt. Jacobin Voskanapat village in the Khanlar region had been destroyed. In its structure and proportions, St. Jacob was unique church among the churches of Artsakh.
The most famous Armenian monument in the liberated areas, Dadivank, is being renovated. Are there other monuments that have been restored?
Yes there are. For example, Tsitsernavank in the Kashatagh (Lachin) region was renovated and consecrated a few years ago. Our organization has been working on the restoration of the Dadivank monastic complex since 1997. The complex consists of 25 different buildings, including ten religious structures – churches and chapels—and fifteen secular buildings of various purposes. The main buildings have already been restored and will be consecrated this year.
Azerbaijanis complain that Armenians are destroying their monuments in NKR and the controlled territories…
Whatever facts there are there, that's the reality. Azerbaijanis are telling lies more and more. The fact is that the Aghdam mosque is in the same condition as it was before. The Shushi mosques are standing erect – one of them was restored by the Shen Company, the other by the prelate of the Artshakh diocese, Archbishop Pargev himself. In other words, we have the opposite picture of what the Azerbaijanis are doing. Their mausoleums or "cumbazes" as they call them are in the same condition as when I saw them in Soviet times. The fact is that the Aghdam cumbazes , the Khojaly cemeteries, the Fizuli mosques, the monuments in the villages, are all intact.
A tide of protest has risen in Armenia because of the destruction of monuments in Old Jugha, Nakhichevan. However, UNESCO didn't seem to react in the way that was expected in Armenia.
I don't think there was a large tide of protest inArmenia. In December of 2005 the Azerbaijani Army smashed to smithereens the remnants of the Armenian khatchkars that had toppled in 2002. Virtually no state agency or political party remembered last December 14 and 15 that it was the first anniversary of the annihilation of the world-famous cemetery. They didn't even take the opportunity to raise the issue. Only our NGO organized a preview of the documentary film Jugha at the Union of Writers, and even though we had sent out invitations only a quarter of seats in the hall were taken. In other words, we have never raised a clamor and today Armenians, who are so isolated from Armenian culture, can't even protest loudly against the destruction of their monuments.

Azerbaijanhas presented its arguments. For example, Azerbaijani Ambassador to the US Hafiz Pashayev has rebutted a letter of protest byUScongressman Frank Pallone. He stated that nothing had happened at the Jugha cemetery. According to him, the origins of the site were not known and it was not clear who the people were who had worked with these cubic stones.
Does Georgia mistreat Armenian monuments like Azerbaijan?
Georgiahas a different attitude.Azerbaijancannot appropriate an Armenian church or a khachkar in any way. And they have to destroy them. As forGeorgia, under the pretext of restoring the churches they get rid of the Armenian signs - scrape off lithographic inscriptions and frescoes, and demolish the features that their churches don't have – such as elevated stages, fonts, etc. In other words, they make the signs asserting their Armenian origins disappear; they even change the crosses, since they have a different appearance, and consecrate them as if they were Georgian churches, turning them into Georgian churches. So the buildings remain, but all the Armenian features disappear. For example, I've seen khachkars with Armenian inscriptions scraped off. But being Christians they don't scrape off the crosses. And I've seen khachkars inAzerbaijanwith the engraved framings intact but with the crosses scraped off. You can see such things at theMuseumofHistoryof Karvatchar.
What can be done to fight this?
In general, a lot can be done, if the desire exists. But we are not the bearers of our culture today. We don't realize that these monuments belong to us, and we don't work hard enough to solve these problems. We are not the masters of what we have and what our adversaries destroy. Today every trace of us is being wiped out of our home – whether is it in Nakhichevan or inGeorgia. We are very carefree.
It is the type of Armenian that has developed over the centuries who adheres to alien values that is to blame. Every nation is formed within the framework of its faith, its ideology. In other words, when cherished values are professed, the national type, character takes shape. Our type is anti-national. For us the letters of St. Mesrop Mashtots mean nothing. Just walk along the avenue named after the same Mesrop Mashtots. Whatever is written in Armenian, there is five times as much is in English or Russian.
And, in general, what condition are Armenian monuments in Armenia in?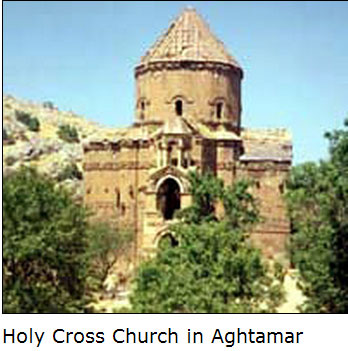 In Iran, they do what they can to restore them. In Azerbaijanand Georgia, they do what they can to destroy them. The situation inTurkey is a bit different. In the 1960s and 1970s,Turkey was doing whatAzerbaijan is doing today. Now the situation has changed. First in the 1960s and 1970s, a huge number of very important monuments were destroyed – they were blown up or used as targets during military manoeuvres. There was theRedChurch in thevillage ofHindzk (Ghumlu) in Erzerum. When we asked the Turks to show it to us, we were told that there was no church there. Then they accompanied us and we got to a hill completely covered in meadows. The guide told us that theRedChurch used to be there. We looked around and saw nothing but meadows – no structures or even stones. This was the case in the 1960s and 1970s. Today the restoration of theHolyCrossChurch in Aghtamar has both political and economic significance forTurkey.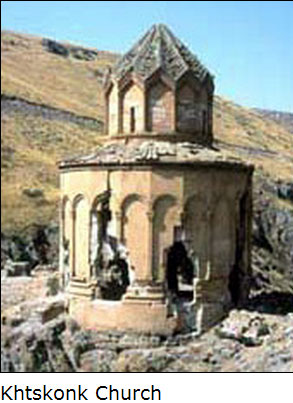 Political sinceTurkey aspires to becoming a member of the European Union and they have to prove that they are not the Turks they used to be. At the same time they have a great economic interest. Every tourist who visits Van is sure to go to Aghtamar. Boats go there every thirty or even fifteen minutes carrying some thirty or forty tourists.
The mayor of Tekor (Digor) wants to restore theKhtskonkChurch, which was blown up in 1964. Not because he values the Armenian monuments, but because there is an interest.
The St. Karapet Church of Mush doesn't exist anymore. The Kurdish villageof Changlyis there now. The village has sprung up right where the church used to be. And the church has disintegrated in the village – over the decades the church stones have been used to build new Kurdish houses. The Mayor of Changly says, "I feel very sorry. What fools our fathers were to destroy this church. If the church were still standing our villagers would make their living selling tan to tourists. If you can give us old pictures and drawings of the church we could rebuild it even partly to attract tourists to the village." The Varagavank, partly destroyed, has become a very important source of profit for the Kurdish village. They sell needlework in the chapel.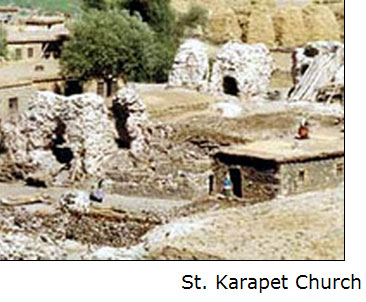 The church has turned into a kind of art gallery. As for the Armenian monuments inArmenia, they are not in a particularly brilliant condition. We have left them to the mercy of fate. In any case, they are standing for our masters build them skillfully, and it doesn't look like there are many fortune hunters inArmenia to cause great damage. But if we had some national dignity and didn't stand on the brink of a precipice vis-à-vis our culture, the situation would be much better, of course.
And the Mayor of Haghpat, for example, wouldn't dare to build a restaurant leaning against the wall of a church that is on the list of monuments being preserved by UNESCO. And, similarly, there would not be a café next to Noravank and the UNESCO team visiting the church would not have to turn back after seeing the café. It attests to us being faceless, dishonorable.