11:56, October 29, 2015
Our visit to the barracks disturbed the calm so sought by the soldiers who had just been relieved at the Artsakh frontline.
They were already on their feet.
The drizzle that had started to fall in Stepanakert, the Artsakh capital, reached the frontline. A fog slowly covered the trenches. Walk just one step and your shoes were get heavy from the mud. Azerbaijani positions on the other side went in and out of view. The Armenian soldiers were extra wary of any sounds in these conditions.
When we ask the soldiers at a frontline position, who have been conscripted from different areas of Armenia, what they find the most difficult about serving, they first have difficulty answering but then say – longing, for family, friends and sweethearts.
They say they have overcome the other challenges. "At home, we never stood in the cold and rain. Here's it has become second nature," says Rouben from the Armavir village of Arazap.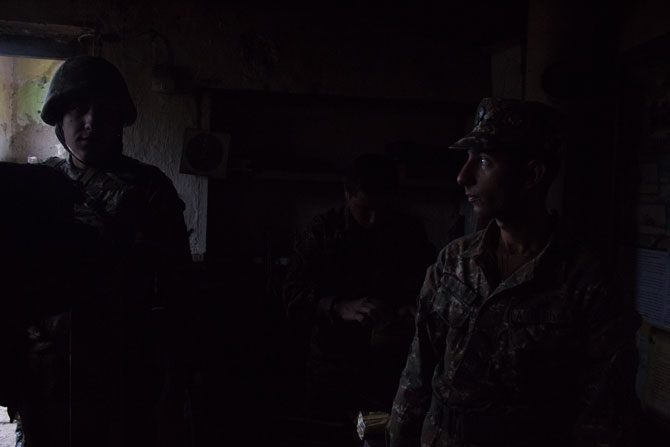 Rouben and his pals are a mere forty meters from an Azerbaijani military position. We still could see it despite the rain and fog. The senior in charge, Meruzhan Nersisyan says that he changes the mode of defense when the night is thick with fog.
It's the first time that Yeghvard native Tachat, another soldier, is at a frontline observation post. He says that it only takes one night to get used to conditions there. "I acclimate quickly to everything," he says. As to being afraid or not, Tachat says he's as calm as his friend Edgar standing next to him. Edgar goes home to Artashat in fifty days.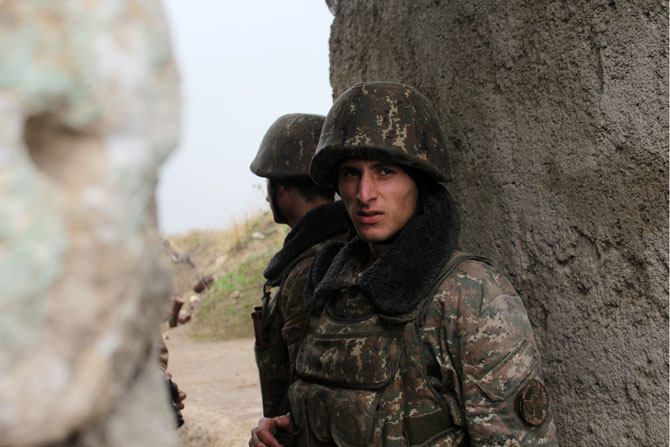 "I served for six months before going on leave. Nothing had changed. Everything was the same." From left – Edgar Melikyan, Tachat Grigoryan
This section of the Line of Contact has been relatively calm of late than others. Battalion Commander Garik Mouradyan views this calm as a bit perplexing but explains, "Perhaps they are planning something. Maybe they have understood the need for calm."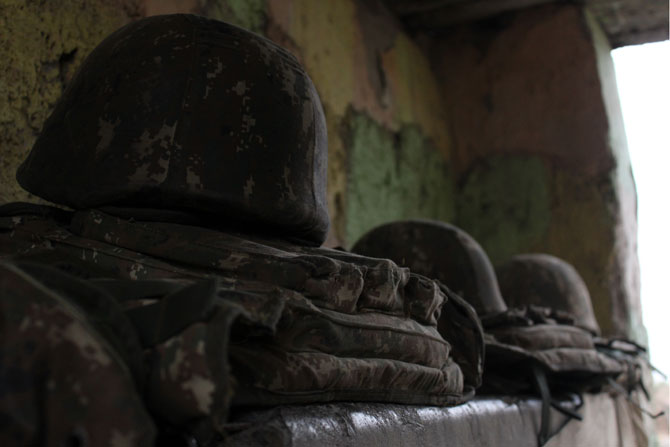 The lieutenant-colonel, who formerly served in Ijevan and Noyemberyan (towns in Armenia) and another Artsakh unit, says that men with different personalities and upbringing can be found serving all over. We ask if there are differences based on where soldiers are from. "The village boys are the best soldiers. They work and tolerate the hard stuff. They've helped out. It shows that they've done physical work as kids," says Mouradyan.
The officer remembers practically all the men he has served with over the years. When we ask if he remembers commanding the son of a government official, Mouradyan can't seem to remember anyone. The rank and file soldiers name a few such sons of high-ranking military officers they have served with.
Soldiers cook their own meals at the front
We talked to the commander about problems facing the officer ranks. For example, officers at frontline observation posts spend little time with their families. They serve 14 days at the border. The rest of the time they are on leave but are sometimes required to remain at the front. An officer from the defense ministry sent to escort us starts to laugh. "One day, I was at the front. I called my wife and told her I wouldn't be able to pick our child up from school. Another officer turned and said, 'what, you do such things as well?'"