14:48, November 6, 2015
Yesterday, while travelling along the road through the Madan-Jiliza forest in Armenia's northern Lori Province, we witnessed a horrific spectacle.
Mounds of newly cut trees were dumped along the roadway, waiting to be collected and shipped off. All these trees have owners. They fled the scene as we approached.
In Armenia, the maintenance and protection of forests lands is the responsibility of "HayAntar" (Armenian Forests) an affiliate of the Ministry of Agriculture.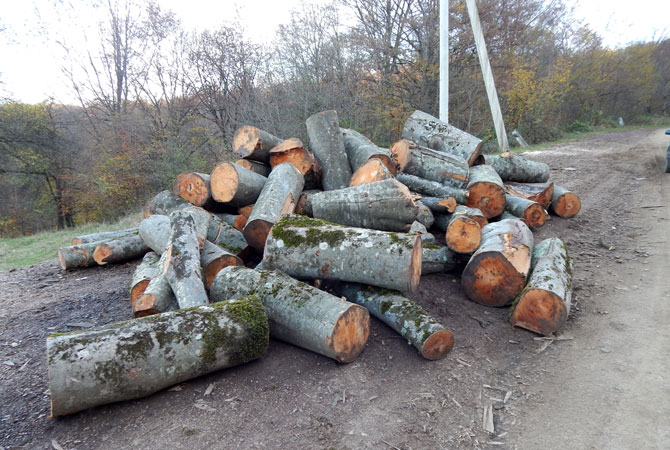 The Jiliza Forestry Branch of HayAntar supervises operations covering the Tchotchkan, Brdadzor, Khozhorni and Akhkyorpi forested lands.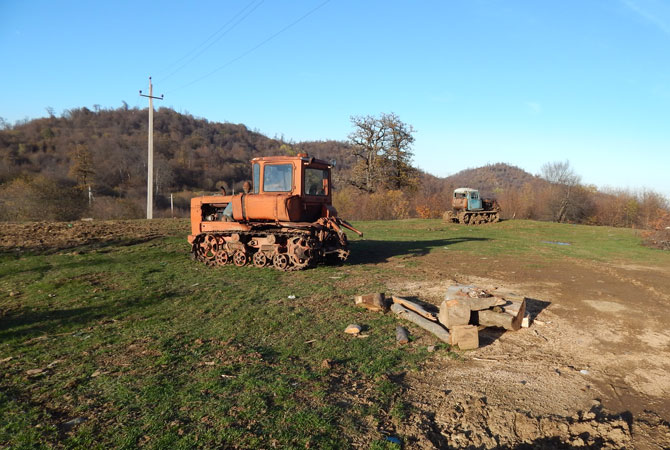 The 'owners' of these cut trees didn't even spare the trees along the borders of the Jiliza lands. Try as we might, we came across no one from the Hayantar branch office.
Just after traveling 500 meters from the village of Madan towards Jiliza, we spotted a parked truck with no license plate. There was a mound of some eight cubic meters of logs nearby.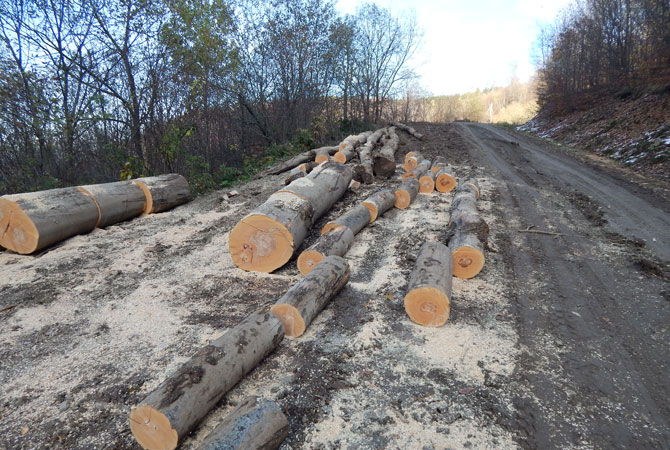 Hamlet Kirakosyan, a resident of Kajajkout village, told us that the license plate had been removed due to the rain. But it wasn't raining. The man showed us a signed permit allowing him to collect waste lumber, but there was no date for the transfer of the eight cubic meters.
Such permits are constantly being used to haul illegal timber out the forest. Other trucks we spotted along the way also had no license plates.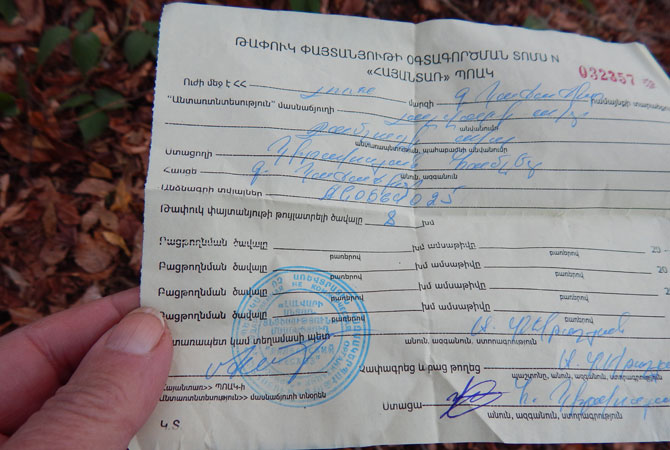 Earlier today, I received a telephone call from Jiliza Forestry Branch Director Aram Baroyan, requesting that I forgo writing an article about the illegal logging in lands under his watch.
During the call, Baroyan said that he had received instructions from the Ministry of Agriculture to prepare and sell 1,800 cubic meters of timber in 2015.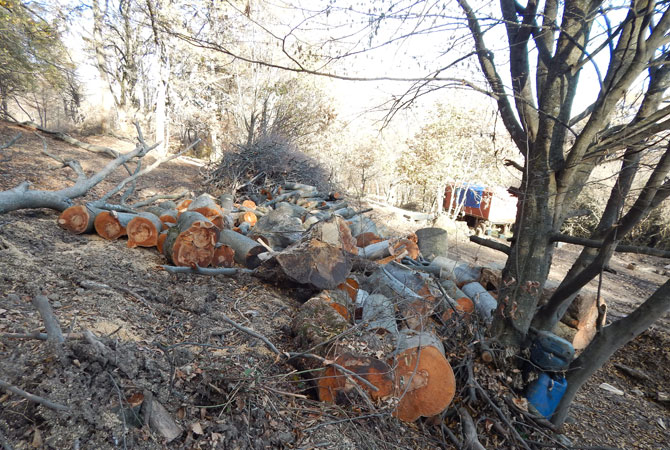 Baroyan then told me that another 700-800 cubic meters had to be prepared before the project was done. When I told Baroyan that forestry staff and others fled upon seeing us, he replied: "What can I say? They are illiterates. Instead of approaching and explaining, they run away."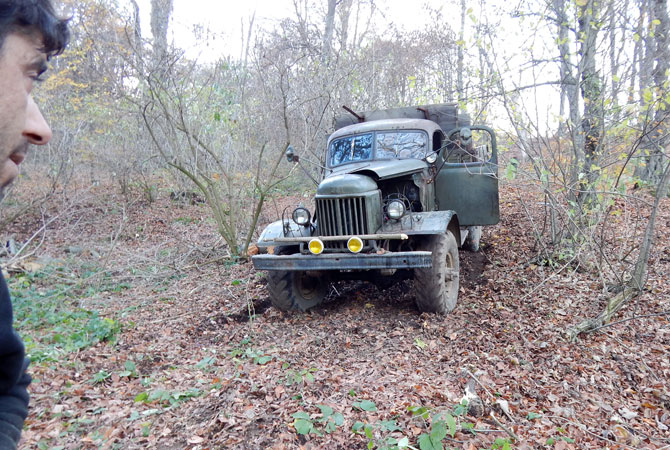 A local villager told me that Baroyan lives in a rented abode in Vanadzor and rarely gets to the office. The villager, who didn't give his name, said that the person mainly responsible for the forest's destruction was Armen Aydinyan, Baroyan's assistant.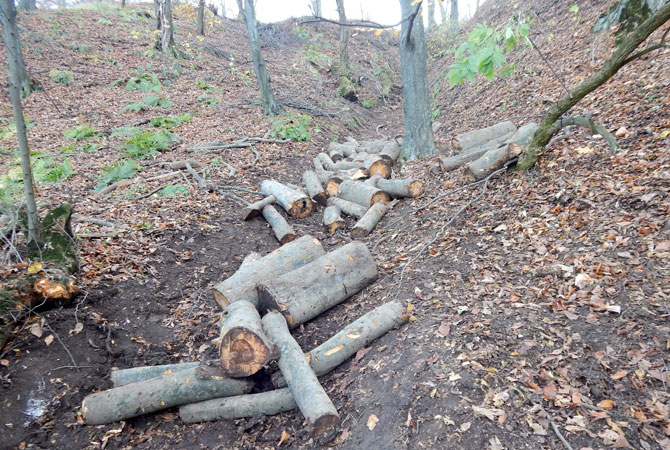 The once thick and verdant Jiliza forest has been turned into patches of trees here and there. Local residents are panicking.
There can be no doubt that the Lori prosecutor and police are turning a blind eye at the destruction around them.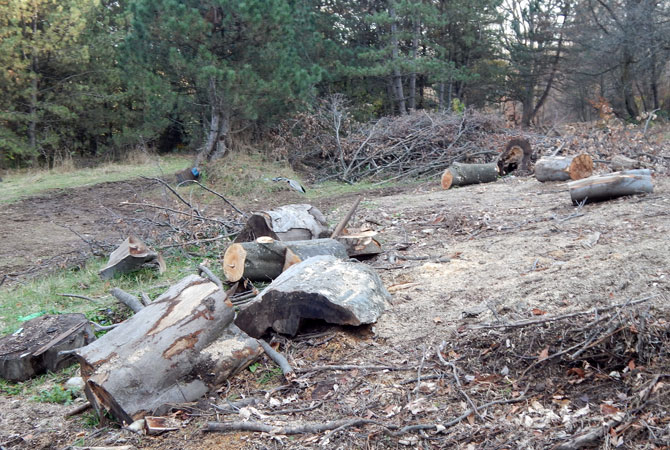 On October 26, Lori Prosecutor Grigor Elizbaryan rejected a Hetq request to provide information about what's actually going on in the province's forests, especially data on illegal logging.
Elizbaryan's office responded that such information would have to wait until after the yearly report was finalized.
We weren't able to get in touch with HayAntar Director Martun Matevosyan about illegal logging in Jiliza. His office said Matevosyan had gone to Syunik.
We then tried to contact HayAntar Chief Forester Ruben Petrosyan. He was reported to be out of the country.