15:08, February 8, 2016
Armenia imported 37.4 tons of tomatoes from Turkey, Iran, Georgia, Holland and Greece in 2015. That same year, 135 tons of cucumbers were imported from Turkey, Iran, Georgia and Greece.
The tomatoes, imported by a handful of individual proprietors are sold at fairly cheap prices in local stores, undercutting local producers.
Given that the bulk of tomato imports hit the Armenian market during the winter holiday season, they strongly compete with local produce grown in hothouses burdened with high natural gas prices. Small producers don't have a chance in such conditions.
So who's importing Turkish tomatoes to Armenia?
Go to any Yerevan City supermarket and you'll see crates of tomatoes with a Turkish brand name. We asked who the supplier was but no answer was forthcoming.
One of the large importers of tomatoes and cucumbers to Armenia is an outfit called Aknadzor Ltd. Founded in 2008, it's wholly owned by Narek Sargsyan, the son of President Serzh Sargsyan's brother Aleksandr.
Two other large tomato importers are Arsougrig Ltd. and Limon Ltd. The first is owned by Hovhannes Poghosyan who, according to my information, is a relative of a high police official. The latter is owned by Gyumri resident Ivan Tosounyan.
Poghos Gevorgyan, who heads a hothouse owners' association in Armenia told Hetq that this year hothouses didn't plant any tomatoes this winter because they expected cheap imports from Turkey.
"Natural gas is expensive and people don't want to spend extra money and then not be able to sell their produce given cheap tomato imports from Turkey. There are some hothouses selling tomatoes but the owners have experienced losses. The market is flooded with Turkish tomatoes right now," said Gevorgyan.
Gevorgyan says that local hothouse growers are getting hit from both sides. On the one hand, natural gas is expensive, thus cutting in to their bottom line, and on the other, cheap produce is being imported.
"Instead of taking out a loan to pay for the natural gas, I've advised local growers to spend a few bucks on some rope to hang themselves with and thus put an end to their misery," said Gevorgyan.
Gevorgyan told me that a few days ago a hothouse owner in Kotayk Province called him up saying that the utility had turned off his gas due to a debt, and that he didn't know how we was going to save the plants growing in thirteen hothouses.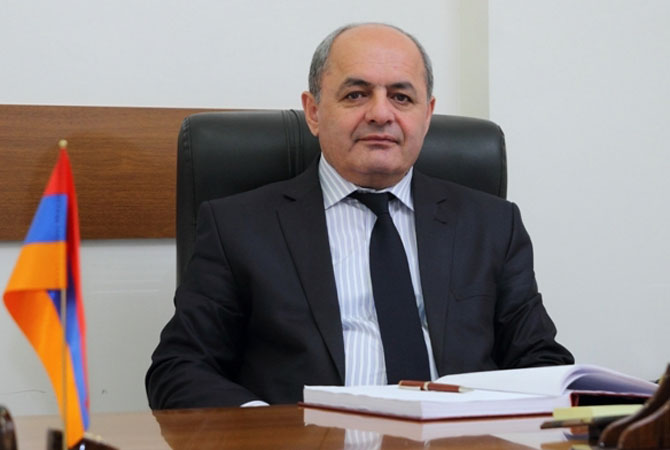 Deputy Minister of Agriculture Garnik Petrosyan believes that imports of produce are few in number and that they mostly hit the local market during the holiday season and winter months.
'When our local produce hits the market in quantity, the issue of imports basically resolves itself. We can't just ban imports because how then can we meet consumer demand? We've stated on numerous occasions that local produce doesn't meet local demand during the winter," said Petrosyan.
He said that he hothouse sector is taking off in Armenia and that currently some 85 hectares have been converted to hothouse production. Petrosyan believes that the sector will continue to develop and have a growing impact on local markets.
Petrosyan said that 23 tons of tomatoes and 16 tons of cucumbers have been imported to Armenia since January 1, 2016.
The deputy minister says that some hothouse owners raised the issue of postponing gas payments. According to Petrosyan, when hothouse association president Gevorgyan pleaded the case of local growers with the electric utility HayRusGazArd last year, he was told that the utility had financial problems of its own and expected to be paid on time.
"It was a polite refusal of the ministry's proposal, said deputy minister Petrosyan.
Top photo: From Tatul Hakobyan's Facebook page