17:50, March 7, 2016
Armenians are leaving Chanakhchi, a village in Georgia's Kvemo Kartli administrative region straddling the northern border of Armenia.
Mouzegh Khachikyan, a young Chanakhchi resident says that the village once had 130 households. The number has dropped to 70.
"Sixty families have left. We didn't have electricity for weeks. The Georgians do nothing to help us. It's an Armenian village and the Georgian authorities couldn't care less," Khachikyan says.
The only hope for the village is to open the Jiliza border crossing. But the government of Armenia has forgotten about the importance of opening the border and the Jiliza crossing. Armenian border villages in Georgia, including Chanakhchi, have faced unresolved socio-economic problems for many years. It comes as no surprise then that Armenians are leaving.
On March 4 it took this reporteran hour and a half to travel the 28 kilometer road from Sadakhlo to Chanakhchi. Lyova Gaboyan, who was grazing his sheep along the road, said the road leading to the Armenian village of Akhkyorpi is worse. Armenian villagers have opened a temporary road through the fields of Chanakhchi. Residents from Chanakhchi, Akhkyorpi, Khozhorni, Gyulubagh, Brdadzor and other Armenian villages use it.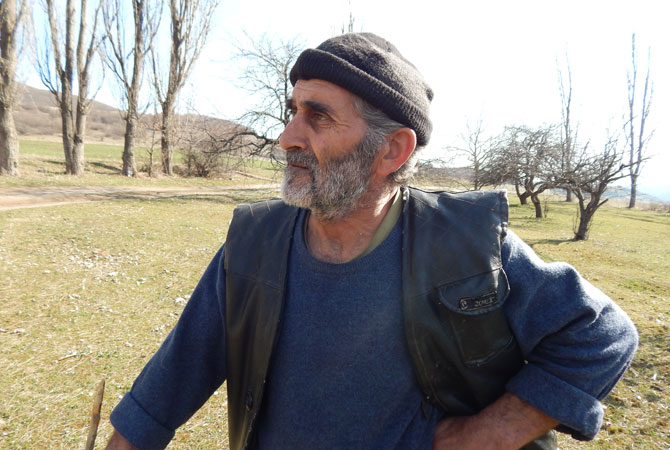 "Everything here is difficult. Yesterday, I wanted to till my land. They didn't let me. The Georgian border guard said that the river was the border and that I could only till land 500 meters distant from the border. If you measure out those 500 meters, the land reaches the road. So, my land has to remain untilled," Mr. Gaboyan complained.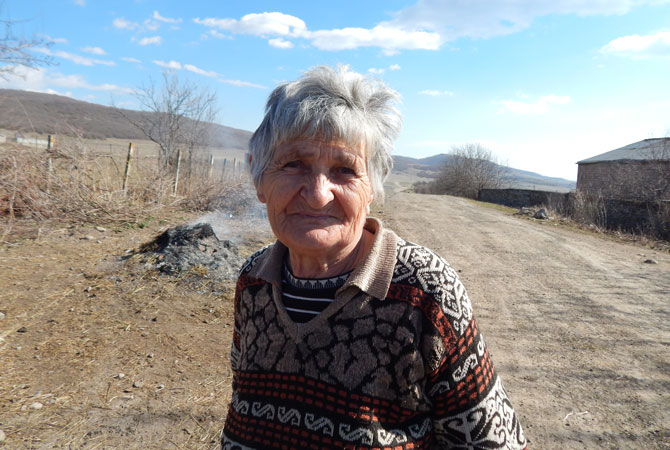 Chanakhchi resident Zoya Israyelyan says there is no medical service in the village. Young families have packed up and left, leaving behind the elderly in need of medical attention.
Senik Konyan's three children have relocated to Russia. "They went to work, to live. I'm all alone here," says the 80-year-old.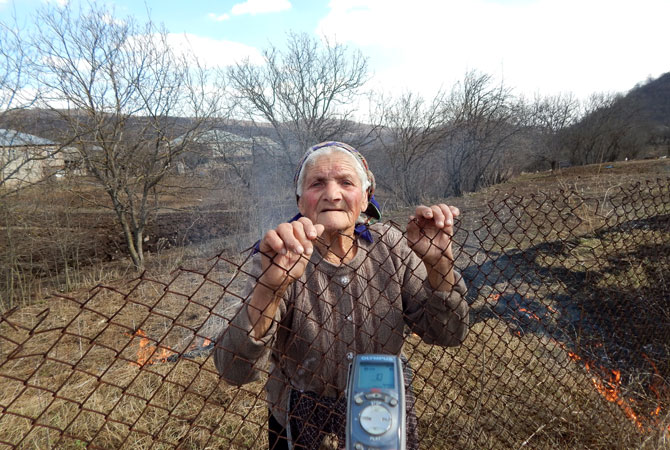 Mrs. Konyan says there's a nurse, who also doubles as a teacher at the village school, who looks after her.
She says that there's an Azerbaijani doctor who serves the Armenian villages but that he tells them to go to Armenia for medical assistance. "Sometimes, when we go to see him, he says go to Armenia. The Turks don't bother us but neither do they assist us," Mrs. Konyan says.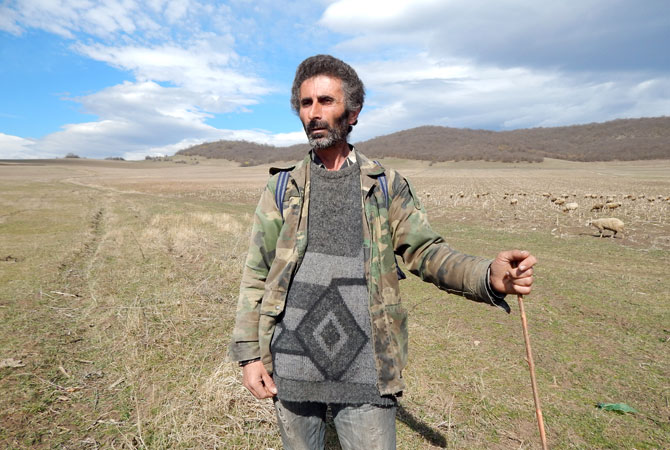 Zhiro Khachikyan, another village resident, says he can't raise a family with the work that he does. His eldest son, Yura, a third grader, escorted us to the family home.
Sousan, Zhiro's wife, works as a cleaner in the school. I met Yura's two grandmothers and his uncle Meruzhan, who said he suffers from skeletal cancer but can't afford medical treatment.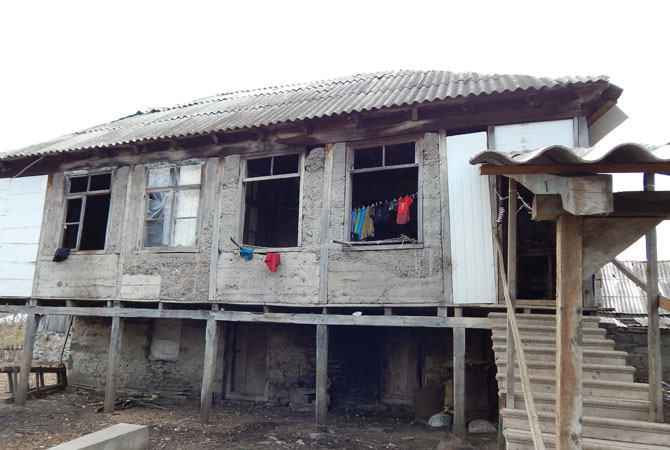 Poverty wafted from every crevice of the family house. Meruzhan said that Zhiro works when there is work available, otherwise he helps out as a shepherd.
Two of Zhiro's children, 7 year-old Armen and 6 year-old Anahit, have trouble speaking.
"I am getting documents prepared for Armen and Anahit showing they are foreigners and have a right to attend class in Chanakhchi. We haven't taken them to see a doctor because we don't have the money. The two of them don't have passports and we cannot get them to Armenia to see a doctor," says Meruzhan.
I ask Anahit how old she is. "What did I teach you?" Yura reminds his sister. The girl holds out six fingers. "That's right," Yura says in praise. Armen shied away from our questions, hiding behind his brother Yura.
There are twenty pupils in the village school that is divided up into several shacks painted blue.
Mrs. Manan, the school principal, said she couldn't answer questions from reporters from Armenia without prior permission from higher-ups.
So she got on the phone and called Rouslan malum, her Azerbaijani boss, asking for permission to tell me about the school and conditions there. Rouslan forbade her to say anything.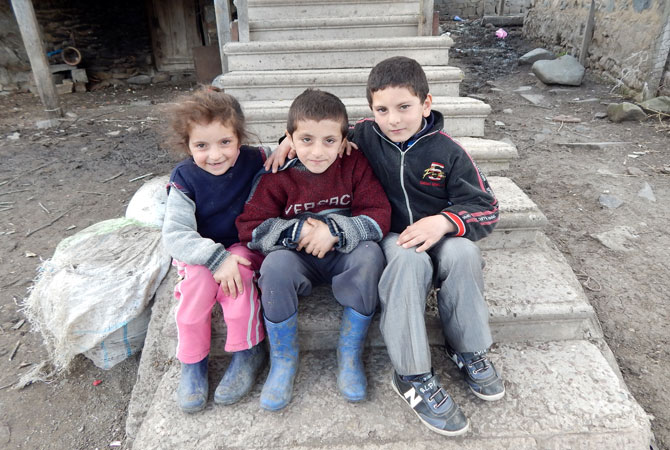 I then got in touch with Arsen Hakhverdyan, an MP from the Marneuli District.
"Yes, I know about the problems there. But their MP is Aida Khachikyan. Chanakhchi is the only village where electric pylons haven't been repaired. They will be this year," Hakhverdyan said.
When I asked Hakhverdyan about the plight of poor Armenians in Georgia and whether the government was doing anything, his feathers got a bit ruffled.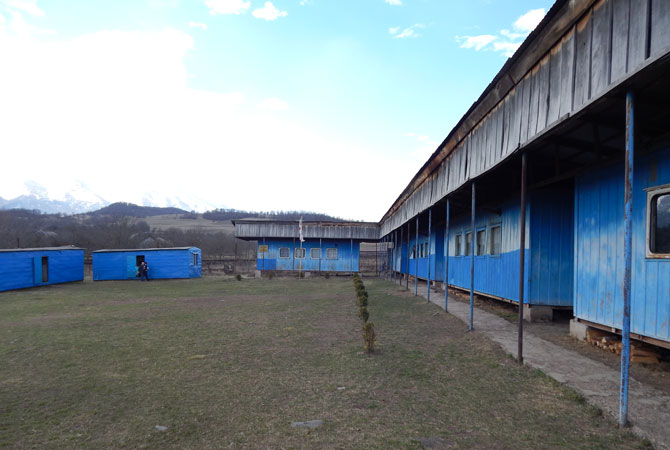 "You mean destitute families and not destitute Armenians, because not only Armenians live in the region, but other nationalities as well. Those in need who qualify receive government social aid," Hakhverdyan claimed.
Residents I spoke to had no idea what social aid the Armenian MP was referring to.