92 Year-Old Arousyak from Artsakh: After Witnessing Three Wars She Wishes for Peace
11:25, May 10, 2016
I met 92 year-old Arousyak Israyelyan, a resident of Maghavouz village in northern Artsakh, in Hrazdan, a town in Armenia.
She had fled the recent fighting in Artsakh and is now living with her daughter Seda.
The woman has seen three wars in her lifetime – WWII, the 1990s Artsakh War, and the most recent Four Day War. "I have a hard head," she jokes.
When I ask her to speak about her life, Arousyak sighs and says, "My life in untellable. I am very irritated about my fate. There are so many stories. I don't know which one to tell."
From the snippets Arousyak does relate, I was able to ascertain that she was an orphan and that at the age of sixteen, during WWII, she started working as the village shepherd to feed her younger brothers.
"There was nothing else to do. All the men had gone off to war," explains Arousyak.
Later, she decides to pursue a college education in Yerevan and gets accepted at the economics institute. She only lasts a few months due to a lack of warm winter clothes.
"So I returned to the village. The war had ended and some of the men came back. I married in 1946," relates Arousyak.
She had three sons and one daughter. All the boys fought in the Artsakh War in the early 1990s. One son, Slavik, was killed.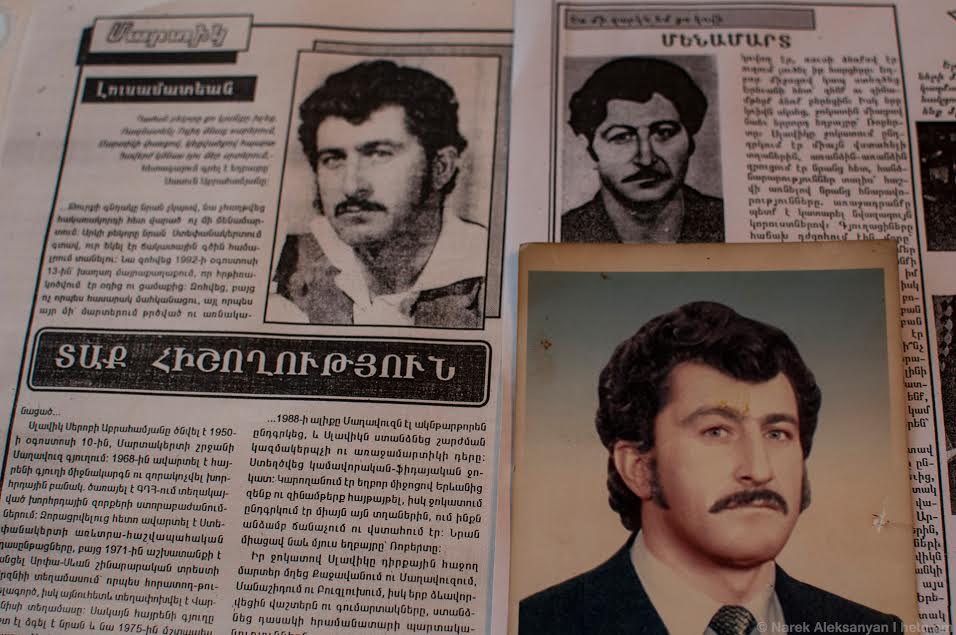 "I have no idea what Gharabagh has become. The people want things to fall in place, but the Turks have their eye on Gharabagh," says Mrs. Israyelyan, who remembers staying in Maghavouz for three days in 1992, when Azerbaijani soldiers had entered the village, until her son Slavik arrived to whisk her away to safety. After Armenian forces had recaptured the village, Arousyak returned, only to find her house burnt to the ground. The government built her a new one since one of her sons had died in the war.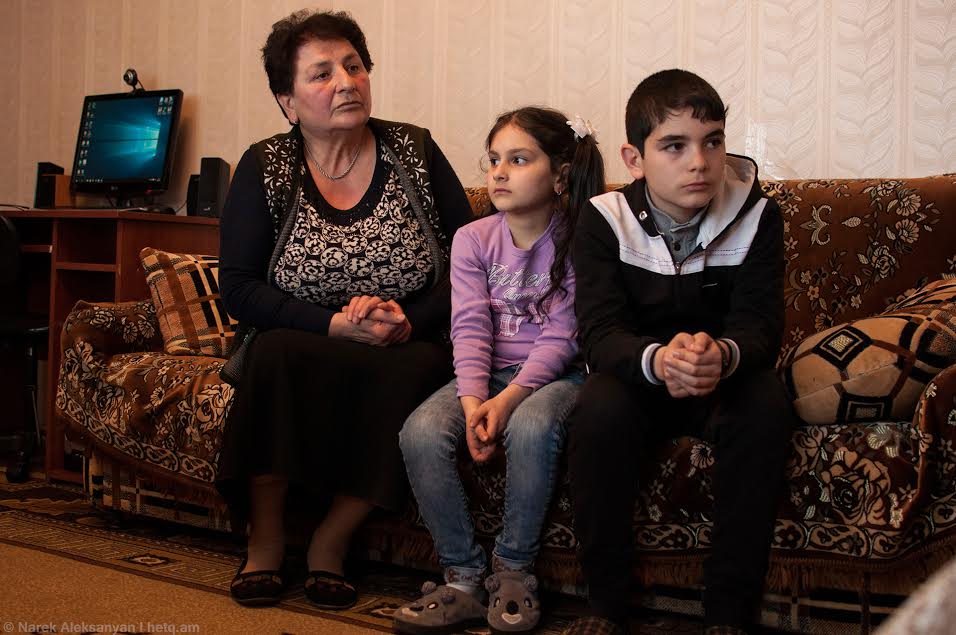 Seda Abrahamyan, Arousyak's daughter, says her children would always spend their summers in Maghavouz. The kids show us their photos, harkening back to more peaceful times.
Arousyak Israyelyan now counts the days before she can return to her village in Artsakh.
"What can I do staying here? My kids are serving on the frontline posts. I count the days before returning to our village," she says.
Arousyak has 13 grandchildren and 18 great-grandchildren. She says that Slavik's sons are now serving on the frontline.
Before I leave, Arousyak asks me what the United Nations is doing to stop the fighting.
"In the last Gharabagh war, the UN quickly moved to stop the fighting. Is that the case today? There should be no more wars. Let the world be at peace and the people will create their means of support."
Photos: Narek Aleksanyan