11:09, May 16, 2016
Relatives of a young man, soon to turn twenty, suffering from cystic fibrosis (CF) asked that his name not be mentioned in this article. He's embarrassed because people look at him differently.
The boy was diagnosed with the genetic disorder at the age of four and by nine, he was listed as "disabled".
In 2014, Yerevan's #3 Medical-Social Examination Committee (MSEC) claimed the young man is now longer disabled, as if the disorder has miraculously disappeared. This has amazed both his family members and CF health professionals.
MSEC chief Armen Soghoyan told Hetq that the patient wasn't recognized as 'disabled' because the disorder is in regression and that no impediments to lung functioning were evidenced.
What is cystic fibrosis?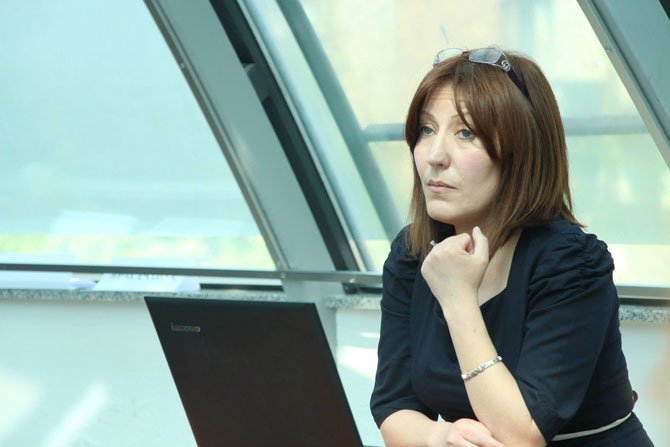 Satenik Harutyunyan, a doctor at the Cystic Fibrosis Center says that CF is a genetic disorder that drastically lowers one's quality of life and causes early death.
Cystic fibrosis is a life-long condition. As of now, doctors can't cure the disease, but they can use different treatments to help with symptoms. People with cystic fibrosis don't live as long as people without the disease. However, better treatments are helping people with cystic fibrosis live longer.
The young man again went to the MSEC in 2015 for an examination. The result was the same.
Armen Soghoyan says that the 2014 and 2015 test results show no impediments to organ functioning and that, as a result, he couldn't be registered as disabled. "Just the presence of a disease alone isn't sufficient to register any citizen as disabled. There must be moderate, obvious or severe constant impediments to the functioning of organs as a consequence of the disease," says Soghoyan.
Gayaneh Ayvazyan, the young man's mother, talked to MSEC specialists but her concerns weren't answered. "I asked what could have happened that he was considered disabled from the age of nine until eighteen, had been receiving a pension, and suddenly, now, he's gotten better. They replied that he hasn't gotten better, but that he'll no longer receive a disability pension. They said that if he walks and eats by himself, he's healthy. If my boy is healthy why did the army turn him down due to his CF?" Mrs. Ayvazyan asks.
She says that before, when her son was officially registered as disabled, certain medicines were free. Now, she has to pay for them.
Dr. Satenik Harutyunyan, the young man's former physician who still offer medical advice to the family, told Hetq that he had been hospitalized multiple times in early childhood and was treated for lung infections.
He was diagnosed with CF in 2004, when specific tests were performed, and was put on a regiment of various medicines. From 2006 until he turned eighteen, the patient was under the care and monitoring of the CF Dispensary Center. He underwent four comprehensive medical exams per year and was placed on an aggressive treatment regimen.
Dr. Harutyunyan says the young man continues to follow a treatment regimen but that its effectiveness cannot be gauged because, given that his disability status has been pulled, tests aren't regularly conducted.
"I know that my boy has a disability and is eligible for a pension, but they have cut it. I treat my boy with medicines. Everyone knows that it's an incurable disease, but they say he doesn't qualify for a pension and that he's not disabled. What they gave, 17,000 AMD ($36) the last time, wasn't that big of an amount anyway. But at least I could purchase some of the medications," says Mrs. Ayvazyan.
Her son isn't the only person in Armenia who has confronted the outdated and ossified mentality of the state bureaucracy.
Currently, according to the agency, there are 25 individuals diagnosed with CF in Armenia of which 21 are under the age of 18.
Yerevan's State Medical University reports that as of March 21 there were 44 CF patients under 18 at the university's Mouratsan Hospital. The hospital doesn't treat those over 18).
What happens to CF patients over 18?
Based on a 2005 decision by the then health minister, a CF Dispensary Center operates at the Mouratsan Hospital for those under the age of eighteen. Medicines for these individuals are provided by ambulatory polyclinics according to prescriptions issued by the Center's specialist.
When the condition of these minor-aged patients become severe, they are treated at the Mouratsan Hospital and receive all necessary medicines.
The fate of those who turn eighteen, like Mrs. Ayvazyan's son, and are no longer monitored by the Dispensary Center, is up to chance. Polyclinics, where the doctor-patient ratio is often 1 to 1,000, are tasked with taking care of "adult" CF sufferers.
Mrs. Ayvazyan does not trust the care available at the polyclinics for CF patients. "They're not specialists in the disease. The dispensary center should at least have one room devoted to adult patients when they have acute complications," she says.
A few days ago a charitable organization called the Association of CF Patients and Their Relatives" told Hetq that it had written to MP Ara Babloyan (Chairman of the National Assembly's Standing Committee on Health Care, Maternity and Childhood), informing him that CF patients were being stripped of their disability pension status.
They also noted the absence of lung transplants in Armenia.
"Not having disability status, patients cannot get regular testing to see how their lungs are functioning. There is no medicine service. We look to the future with hope and are certain they will reach the age of fifty, will raise families and will become invaluable people for our country," reads the association's letter to Babloyan.