15:09, August 3, 2016
By Katherine Berjikian
When I first went to PINK Armenia, in Yerevan, I was shocked by how hard it was to find.
PINK's address is not on the website, and to find the exact location a person would have to call an employee there to find out where it is. The building itself is in a courtyard surrounded by apartment buildings and small stores, and the actual building has no marker on it that would signify what it is. I imagine that this was intentional. PINK is one of the only Armenian NGOs organizing around LGBTQ rights, and it is by far the most famous. Due to hostilities towards the LGBTQ community in Armenia, PINK has frequently been the subject of homophobic aggression.
For many of the young people who identify as LGBTQ, PINK is one of the first places they go when they experience homophobia, and or violence, because of their sexuality and or gender identity. One of the challenges PINK faces are young people, usually between the ages of eighteen to twenty-five, coming to them because they were recently thrown out of their homes.
The following article is about PINK's attempts to find a solution to this problem. Where do you house young people who have been kicked out of their homes, or whose homes are unsafe?
What happens when a person asks PINK Armenia for help?
Imagine for a moment that you are nineteen years old. You are a member of the LGBTQ community and your parents are angry about it. Because of this, they kick you out of your home. Or maybe they don't, but they are aggressive towards you, abusive in some cases, and you no longer feel safe in your home. Where do you go? What do you do? For many of the people who have faced these questions, the answer is PINK Armenia.
When I spoke to Mamikon Hovsepyan, one of the founders of PINK, he stated there is kind of a rough idea of what to do when people come to them for help because they are faced with a lack of housing. One of the first things they do is try to access the person's mental health. Either their physiologist and or social worker will talk to them and try to gauge if they are in need of further counseling. Then a PINK employee will contact a hostel and set that person up for several days to two weeks. In that time, members of PINK try to make sure that they have other forms of housing once those two weeks are up, a job if they are in need of income, and if possible, try to open the doors of communication with that person's family.
However, according to Hovsepyan, this is a very imperfect system, created mostly out of necessity. There are many questions that are raised when someone tries to access temporary housing. For example, one of the more pressing problem is if the person who comes to them is actually in desperate need of help, especially help with their mental health. For example, when I spoke to Lilit Avetisyan, the psychologist at PINK, she stated that when a person comes to them looking for housing, in many cases, they are depressed, and sometimes suicidal. A person being forced to leave their home because of their sexuality would cause many distress, and one of the main problems with the hostel system is that it does not allow a trained person to be with that person while they process their emotions
Furthermore, the hostels that they are sending these young people to do not know why they are staying with them. PINK reserves the spaces anonymously, resulting in some of young people who are housed there feeling isolated.
When I spoke to Avetisyan, she stated that in an ideal world they would have a person who went through the same thing themselves, a survivor, to stay with that person, help them with their emotions, and to make sure that they do not harm themselves. Now, PINK does not have such a person. Instead, they have a suicide l hotline that is accessible 24/7. This hotline is monitored by the PINK counselor and psychologist. They are the ones to talk to a person at any point where they might need psychological aid.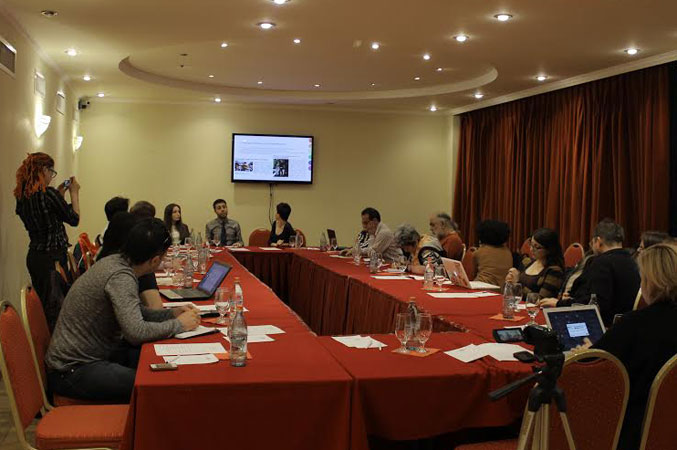 2013 roundtable discussion on hate crimes in Armenia with local activists
Was it always like this?
For a brief period last year, PINK Armenia worked with another NGO called New Generation. During this time, New Generation had several apartments they were housing homeless youth in. In exchange for PINK allowing New Generation's benefactors to use PINK's services such as access to PINK's physiological and social worker, New Generation allowed PINK to house homeless youth in their apartments. This agreement was brief, and PINK could not disclose exactly why this relationship ended.
However, when I spoke to Avetisyan, she stated that this plan, like the one I mentioned above, was not ideal because it forced people to go from their safe spaces (PINK Armenia and New generation's spaces), to another one to receive help. However, while this relationship ended, PINK did manage to house three young people in the New Generation apartments.
Diana Karapetyan was one of the people who was housed in the New Generation apartments. Karapetyan is a nineteen-year-old college student studying at the National Polytechnic University of Armenia. She is involved in LGBTQ activism, and is frequently at PINK Armenia, hanging out with other queer youth. Around a year ago, she was thrown out of her home.
She and her mother got in an argument about her sexuality. Shortly after, her mother kicked her out of her home. After two days of crashing at her friend's houses, her friend who worked at PINK Armenia informed her that PINK could help her. PINK then found her a place at the New Generation apartments, and she stayed there for two months.
While she stayed in the New Generation apartments, New Generation and PINK helped her find a job, gave her a forty thousand AMD ($84) stipend every month, and she had day to day contact with PINK Armenia's phycologist.
Apparently, during her stay in the apartments, her mother called her and told her that she could come back. However, she decided to stay in the apartment for the whole two months instead of going home immediately. When we spoke she told me the following: "I didn't go back. I said to her that I need time to realize some things, and you [her mother] need some time too. To understand what do you want from me. Are ready to understand me? Are you going to change the way you speak to me?"
She eventually did return to live with her mother, and she told me that the time they spent apart had helped them with their relationship. She told me that now she is able to talk to her mother freely about her sexuality. While this program did end shortly after it started, it did give Karapetyan the time to reconnect with her family.
What about the Future?
As stated above, what PINK has done, and what they're currently doing, is not ideal. PINK is more aware of this than anyone. When I spoke to them, they were already trying to organize more diverse options for homeless youth then just a short stay at a hostel.
One of these plans is compiling a list of people who would be interested in housing homeless youth for a short period of time. This requires a lot of word of mouth and trust between the people who volunteer their places and the people willing to stay with them. When I spoke to Hovsepyan, he stated that this was a better option then just leaving a person at a hostel with access to services over the phone, or in another location such as the PINK Armenia's office. If someone is suicidal or depressed, another person can stay with them, and they would have this hypothetical housing for a longer period of time. However, Hovsepyan informed me that this too was not the best solution.
When we spoke he stated that he had experienced housing homeless youth when he was younger. He stated that when he was younger, he and a group of his friends met a group of queer eighteen-year-olds who had previously lived in an orphanage and were then homeless. After they met Hovsepyan and his friends started housing them in their apartments. One night they would stay at one of their homes and then they would move to another. One day, however, when they were staying at Hovsepyan's apartment, he returned to find his home had been robbed and that all of his valuable possessions had been removed.
Thus, while this is another temporary solution to LGBTQ homelessness, like the hostel system, it cannot be a permanent long term solution. Another option is a housing plan that would be more permanent, and would allow people to get the psychological help they might need. Currently, PINK Armenia and the Women's Resource Center are trying to buy a house that would accommodate up to seven people for an indefinite period of time. By doing this, they hope to help people without any time constraints.
If PINK is successful, this housing option will cost them around 300,000 euros, and will house both homeless LGBTQ youth and victims of sexual assault. This amount would include the cost of living for those who stay at the house, the cost of psychologists and aid workers, and all other services. They would also try to find jobs for the people who do stay with them. According to Hovsepyan, "We also want to help find a job for them, so when they leave that center they are already recovered and integrated into society."
Currently, this idea is still mostly on the drawing board, and they are waiting for people who would be willing to fund the project. However, if they are successful in attaining the funds, PINK Armenia/Women's Resource Center's house will be available sometime next year. Until then, PINK will still house homeless youth in either a hostel, or in a volunteer's home.
Top photo: PINK staff at their annual 2016 annual retreat
(Katherine Berjikian is a Birthright Armenia volunteer from the U.S. now working at Hetq)