17:51, October 24, 2016
The Ghobin field in Dsegh, a village in Armenia's Lori Province, has been cultivated in years.
There's no irrigation water, do the land's owners have opened the field for horses to graze.
As I approached, some fifty horses belonging to Dsegh forest warden Aram Kocharyan, were running back and forth.
"Our family is known not for its horses, but for its four doctors," Kocharyan exclaimed.
Cows are also grazed on the land. I saw a woman leaning on a club tending to the animals. She introduced herself as Siroush Hovsepyan and I immediately took a liking to her.
"My son went to work and his wife is at the house doing chores. That's why I brought the cows out to graze," Mrs. Hovsepyan explained.
She has three children, nine grandchildren and eleven great-grandchildren. One of her grandsons is serving in the Artsakh military.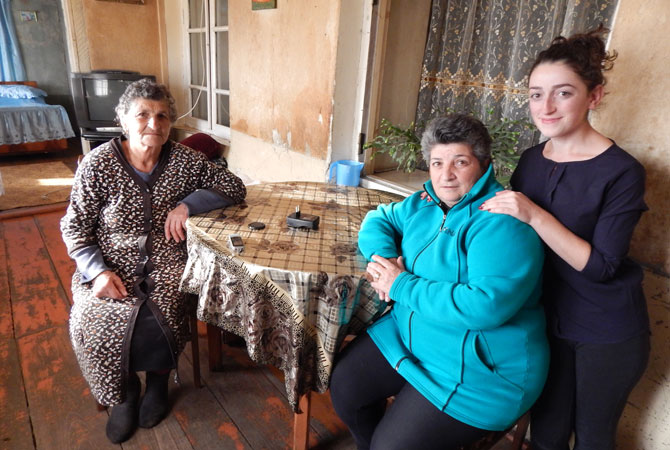 Mrs. Hovsepyan says that Pasha, one of her sons, owns twelve cows and as many calves, horses and lambs. The son gives the family loads of cheese and sour cream.
She says they are well stocked for the coming winter and have stored enough bales of hay for the animals.
"I get 10-15 liters of milk from our eight cows in the winter. We consume the dairy items we make and sell some if we need additional cash. People in the village buy from us," says Mrs. Hovsepyan.
When I asked Mrs. Hovsepyan what she does to relax, she responded: "In a village there's no such thing. You must work to raise a family. When the house and shed are in good shape, the village is a great place to live."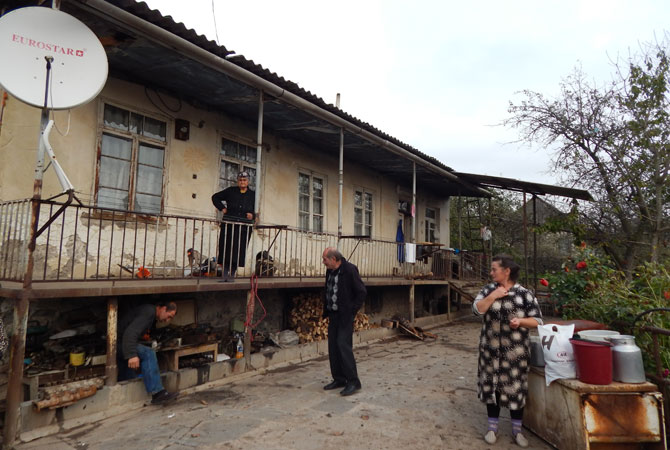 When this reporter visited the village, Varuzhan, one of Mrs. Hovsepyan's sons, had just slaughtered six cattle. They sell the meat for 1,800 AMD ($3.80) per kilo. Buyers come from the town of Vanadzor.
Mrs. Hovsepyan told me that the six cattle produced 800 kilograms of meat.
"Those who work, eat. Who needs a slacker? We live pretty well," she said.
The family house is a one-story structure. Mrs. Hovsepyan says that when Artem, now serving in the army, returns, he and his father will build a new home.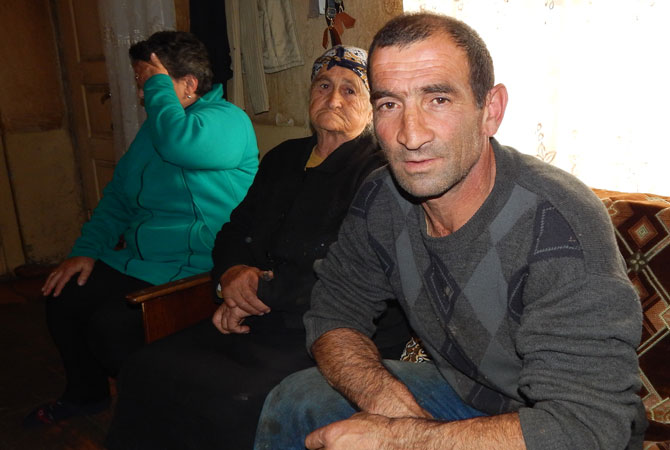 I caught up with Vazgen Atyan grazing his four cows. Mr. Atyan said the cows weren't enough to feed and keep a family of three.
"My son has gone to Russia. No matter how much money he sends back, we still can't make ends meet," said Mr. Atayan, equating his life to a kind of servitude.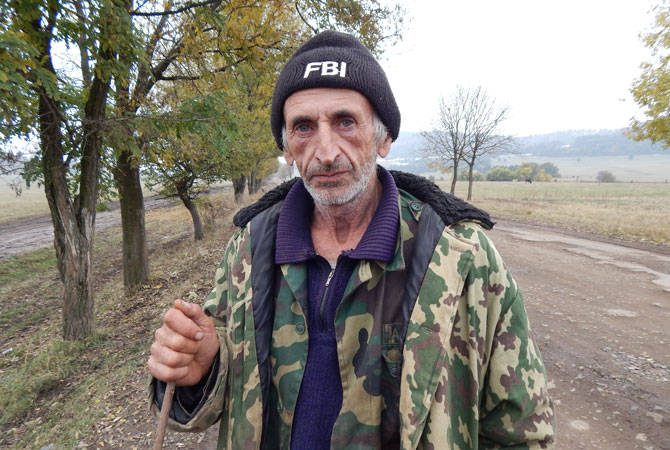 I asked Mr. Atyan if he knew the Hovsepyans.
"Sure, they own many animals and have a good income. I'm by myself and can barely buy feed for my cows. If I had helpers like they do, I'd be busy doing other things as well," was the man's reply.